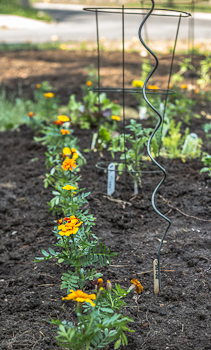 29 May

The Family Garden Project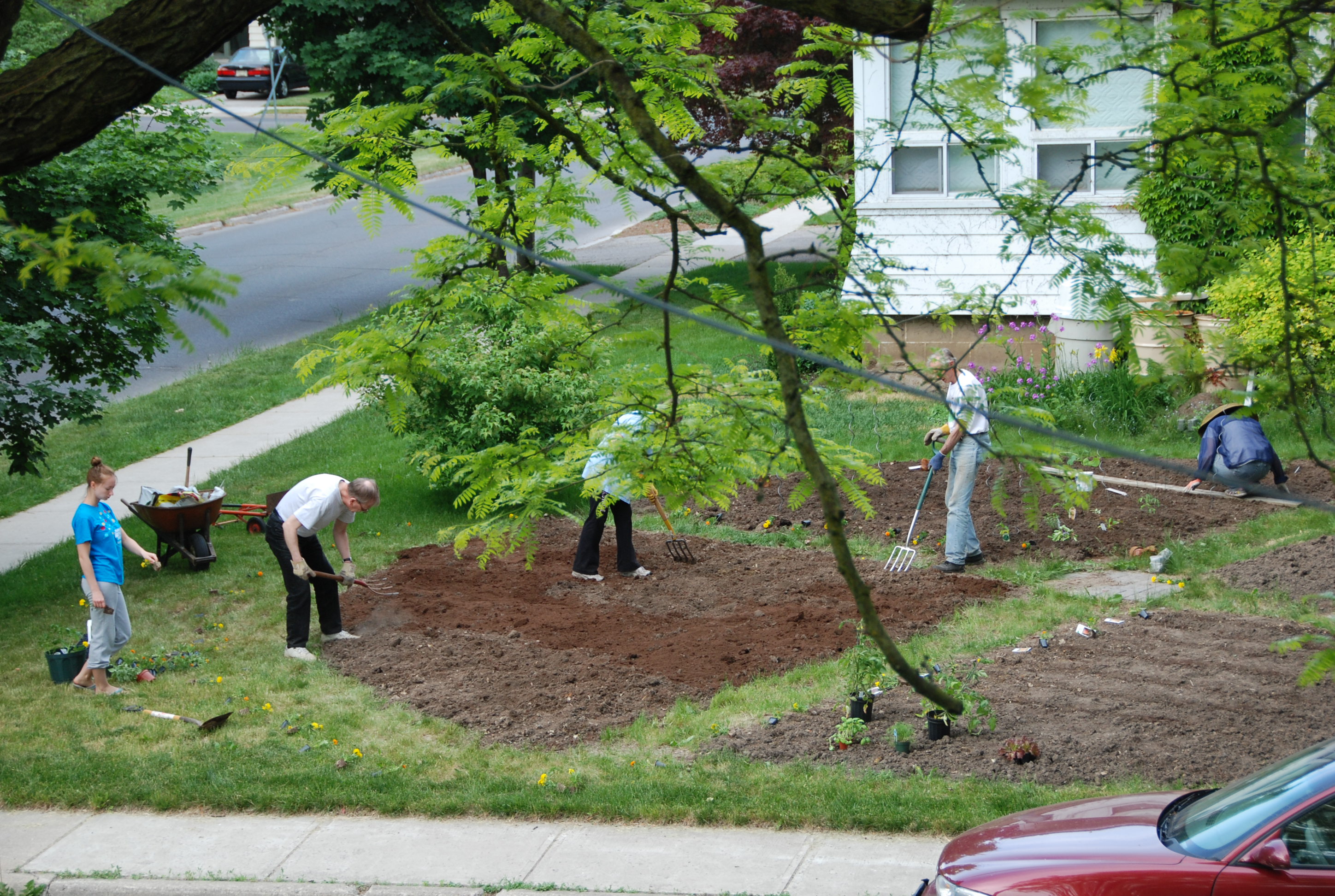 Who are these people and what on earth are they doing? No doubt this is what neighbours wondered all last year as they saw a great circle of grass tilled, newspapers laid down, earth piled up and various people walking about the mess pointing, shrugging and scratching their heads.
After a year drawing, planning, redrafting and wild guesses, the family vegetable patch came to be this past week. A neighbour took the bird's-eye shot (above)  from her second-story window. In case you're curious, I'm  the one the far right crouched down. The ridiculously large green thing on my head is a gardening hat. I like to think it makes me look like Audrey Hepburn. No one else sees this.
This four-sectioned, three-generation garden plot has prompted more people to walk their dogs than the warm weather. Almost everyone who passed by stopped to comment with a variation on, "We wondered what you were going to do." Given the flower gardens on the other side of the house, no one expected vegetables.
This is all a huge experiment. The wedge-shaped plots are not particularly practical, but my father wanted something attractive. Since he did the lion's share of the work, he gets his way. And so, The Extended Christie Family takes crop circles to a whole new level with this garden-in-the-round.
The aim? To see  a) if anything will grow, b) if anything that grows will produce an edible crop and c) which variety of squash/basil/tomato/pole bean/beet/carrot/unidentified vegetable we like best. Some of us expect to make meals with the bounty, but I'm making no such claims. I'm not giving Murphy any more ammo than he already has.
After debating the pros and cons of sharing the entire patch, we decided it would work best if each family unit took a quadrant. With my parents having three daughters the math worked out nicely. I guess we never did learn to share all that well.
As of this morning, the entire patch is planted. Each of us did our own thing. And a good thing, too. Mom has radishes, Daughter #1 has beets, Daughter #3 has parsnips. I'm not a fan of any of these, but then again, my heat-phobic sisters won't be sneaking off with my jalepeno peppers. Other than tomatoes, the only thing our gardens have in common is a rim of marigolds. And curious passersby.
My Garden Quadrant
With no room to grow seedlings myself, my garden got a bit of help from some local nurseries. I have various kinds of basil — lettuce leaf, Thai, lime and lavender (yes, lavender basil!)
Four different kinds of heirloom tomatoes — yellow, red, green and black — are planted with the various basils in between. I even dropped in a jalepeno pepper plant for fun. I dearly wanted Padron chilies but couldn't find a local source.
My watermelon and zucchini seedlings are ready to romp at a moment's notice. I don't care about the zucchini itself as much as the flowers. I've always wanted to try stuffed blossoms and this is the summer I do it. (Note to self: Add this to my Culinary Bucket List.)
I've no idea if you can eat watermelon flowers but between Google and Mother Nature I'll figure something out.
In a fit of enthusiasm, I bought organic heritage seeds this winter, forgetting I have no place to start them indoors. Fortunately, these can be planted directly into the soil. Two kinds of pole beans — Maxibel and Fotex — have yet to sprout, but I've got twisty metal spires ready and waiting for when they do. I'm also still anxiously awaiting shoots from my borage, Black Futsu and Nutterbutter squashes, as well as my Cosmic Purple Carrots.
So that's the plan for the summer.
I will water. I will weed. I will wait.
What are you growing?