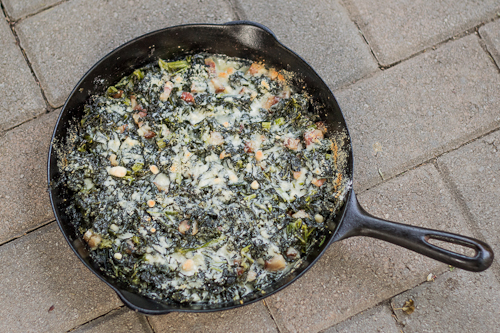 24 May

Smoky Bacon and Kale Gratin
Marriage often requires compromise. After almost 10 years, Andrew and I have sorted out the domestic chores, bill payments, and even litter box duties. Yet despite impressive and extended negotiations, we remain deadlocked on certain foods.
Andrew loves anything bacon and groans at almost anything that once had roots. Me, the reformed vegetarian? While I'm always open to desserts, I want less meat and more vegetables on the menu. This dish seemed like the perfect solution. So I bought fresh kale, double smoked bacon from the butcher, and didn't scrimp on the cream or cheese. I even hauled out the cast-iron frying pan for good luck. It's been on a roll, so I thought I'd ride its recent wave of success.
For me, the result was a satisfying meal that needed nothing more than a thick slice of freshly baked bread and a glass of wine. Andrew's verdict? After much thoughtful chewing and head tilting, he said, "I like the bacon…"
Long pause. More chewing. A head tilt in the other direction.
"The kale? I don't hate."
I'm putting this one down as a victory.
I would never have found this recipe if it weren't for Jess Thomson and her new book Pike Place Market Recipes. Does the name look familiar? She's none other than Super Jess, of old-fashioned sour cream doughnut fame. Now dubbed Pike Place Jess, she's racking up the nicknames at our house faster than the cats. By the next book — she has two more coming out this year — she'll practically be family.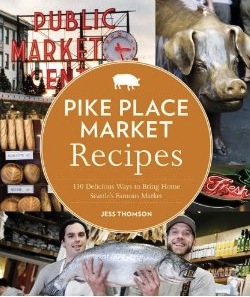 Pike Place Market Recipes: 130 Delicious Ways to Bring Home Seattle's Famous Market is full of photos, recipes, tips and anecdotes. It's not divided into standard course, but instead takes you on a tour. Recipes are organized by market region —From the Sound, From the Slopes, From the Garden, From the Market, etc. The book is full of butchers and bakers but no candlestick makers. Although if memory serves, the market has one of those, too.
Thanks to Jess, Seattle is now on Andrew and my wish list for visiting. When we go, we will see the Space Needle, have a coffee at the Original Starbucks and wander  about Pike Place. Andrew will no doubt order the Pike Pub's Malt-Roasted Corned Beef Reuben, while I'll have a bowl of Three Girls' Gazpacho and finish things off with a Lavendar Shortbread or three from Le Panier.
Jess is asking people to share their memories and experiences of Pike Place Market. In an email, she wrote:
 I want to hear the personal stories that aren't in the book. I want to hear your memories. I want to see your photos. I want to taste your recipes. I want you to write about your Market.
I visited Pike Place once. In 1994. I don't trust my memory since it's been influenced by scenes from Sleepless in Seattle and Tom Hanks' hilarious panic over Tiramisu. I can't help Jess. Can you? Leave a comment. Send a link. Share a recipe. For your troubles, here is the recipe from her book. It's got bacon. It's got greens. It's easy to make. What more could you want besides a fork?

Smoky Bacon and Kale Gratin
Prep / inactive time:
Cook / active time:
Total time:
Seattle celebrity chef Tom Douglas has always championed Bavarian Meats, the Pike Place Market's German sausage mecca. Specializing in wursts, wieners, cold cuts, and all things Bavarian for more than 50 years, the family-run business is also famous in Seattle for its bacon, which is cut to order and carries a hearty, smoky flavor. While she's slicing, ask Uta Adamczyk, one of the meat mavens behind the counter, for something new to try. She never leads me astray.
Ingredients
3 thick strips smoky bacon, cut into ¼-inch dice
1 bunch (about 1¼ pounds) lacinato kale, cut into ribbons (about 6 packed cups chopped), rinsed, and dried
Kosher salt and freshly black ground pepper
1 cup homemade chicken stock or store-bought chicken broth
2 tablespoons all-purpose flour
1 tablespoon butter, cut into tiny cubes, plus more for buttering the dish
¼ cup grated Parmesan cheese
½ cup heavy cream
Instructions
Preheat the oven to 375°F.
Preheat a large, deep skillet or soup pot over medium heat. When hot, add the bacon, and cook for about 10 minutes, or until almost crisp. Add the kale, season to taste with salt and pepper, and cook for 5 minutes, stirring, or until the kale turns bright green. Add the stock, cover the pot, and cook for 10 minutes, stirring once or twice. Take the lid off the pot and cook the kale for another 5 minutes or so, until no liquid remains at the bottom of the pot. (You want the kale to be fairly dry.)
Remove the pot from the heat, add the flour, and stir until no white remains. Butter a medium oval gratin dish (a pie plate or several small crème brûlée dishes or large ramekins will work as well) and add the kale in a roughly even layer. Check the kale for seasonings, dot with the butter, and sprinkle the Parmesan evenly over the top. Drizzle the cream over the cheese, and bake for 30 minutes, or until the cream is bubbling and the cheese is browned. Serve warm.
Notes
To prepare the kale for this warming side dish, chop the tough ends off right where the leaves begin to sprout from the stalk. Gather the kale leaves together in groups and cut them into ¼-inch strips across the stalk, almost like cutting basil into chiffonade (long, thin ribbons). Once the kale is cut, it's easier to soak and spin dry in a salad spinner. Also, feel free to use any type of kale.

Recipe by Jess Thomson. Printed with permission from Pike Place Market Recipes.