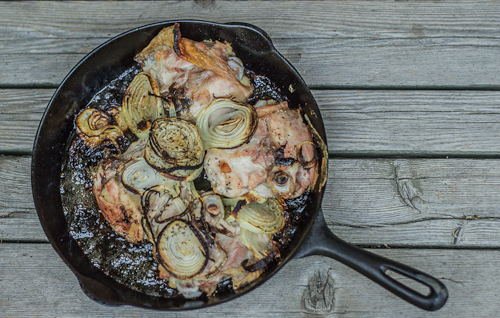 20 May

Cast-Iron Skillet Chicken
I'm filing this skillet chicken under "Why didn't I think of this?"
This dubious looking chicken is one of the best I've ever had. Moist, juicy and with an impossible crisp skin. It also won me over with its simplicity. I made this in between bursts of gardening. Charmian 246. Weeds 0.
Like all good recipes and techniques, this arrived in a cirucuitous route. Karen, a fellow roast chicken fanatic, read about the method in the New York Times, who in turn described the technique as "age-old" and "classic." The idea is to cook a whole chicken evenly using a hot cast-iron frying pan. By splaying the legs and placing them directly on the hot pan, the dark meat begins cooking before the breast meat even hits the oven. The bird emerges evenly cooked with crisp skin and moist meat. I'm sure someone is going to tell me this is how they used to do it in the 1700s or that their grandmother  never cooked a bird any other way, but it's new to me, so I'm passing it along.
Of course, nothing ever works for me the way the article intends, so some tweaking occurred. The New York Times' method cooks a whole chicken weighing anywhere from 3 to 4 1/2 pounds. My butcher's chicken weigh closer to 7 pounds. You can see where this is going.
Knowing my 10-inch pan couldn't hold such a beast, I simply substituted extra-large chicken thighs for a whole bird. Twice the size of the supermarket offerings — each one is about 10 ounces, with the bone and skin – four of these thighs is roughly the same weight as a small chicken. So I gave it a whirl. And was rewarded.
I tweaked the recipe with herbs for flavour and a slivered onion to keep the exposed meat moist. The skin crisped amazing well against the cast iron and the meat was extremely juicy. I can only imagine how good a whole bird would turn out. As a bonus, the onions caramelized so beautifully I am ashamed to report I served myself most of them. Sorry Andrew. You can have my share of the skin.
The crispness of the skillet chicken intrigued me so much, I'm now pondering Cornish hens and variations of roasted potatoes. And as I type, I realize this isn't so different from the no-knead bread technique I tried a while ago. The possibilities seem endless. Anyone else do cast-iron cooking? If so, what do you do? Please share. I've got a cast-iron frying pan and I'm not afraid to use it.

Cast-Iron Skillet Chicken
Author:
Charmian Chrisite
Recipe type:
Chicken & Poultry
Prep / inactive time:
Cook / active time:
Total time:
Serves:
2 to 6 depending on size of skillet
Cooking chicken in a hot cast-iron frying pan produces an extra-crisp skin and moist meat. This recipe calls for chicken thighs, but will also work with a small (3-pound or so) chicken that's been butterflied.
Ingredients
Chicken thighs, skin on, bone in
Fresh thyme (or other herb of choice)
Salt
Pepper
Slivered onions
Oil
Instructions
Put an empty, seasoned cast-iron skillet in an oven set to 500°F. Leave the pan in the oven to heat for 45 minutes.
Insert a sprig of fresh thyme (or any other herb you care to use) under the skin of each chicken piece. Sprinkle the skin with salt and freshly cracked pepper. Cover and refrigerate until ready to use.
Sliver the onion (use two or three as they shrink down), drizzle with a bit of oil, toss and set aside. Go out and garden. Or not.
When the skillet is heated, sprinkle the onions evenly over the bottom of the hot pan. They will sizzle. Place the thighs, skin side up, on top of the slivered onions. Pop the skillet into the 500°F oven. Resist the urge to turn the heat down.
Cook the chicken for 25 to 45 minutes, or until done. (My butcher sells huge chicken pieces which take almost twice as long as supermarket pieces.) Use this time to make a salad, cook rice, answer email. Or garden.
When the chicken is done, serve immediately while the skin is still delightfully crisp. Resting doesn't make chicken cooked this way any juicier and only results in disappointingly withered skin.
Notes
This recipe was been updated to reflect my most recent chicken experimentation. I found putting the chicken in skin-side up kept the chicken just as juicy, but produced a crispier skin. The technique is just as easy, but the results are slightly more attractive. One day I'll update the photo. Maybe...