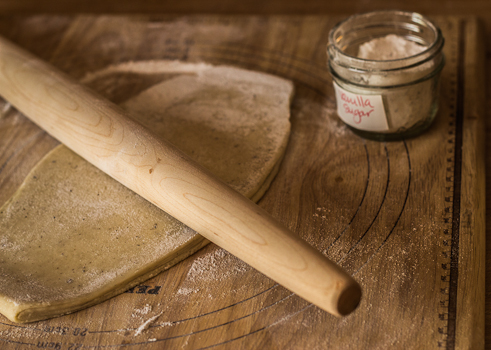 11 May

My French Rolling Pin
This is my French rolling pin. It doesn't have easy-grip handles. It doesn't have ball bearings. It isn't made from cold, heavy marble. It's just a smooth, tapered piece of hardwood.
For years I wondered why anyone would choose this style over the comfy-handled version with ball bearings I grew up with. Then last December, watching pastry chef Anna Olson use one to roll a perfect circle of dough, I saw the Rolling Pin Light. Its tapered form allows you to guide the dough in any direction you want. My other pin bullied the pastry, shoved it about, barked orders at it. The resulting tussle left all parties looking somewhat dishevelled and my ego fully bruised.
But Anna's French pin? It waltzed a ball of pastry across the board with smooth glides and coaxed reluctant edges into submission with a mere whisper. Watching her gave me hope. So, I put "French Rolling Pin" on my Christmas wish list. I even drew a few little stars beside it in case no one took me seriously.
Just to be sure my desires were clear, I dragged my husband to a cooking store. I pointed one out. I showed him the packaging. Cracked some off-colour joke about the designer being a timpanist for the Boston Symphony Orchestra (true) so he would remember. And in his wisdom, Andrew obliged. Christmas morning I got my French Pin.
Many pie crusts and palmier recipes later my official verdict on the French pin is in. I love it. My only complaint. It took so long to discover this amazing tool.
Andrew's verdict: "Great. They've found a way to upsell a stick."
Ignore him. He doesn't make Pastry.
With this pin beneath my palms, my dough is obedient. Pie crust turns out round(ish), puff pastry forms a reasonable resemblance to the rectangle I intended. It all goes into the oven according to plan.
What comes out? That's another matter.
Now, if I can just remember to set the !@#$%^& oven timer …