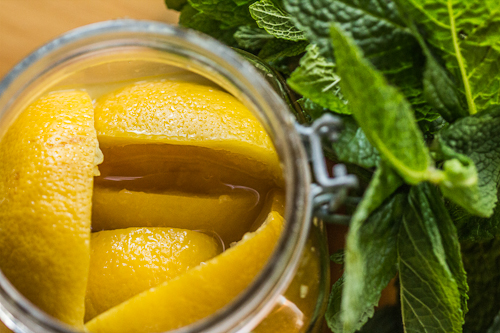 09 May

Moroccan Lemon Chicken with Preserved Lemons

Some days you just have to take a deep breath and say, "Well, it tasted great!"

The day I broken open my stash of  preserved lemons was one of those days. With bright yellow lemons and deep green mint, I thought I could turn out a dish as pretty as the photo in the book that inspired me.
I was wrong.
The photo of Moroccan Lemon Chicken Tagine with Coucous  in Shelley Adams'  Whitewater Cooks with Friends is spectacular, with an artfully placed grilled lemon half, a cinnamon stick angled just so, and a mint sprig draped seductively across the centre. My version? The only shot that wasn't a total turn off is shown below. And let's face it, this could be almost anything.
But it tasted great, so I'm giving myself a pat on the back for using my preserved lemons, and drew you a very spiffy picture on my iPad to make up for things. Move over E.H. Shepard.
Please, don't judge someone else's book by my photos. The recipes in Whitewater Cooks for Friends are fun and creative, calling for lots of layered flavours and unusual combinations. The smoked paprika vinaigrette is going to go into my homemade salad dressing rotation and the gravity-defying stacked Pacific Sashimi Towers are convincing me to tempt fate. With starters, soups, salads, entrees and desserts, the recipes in this collection are as eclectic as the friends you bring to your table. My only concern is these recipes are more interesting than I am.
I veered from the original recipe a bit to try my preserved lemons. They were tangy and tart and sour — and oddly sweet. Sweet? Yes.  Not like candy, but a tad sweet. And they worked beautifully in this dish. Shelley Adams seems like a gracious host. I'm sure she won't mind.

Moroccan Lemon Chicken with Preserved Lemons
Recipe type:
Chicken & Poultry
Prep / inactive time:
Cook / active time:
Total time:
This Moroccan chicken uses
preserved lemons
and has all the sunny flavours you'd expect from North African cuisine.
Ingredients
Chicken
12 boneless, skinless chicken thighs
2 tsp salt (omit if using preserved lemons)
2 tsp pepper
¼ cup olive oil
2 medium onions, thinly sliced
4 cloves garlic, crushed
1 tsp turmeric
1 tsp cumin
1 tsp coriander
½ tsp dried chili flakes
2 cinnamon sticks
2 bay leaves
3 cups low-sodium chicken stock
2 lemons, zest and juice of (or the rinsed, slivered rind of 2 preserved lemons, plus ¼ cup fresh lemon juice)
1 can chickpeas, drained
1 cup pitted green olives, manzanilla or picholine are preferred
½ cup fresh mint, chopped
2 lemons, quartered
Couscous
2 cups couscous
2 cups low-sodium chicken stock
3 tbsp butter
½ tsp saffron threads
1 tsp salt
¼ cup olive oil
Instructions
Chicken
Season the chicken all over with salt, if using, and pepper.
Heat olive oil in large, heavy bottomed stock pot over medium-high heat. Brown the chicken well all over, about 3-5 minutes per side and set aside.
Turn heat down to medium, add onions and garlic and cook until soft, about 5 minutes. Add turmeric, cumin, coriander, chili flakes, cinnamon sticks and bay leaves and sauté, stirring constantly, until spices are fragrant , about 1 minute. Add the chicken stock, lemon zest (or preserved lemon rind) and juice, cover and simmer over low heat for 20 minutes.
Return chicken to pot, add the chickpeas and olives, and stir to combine. Simmer, uncovered, stirring occasionally until sauce has reduced somewhat and chicken is done, about another 20 minutes.
Stir in fresh mint and lemon quarters just before serving.
Couscous
Preheat oven to 350°F.
Place couscous in an oven-proof baking dish.
Heat the chicken broth, butter and saffron until the butter is melted and the broth is hot. Pour the mixture over the couscous and stir well. Cover with foil and bake for 10 minutes or until liquid is absorbed. Remove from oven and let sit, covered, at room temperature for another 5 minutes. Drizzle olive oil over couscous.
Serve chicken over couscous.
Garnish with whole sprigs of fresh mint and grilled lemon halves, if you like.
Notes
This dish can be made the day before and reheated.
Excerpt published with permission from
Whitewater Cooks with Friends
by Shelley Adams. ©2011. Published by Alicon Holdings.