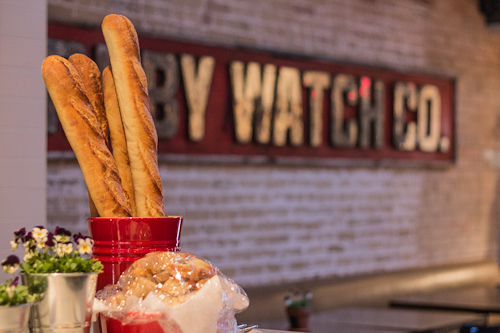 04 May

Recipe: Butter and Maple Blondies

According to my mother, I have loved butter ever since I was old enough to sneak a one-pound brick of it out of the grocery bag, quietly peel back the foil, lick off a good inch, rewrap the evidence and slip it back in the bag.

I think I was about 4.

Today, I consume fat far more responsibly and the cat is the one who sneaks licks of butter.

Although I use this dairy product prudently, my love of butter remains. I cannot imagine Christmas without rich, buttery shortbread. What would boiled lobster be without its melted sidekick? Just another bottom feeder. And popcorn? Don't even think the word "butter-flavoured topping."

So, when Stirling Creamery hosted an evening at Ruby Watchco to showcase their new butter collection, I just couldn't say no.
Before this butter-infused evening I thought there were two kinds of butter — salted and unsalted.
And I was wrong. So very, very wrong.
In addition to the salted and unsalted versions, Stirling makes European Style Butter with 84% butterfat (compared to 80% with your average butter). One taste and I was back in my  Camden flat in North London. There's Whey Butter, which has an earthy, slightly nutty flavour, and Goat's Milk Butter. This one's a bit like chèvre. It even "ages" in the refrigerator over a couple of weeks.
Throughout the evening, we tasted a sweet and savory dish using each of these four butters. Created by chefs Lora Kirk and Lynn Crawford at Ruby Watchco, these dishes were as innovative as they were delicious. These chefs managed to work butter into dishes in ways I'd never dreamed. While the calories were out of control, this butter binge proved once again that we are limited only by our imaginations. And possibly our waistlines. But this was a special occasion.
To begin, the cocktails used browned butter to sugar the rim. My only complaint was I was driving. Two sips in I had to switch to water (no butter and sugar rim on that drink).
This is the menu board. I'll walk you through the dishes. For the record, there was no clear winner. Everyone at the event liked a different butter for a different reason. My clear favourite? See if you can guess…
Let's begin.
Any guesses?
My favourite was the 84 Reserve European-Style, but it's not for every day. This version richer and (understandably) more expensive than Stirling's regular salted butter, so I would save it for special occasions and use it only where it would be the star. Like on scones in lieu of clotted cream. Served to my British friends, who no doubt think of Canadian butter the way we think of American beer.
Until now.
Here is the recipe for Maple Butter Blondies. It's decadent. It's rich. It's for special occasions. It's worthy of Jo Marie's maple syrup.
Maple Blondie with Maple Butter Caramel Sauce
Recipe courtesy of Chef Lora Kirk of Ruby Watchco.
Maple Brownie
1 1/2 cups Stirling 84 Reserve Butter
1 1/2 cups brown sugar
1 teaspoon baking powder
1/2 teaspoon salt
1 1/2 teaspoons vanilla
1 tablespoon Maple Syrup
2 eggs
1 1/2 cups flour
1 cup coarsely chopped pecans
Preheat over to 350°F. Grease a 9 by 13-inch pan.
In a stand mixer, using a paddle, beat butter and brown sugar together.  Add baking powder, salt, vanilla and maple syrup. Beat in eggs, one at a time. Mix in flour. Stir in the pecans. Pour the batter in the pan and smooth with a spatula.
Bake 350°F for 22-25 minutes.
Maple butter sauce
2 cups whipping cream
3/4 cup sugar
1/2 cup pure maple syrup
2/3 cup Stirling 84 Reserve butter
Combine cream, sugar and maple syrup in a heavy, medium saucepan. Stir over medium heat until the sugar dissolves. Increase the heat and bring to boil. When it reaches the boil, reduce the heat to medium-low and simmer, whisking occasionally, until the sauce is caramel colored and reduced to about 1 3/4 cups (about 35 minutes). Mix in the butter. Cool the sauce slightly before pouring over the maple blondie.