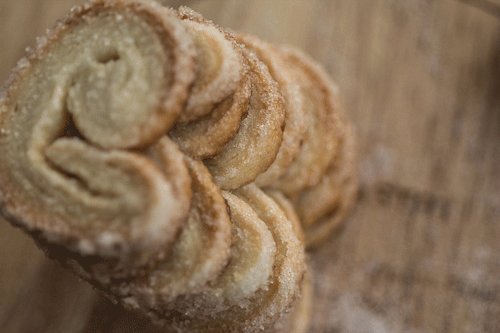 05 Mar

Recipe: Perfect Elephant Ears (Palmiers)
These are elephant ears. Or palm ears. Or palmiers. Or French hearts, or butterflies or glasses. No matter what you call them, these sugar-laced puff pastry treats are one of my all time favourites. Like most things worthwhile, they are a labour of love. And I love my father. So I made a batch to welcome him home after a month abroad on a volunteer mission.
But as Murphy would have it, my website went haywire* during the process. I tried to restore the site between rounds of rolling, chilling, slicing and baking. The results? A salvaged blog and a pan of burnt elephant ears. Another senseless waste of pastry.
Fortunately, only the last pan suffered third-degree singing. There were some for my Dad and plenty of pastry left over for another attempt.
The recipe comes from The Modern Baker by Nick Malgieri. If I were allowed to make only one recipe from this book it would be this one. I know. This isn't the fancy, layered, gooey, booze-filled, berry-bursting  dessert I normally gravitate to. These are a simple, three-ingredient pastry that somehow turns butter, sugar and flour into a million layers of shattery perfection.
You can use this technique with store bought all-butter puff pastry. Just be sure to buy pastry that lists  butter as the only fat. In order to feel justified in taking this off my Culinary Bucket List, I made these from scratch, using  Malgieri's Instant Puff Pastry Recipe as the base.
For the impatient, please note, there is a lot of waiting required to make good palmiers. Don't rush the process like I did on my first pan. Resting the sugar-rolled dough is essential. An hour in the fridge and the sugar becomes sticky and latches onto even more sugar when you dip the cut ends. If you don't rest the dough, the sugar will just slide off. You'll end up with flaky, not-so-caramelized elephant ears, and that's not the point of this dessert. To honour the good ingredients, I forced myself to eat the failures. Someone had to.
If you decide to make these from scratch and not commercially prepared puff pastry, save them for a lazy-weekend. The pasty needs to chill for 90 minutes before you can even think about rolling in the sugar. Then you have to chill the sugar-rolled dough another hour. Baking takes only 15 minutes. Eating. Even less time. While the dough rests, put your feet up. Have a tea. Read a book. Some things can't be rushed — as I have proven once again.

Perfect Elephant Ears
Prep / inactive time:
Cook / active time:
Total time:
These crisp, caramelized pastries go by many names — elephant ears, palmiers, pig's ears, butterflies, palm leaves and even glasses. Regardless of what you call them, they are addictive. Layers of flakey puff pastry infused with sugar make these irresistible. Bet you can't eat just one.
Ingredients
12 ounces prepared all-butter puff pastry (or ¼ batch of Malgieri's Instant Puff Pastry)
¾ cup sugar for rolling the dough


Instructions
Line 2 jelly rolls with parchment or foil.
Sprinkle the dough and work surface with about half the sugar and press the dough to soften it, turning it 90 degrees and continuing to press until the dough is soft enough to roll. Keeping the work surface covered with sugar, rolled the dough into an 8 x 12-inch (20 x 30 cm) rectangle.
Trim the edges of the dough to be even, if necessary. Fold in each of the 12-inch (30-cm) sides of the dough a little less than halfway toward the middle, a little more than 1½ (1-cm) inches.
Repeat folding each edge in toward the middle–there should now be about a ½-inch gap between the 2 folded pieces of dough. Fold over along the gap to make a long, narrow rectangle closed on one of the long sides like the spine of the book and opened on the other. Do not stretch the dough in the gap, which will cause the ears to open while they are baking.
Used the palm of your hand to slightly flatten the formed piece of dough. Cut it in half, wrap each half in plastic, and refrigerate for at least 1 hour. Scrape any sugar remaining on the work surface into a bowl to use after the ears are cut.
Set a rack in the middle of the oven and preheat to 375°F (190°C).
Remove one of the pieces of dough from the refrigerator and place it on a cutting board. Use a sharp, thin-bladed knife to cut the ears crosswise into ½-inch (1 cm) thick slices. Dip the cut sides in the reserved sugar and place them cut side down on the prepared pan. If you want to take all of the elephant ears on the same day, cut the 2nd piece of dough and arrange it on another pan, but bake only one pan at a time.
Bake the elephant ears until they have expanded and puffed and the sugar has caramelized, 10 to 15 minutes. Remove individual elephant ears as they are finished, as some many burn before others are baked through. Cool the elephant ears on a rack–the "public side" is the one that his baked against the pan.
Notes
From The Modern Baker: Time-Saving Techniques for Breads, Tarts, Pies, Cakes and Cookies by Nick Malgieri. Published by DK Publishing 2011

These are always best on the day they are baked, but you can refrigerate or freeze the formed length of dough–some of the sugar will melt, but I have never noticed this is made any difference in the baked pastries. Please resist the temptation to add cinnamon, cocoa, or anything else to the sugar pay. It would ruin the delicacy of the buttery caramel.

Storage: Store leftovers between sheets of waxed paper in a tin or plastic container with a tight fitting lid.
Review in Brief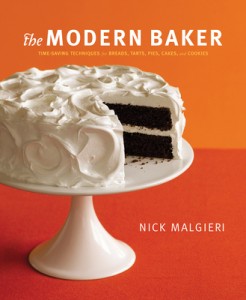 Target Audience: This book will appeal to bakers of all levels —even beginners. The detailed instructions give lots of guidance, while the sections dedicated to ingredients, equipment and techniques are long enough to deliver essential information but brief enough to get you into the kitchen without much delay. Recipes range from simple picnic-perfect quick breads to delicate pastries you could serve the Queen — should you be lucky enough to have her visit, which I haven't been (yet). Maybe now that I can make palmiers, she'll reconsider.
Must Try Recipes: Oh, were do I begin?
Lemon and Almond Tuiles: These delicate buttery cookies may be named after the curved clay roofing tiles you see all over in Southern Europe, but they are far from common and far more appetizing.
Chocolate Orange Hazelnut Tart: If you need a reason to try this recipe, the book is not for you. For those on a diet, the phrases "ganache" and "hint of rum"  are bound to weaken your will power.
Shrimp & Toasted Pumpkin Seed Tart: Malgieri includes an entire section devoted to savouries. This Mexican-inspired tart has a bit of spice and an entire cup of cilantro — my favourite herb.
Biggest delight: Malgieri manages to make even complex pastries easy. While most of these baked goods are created in stages, often with long waiting periods, his streamlined techniques can be adapted to suit a busy schedule, which is good news to frustrated bakers. For instance, The Instant Puff Pastry for the elephant ears can be made in minutes, with only one round of rolling. Make it one day, bake it the next. Thanks to the modern take on old techniques, even croissants aren't out of the question. All you have to do is plan ahead.
* Since I was forced to reformat everything on the site, I decided to resize the thumbnails (the tiny images you see on previous entries and search results.) My thumbnails used to be square. Do you like the rectangular version? If you have strong feelings either way, let me know. It's a 2-second fix.