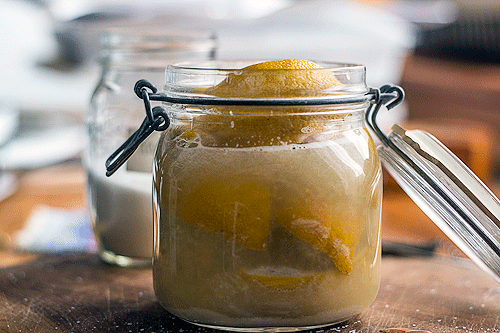 17 Feb

Recipe: Preserved Lemons
It's time to strike another item off my Culinary Bucket List. In an uncharacteristic display of patience, I tackled preserved lemons. They require endurance, not because they are hard to make, but because they take 4 weeks to cure.
In the meantime, to scratch my immediate-gratification itch, I started a Tumblr — a place to stuff all those little items I can't clutter up the blog with. It'll be a home for stray thoughts, non-food shots (which don't necessarily translate to cats), and food shots that aren't good enough for Foodgawker but tell a story I want to share. I'm still figuring it out, but if you care to pop by I have added a link to the far right of the menu bar. Go on. Click it. I dare you.
Anyway, I started researching preserved lemons before the whole Tumblr thing sidetracked me. Traditional recipes range widely. Some have bay leaves and pepper corns — even cinnamon sticks, cardamom pods and chili peppers. Some call for Meyer lemons, which I cannot find for the life of me. Others require unwaxed, thin-skinned lemons. Not sure I can get those either.
Marching boldly ahead, I compared techniques. Some sterilized the jars in boiling water. Others used a hot oven. Others just tossed everything into a jar and let the acid in the lemons kill the germs. Not sure the Internet is ready for that.
Even how you handle the lemons wasn't set. Some sliced, while others merely slit the fruit before stuffing the insides with salt. Regardless of the source, all recipes called for salt, lemon juice and time. So I began.
Trying to be authentic, I tried the score-and-stuff technique, but whole lemons didn't fit  into the jar, so I sliced the suckers up.
Unsure if my lemons were adequately de-waxed or had thin enough skins, I made a single jar. If all goes horribly wrong, I will have a lone container of disappointment to contend with. If I triumph, I can do it all over again and start a podcast while I bide the time.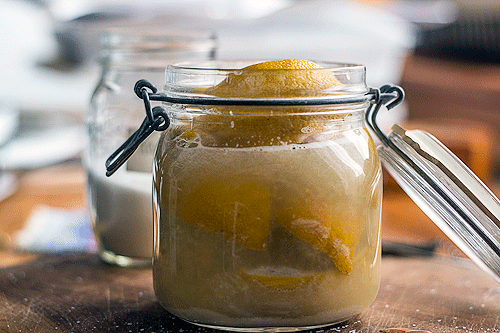 In a matter of minutes, I had a jar of lemons in salty juice. It is now quietly preserving away in the pantry. Depending on my mood, I will either shake it vigorously or up-end it once a day. For four weeks. Between Tumbls.
While all variations were clear on what to do with the lemons once they were preserved, the only aspect of preserved lemons they didn't address was what to do with the seeds. It's as if no one but me gets lemons full of seeds.
So I removed them.
Next month? Roasted Moroccan chicken, or a tagine. What would you do with a jar of preserved lemons? Have you made preserved lemons? If so, share your tips.

Preserved Lemons
Author:
Charmian Christie
Prep / inactive time:
Total time:
Preserved lemons are a staple in Moroccan cuisine and provide a distinct flavour plain lemons can't recreate.
Ingredients
6 lemons, preferably thin-skinned (this number is approximate based on the size of the lemons and the amount of juice they provide)
¼ to ⅓ cup kosher salt (Don't fuss over an exact amount as the lemons are rinsed before using.)
Instructions
To Preserve
Sterilize a wide-mouthed, 1-pint (1-litre) jar in boiling water for 10 minutes. Remove the jar with tongs and allow to air dry. Do not towel-dry as this could contaminate the jar. Simmer the lid in the hot water to soften the rubber seal.
Scrub the lemons, remove the stem end, then slice each into four wedges.
Stuff the lemons into the jar, cut side up, sprinkling each layer with a good tablespoon of salt. The jar should hold about 3 lemons.
Juice 3 or 4 lemons. If the lemons are hard and won't juice, microwave each lemon for 30 seconds before juicing. Pour the juice over the lemons. The juice should cover the wedges. Add another generous sprinkle of salt and seal the jar.
Store the sealed jar in a cool, dark place, turning it upside down or shaking it vigorously every day for a month. The lemons are ready when the pulp is very soft and the salt-juice brine looks like syrup.
To use:
Remove the required amount of lemon wedges using a clean fork. Reseal the jar and refrigerate. The opened jar should keep for 6 months. Rinse the lemon wedge. The pulp will be very soft. Using a spoon, scrape the pulp away from the rind, and dispose of the pulp. Use the rind as directed.