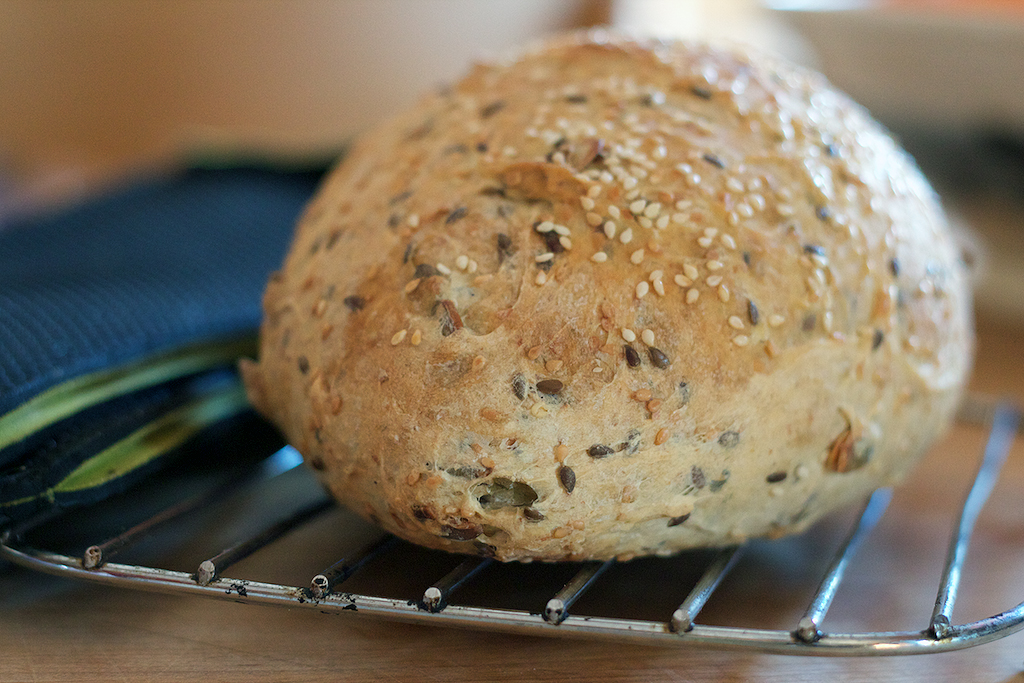 12 Jan

Healthy Seed Bread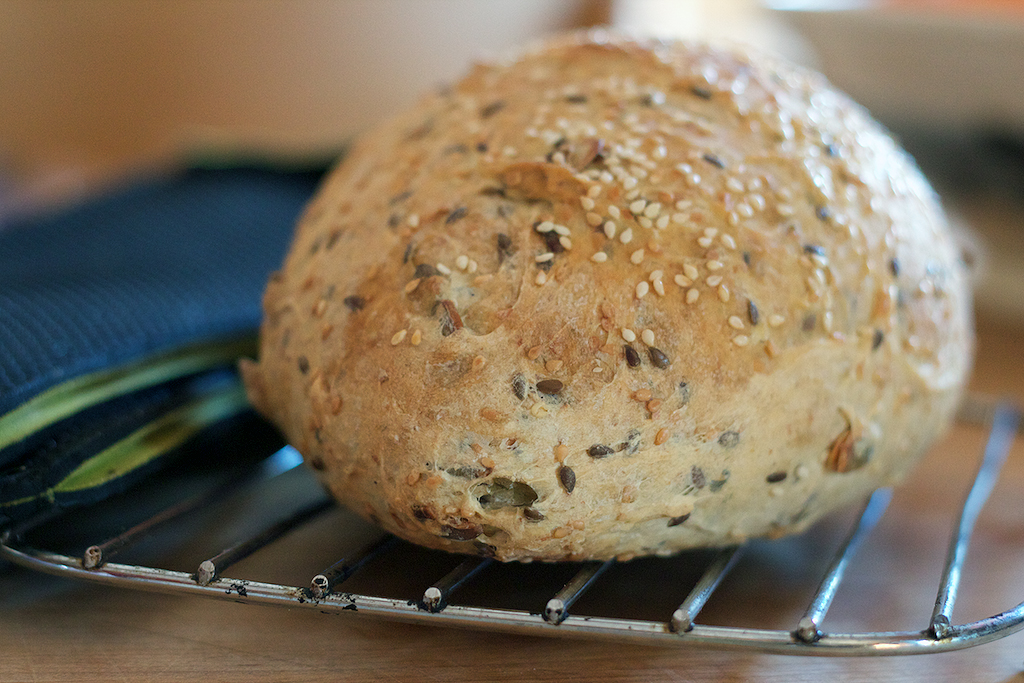 One of the items on my culinary bucket list was granary bread. I wanted to create my own version of a seed-loaded hearth bread I used to get from a local bakery. Their bread was dense without being heavy — something you could sink your molars into and chew with satisfaction. The seeds crunched while the crumb yielded. It's was a stand alone snack or the perfect outer limit for a hearty sandwich. You could toast it up or devour it at room temperature. (Confession: I often ate a fresh slice while another slice toasted.) It delivered sweet honey and savoury cheese with equal ease. Able to perform its duties at both extremes, it was the perfect bread for a Gemini like me.
And then they changed the recipe.
Finding a homemade replacement proved challenging. I fiddled with no-knead versions, adding seeds and whole wheat flour. While the results looked right, something was off. My sister gnawed on a slice and kindly informed me it "tasted healthy."
I was aiming for delicious. Or addictive. Or amazing. I'd have settled for yummy, or even not bad. But healthy? In my family that's code for sawdust.
After scouring the web and local library, I found only one recipe with a similar ingredient list to the bakery's. It wasn't called granary or hearth bread, as I'd imagined. Instead it was descriptively dubbed Many-Seed Bread.
I've made three loaves. There's half a loaf left.
This isn't a quick-make bread, but it isn't a labour of love either. In the Gemini tradition, it's a balance. While it requires a bit of planning, you can refrigerate the dough for up to four days — so you are never more than a few, non-active hours away from a fresh loaf of healthy bread. And I mean that in the best possible way.

Hearty Seed Bread
Author:
Charmian Christie
Cook / active time:
Total time:
This hearty bread is full of seeds and is perfect for toasting or enjoying with a bowl of soup.
Ingredients
⅓ cup sunflower seeds, lightly toasted
⅓ cup pumpkin seeds, lightly toasted
1½ cup lukewarm water (95°F or 35°C)
¾ cups lukewarm buttermilk (95°F or 35°C)
5 cups unbleached bread flour
⅓ cup whole wheat flour
⅓ cup whole rye flour (or same amount of whole wheat flour)
½ cup sesame seeds
3 tablespoons flax seeds
1 tablespoon coarse kosher salt
2 (8-gram) packets instant yeast (4½ teaspoons)
3 tablespoons honey
sesame or poppy seeds for garnish
Instructions
The Day Ahead
Lightly toast the sunflower and sesame seeds in a dry frying pan over medium heat. Set the seeds aside to cool.
Meanwhile, combine the water and buttermilk. Heat the liquid gently in a pot on the stove, or in the microwave on medium setting. Check the temperature with an instant-read thermometer (you are aiming for about 95°F or 35°C) to ensure you don't kill the yeast with liquid that is too hot.
Combine flours, seeds, salt, yeast, honey, water / buttermilk mixture in a large bowl. Mix by hand or using the paddle attachment of a stand mixer on low speed for 2 minutes. The dough should be sticky. Let stand 5 minutes.
Change the paddle to a dough hook and mix on medium-low for 3 to 4 minutes. You can also continue to mix by hand, but I find this too hard on my wrists. You want the dough ball to hold together, but be soft, tacky and slightly sticky. You may need to add a bit more flour or water to get this consistency.
Knead the dough by hand on a floured surface for 3 minutes, adding more flour as needed to prevent sticking. The dough should be slightly sticky but still form a ball.
Place the dough in a lightly oiled bowl, cover with plastic wrap and refrigerate overnight. The dough can be kept for up to 4 days and baked in batches.
Baking Day
About 2 hours before you plan to bake, remove the dough from the refrigerator and shape into loaves. I made 3 free-form loaves over 2 days, proofing and baking them on a baking sheet fitted with a silicon mat.
Once the loaf is shaped, brush the top with water and sprinkle with sesame seeds. Mist with spray oil, cover loosely with plastic wrap and let rise at room temperature for 90 minutes to 2 hours, or until the loaves are about 1½ times their original size.
Half an hour before the loaves are ready to bake, preheat the oven to 350°F.
Bake the bread for 20 minutes, rotate the pan and continue to bake for another 25 to 30 minutes. The bread is ready when it's golden brown and sounds hollow when knocked on the bottom. The first few times you make this, you might want to double check doneness with an instant-read thermometer. The internal temperature of the loaf should be 185°F (85°C). After a few tries, the colour and knock will be enough for you.
Let the bread cool for about an hour before slicing — if you can wait that long.