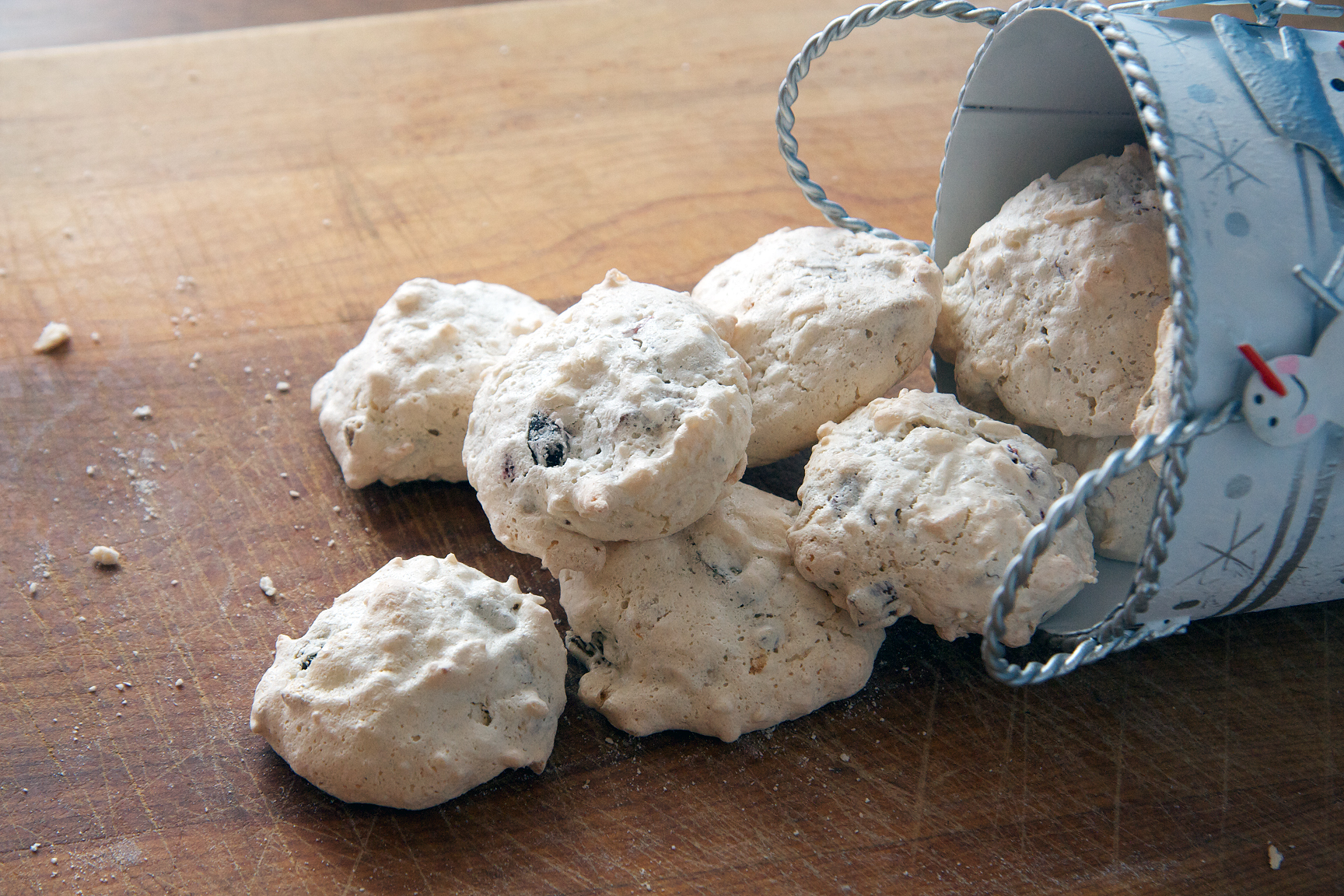 15 Dec

Recipe: Gluten-Free Macaroons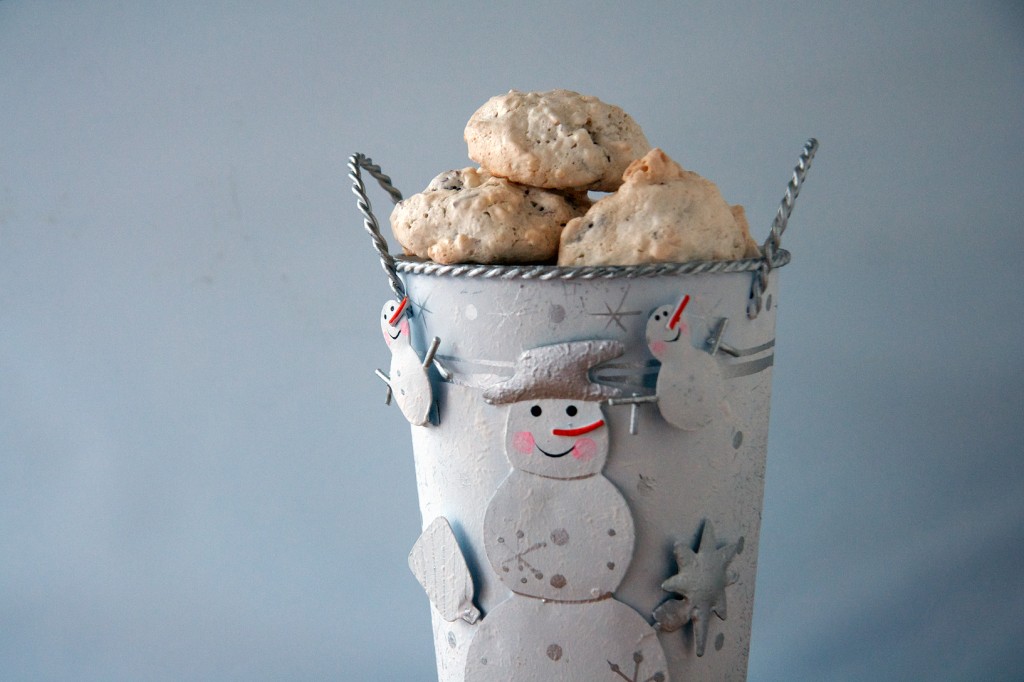 As a food writer, I've dabbled in the gluten-free world. I've bought guar gum and xanthan, various rice flours, teff, sorghum and nutmeals. They're taking up a lot of room in my spiffy new pantry along with the gluten-loaded all-purpose, whole wheat, cake & pastry, bread and unbleached flours. Since everyone in my house can eat wheat, I find I rarely use the gluten-free variations. As a result, I am quickly coming to the conclusion that unless you regularly feed someone who is gluten-intolerant, gluten-free baking that requires a mix of flour alternatives might not be the best route.
So how do you feed guests who are unable to eat wheat without stocking up on specialty items?
Dinner is easy. Roasted meat and simple side dishes like baked potatoes and steamed vegetables or a salad topped with homemade dressing. You can even serve gravy if you thicken it with corn starch. Asian cuisine is another delicious and easy solution. A stir fry or curry will satisfy everyone. Steam up a pot of rice instead of hot naan bread and you're golden.
But desserts? Oh desserts. This is where the gluten-hits the fan. While I want to make gluten-free cookies, cakes and pies for my guests, I've decided the most practical approach is similar to my dinner tactic. Serve dessert that is gluten-free by nature not design.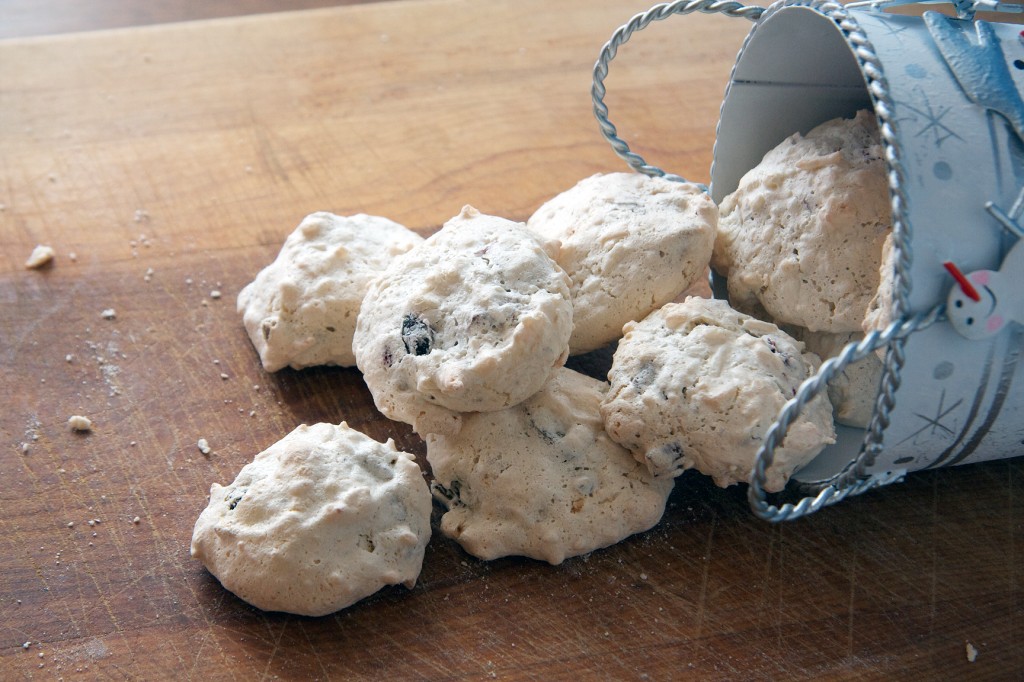 These macaroons fit the bill. They're from Blackbird Bakery Gluten-Free by Karen Morgan. Karen is the host of the cleverly named show Gluten Morgan which appears on Thrive, an online video series by Wholefoods. I made these snowbally cookies for a Christmas party and people were surprised to learn they were gluten- and dairy-free. I baked two variations — one religiously following Morgan's original recipe and one replacing the dates with festive cherry-flavoured dried cranberries. Both versions had people coming back for seconds.
Ah, macaroons. Gluten-free. Always have been. Always will be.
Two blackbirds. One very edible stone.
Rosa's Coconut-Date Macaroons
The excerpt is printed with permission from Blackbird Bakery Gluten-Free by Karen Morgan. Published by Chronicle Books ©2010.
Makes about 3 dozen cookies
4 large egg whites
1 cup sugar
1 1/2 tsp cornstarch
1 1/4 tsp pure vanilla extract
3/4 tsp distilled white vinegar
2 tbsp boiling water
1 cup chopped dried Medjool dates (or 1 cup cherry-flavoured dried cranberries, roughly chopped for a festive twist)
1 cup finely chopped pecans
3 cups sweetened shredded coconut
Position an oven rack in the centre of the oven. Preheat the oven to 350°F. Line two baking sheets with parchment paper or silicone baking mats.
Using a stand mixer fitted with the whisk attachment, beat the egg whites on high speed until opaque and foamy.
In a small bowl, combine the sugar and cornstarch. Stir with a small whisk to blend. Reduce the mixer speed to medium-low and gradually add the sugar mixture; mix for about 30 seconds, gradually bringing the mixer back to high speed and mix for 1 minute.
Immediately add the vanilla and vinegar and continue to mix for at least 2 minutes, or until the egg whites hold stiff, glossy peaks, stopping to scrape down the sides of the bowl once or twice.
Reduce the speed to medium-high and add the boiling water all to once. The egg whites will swell up and then resettle as all the water is incorporated. Mix for 2 more minutes, then set aside.
In a medium bowl, combine the dates (*or cherry-flavoured dried cranberries), pecans and coconut; using your hands, toss the ingredients until evenly distributed. This helps to avoid clumping, which can cause the egg whites to break down a bit too much due to over-stirring.
Gently fold in the coconut mixture into the egg white mixture until blended. Using a 1 1/2-inch-diameter ice-cream scoop, place scoops of batter 1 inch apart on the prepared pans. Bake one sheet at a time for 8 minutes, then reduce the oven temperature to 225°F and bake for 40 minutes longer, or until the macaroons are an even light brown.
Remove from the oven and let cook on the pan for 15 minutes. Transfer the cookies to wire racks to cook completely.
Store in an airtight container in a cool dry place for up to 1 week.
Review in Brief
This book will appeal to people who must eat gluten-free but crave the muffins, tarts and pastries so readily available to their  wheat-eating counterparts. Many of the recipes call for glutinous rice flour but don't panic. This inexpensive rice mix is available at Asian food stores and contains no gluten despite its name. Morgan claims this flour is the secret to light, moist baked goods.
Other flours Morgan uses are easily purchased at a health food store and include: almond, amaranth, chestnut, garbanzo bean (chickpea), millet, sorgham and tapioca. Most recipes call for only a couple of different flours, so you can build your gluten-free flour inventory as needed.
Must try recipes
Cashew butter ice cream sandwiches: As if cashew butter cookies weren't decadent enough, these goodies are filled with rum and raisin ice cream.
Savory crepes: Wafer thin with a lacy edge, these crepes are described as a "springboard for creativity." Apparently the vodka is essential to the success of this recipe. Okay, Karen. If you insist.
Pear-Cardamom Cakes: "Simple, beautiful and delicious." What more could you ask for in a dessert?
Biggest delight: The photographs. Light, bright and utterly captivating. Some are whimsical — like the blackbird with its tail feathers caught in a set of hungry false teeth. Others will make you want to grab your fork. It's almost a shame to eat these gorgeous desserts. Almost.