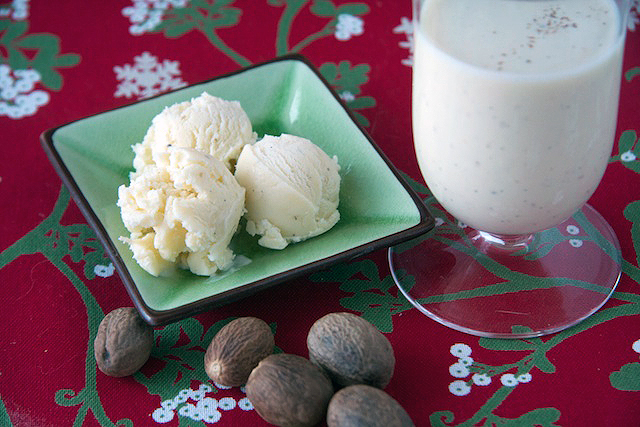 06 Dec

Recipe: Homemade Eggnog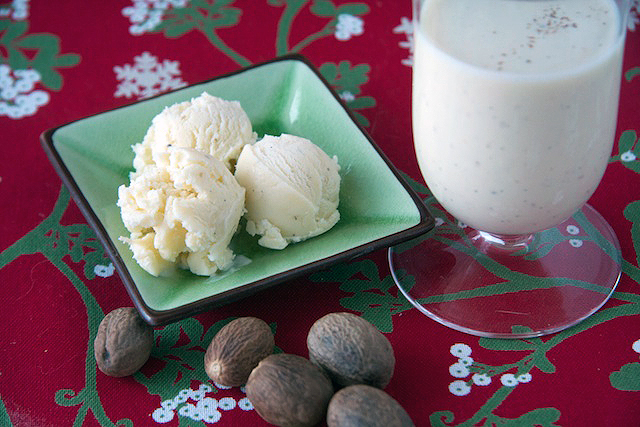 I'm trying not to be resentful but a certain celebrity llama has more Twitter followers than I do. And his first name isn't Dali. To be fair, the llama is a talented goat herder, so I can see the appeal.
Why all the fuss over a shaggy camelid? Polka Spot belongs to the Fabulous Beekman Boys — along with a polydactyl barn cat, 160 goats, two sheep and a cheese cave. They all reside on a 60-acre farm with a 210-year-old mansion. I'd be insanely jealous if I didn't know how much work 60-acres and 640 goat hooves require. The only low-maintenance item on that list is the cheese cave, and I'm sure there's more to that than simply maintaining a thermostat.
While the Fabulous Beekman Boys docu-series has been on Discovery Channel in the US for a couple of seasons, it has yet to hit the Canadian airwaves. But The Boys are coming North. And like good guests they're not about to arrive at our doorstep empty handed. They've just released, The Beekman 1802 Heirloom Cookbook as a way for us to get to know them.
Brent Ridge and Josh Kilmer-Purcell are the Fabulous Beekman Boys. Brent is a former VP with Martha Stewart Living OmniSomething, so you know the product is going to look fabulous. Josh is a best selling author, so you know the content is well-written. Between the two, they've taken a fresh approach to classic seasonal recipes. In order to be considered "heirloom quality" and thereby make it into the book, the recipe must have:
A story
An emotional base
A delicious result
Easy-to-follow instrucitons
Ingredients you can buy at your local grocery store (or Farmers' Market, in season)
To keep it real, they've created a page on their website for each recipe where readers are invited to share their results, adaptations and photos. Not online? Each recipe in the book has a "Notes" section where you can scribble your adjustments with impunity. There are even blank, lined pages for you to record heirloom recipes from your own family.
With Christmas around the corner, I turned to the winter recipes. I swear, the book opened quite naturally at the eggnog recipe — as if it were meant to be. I feel quite confident that, as a former physician, Brent wouldn't allow a recipe into his book if it weren't worth the calories and cholesterol.
This one is.
Since Brent and Josh take a very communal approach to their recipes, I took the liberty of making a tiny tweak to their eggnog recipe. I added a split vanilla pod to the cream while it simmered and used Canadian whisky instead of American bourbon. The results are the best eggnog I have ever tasted. EVER.
And then I made the ice cream.
And another batch of eggnog.
In keeping with the gregarious Beekman Festive Mood, I'm offering you all a taste. If you're interested in coming to my place for some eggnog, hot cider and a cookie exchange, drop me a note in the comment line. I'll email you with the date, time and location. All you need to do is bring your smile and a plate of your favourite homemade goodies. We'll eat, share and swap some treats. And with a little luck, maybe one of the recipes will make it into your heirloom collection.
No goats or llamas, please. Our cats don't approve of Twitter.

Homemade Eggnog
Author:
Charmian Christie
This one recipe yields many results. Homemade eggnog can be enjoyed as is, churned into ice cream or frothed into a steaming latte. No matter how you enjoy it, vanilla, eggs and nutmeg make an irresistable flavour combination.
Ingredients
3 cups half-and-half
½ vanilla pod
⅔ cups sugar
3 large eggs
3 large egg yolks
½ teaspoon freshly grated nutmeg
3 tbsp bourbon or Forty Creek whisky (optional)
Instructions
Slit the vanilla pod in half lengthwise and scrape out the seeds. Put the seed, pods and 2½ cups of the half-and-half into a large, heavy-bottomed saucepan and bring to a simmer over medium heat. Have a strainer set over a bowl ready for straining the eggnog.
Meanwhile, in a medium bowl, whisk together the sugar, whole eggs and egg yolks until light and pale. Gradually whisk the hot cream into the egg mixture, then whisk the mixture back into the saucepan and cook over low heat, whisking constantly, until the mixture is thick enough to coat the back of a spoon and registers 140°F on an instant-read thermometer. Remove from the heat and immediately strain into the bowl.* Stir in the nutmeg and the remaining ½ cup half-and-half.
Let cool to room temperature. Add the bourbon or whisky (if using) and refrigerate to chill. Serve chilled.
• ICE CREAM VARIATION: If you've got an ice cream maker, use it to churn the eggnog into eggnog ice cream. Amazingly decadent.
• LATTE VARIATION: Replace the milk in your latte with heated and frothed eggnog. You will likely need only half the amount of eggnog as it is very rich. Breakfast will never be the same!
Notes
* Do not discard the vanilla pod. Rinse it off, let it dry out and use it to make
vanilla sugar
.
Adapted from
The Beekman 1802 Heirloom Cookbook
by Brent Ridge and Josh Kilmer-Purcell with Sandy Gluck. Published by Sterling © 2011.
Review in brief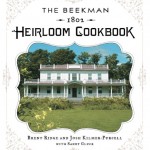 This book will appeal to: Beekman Boy fans and anyone who wants good, homestyle meals with a bit of a twist. Mushrooms and kale turn plain old macaroni and cheese into a seasonal treat while fresh peas perk up risotto. You'll find salads, stews, roasts, pies and even summer beverages. It's a bit like stepping back in time but without the shudder-inducing jellied salads.
Must try recipes:
Lamb Burgers with Cucumber-Yogurt Sauce: A refreshing change to the ubiquitous hamburger thanks to Mediterranean spices and a cool yogurt dressing.
Butternut Squash-Filled Lasagna Rolls: This is Brent's favourite. It's on the table in less than an hour, is great for kids because they can help roll it, and looks elegant enough for dinner parties. What more could you want?
Company's Coming Apple Cake: Another easy but delicious recipe Brent can't resist. Moist and wonderfully comforting.
Biggest delight: The photos. I was expecting the stylish but ultra-clean Martha Treatment. Instead, they hired a fine art photographer who shot the book in the style of the old Dutch Masters.  The results have a timeless, heirloom quality that suit the book's theme without looking dated or kitschy.