20 Oct

Recipe to Riches | Luscious Lemon Pudding & a Review
It's a cold, raw, rainy morning and I'm breakfasting on Grandma Glo's Luscious Lemon Pudding, which won last night's Recipe to Riches challenge. I had hoped to serve it to guests tonight, but I don't think there will be enough left. I'll be making a second batch later today as it's an easy recipe and I'll take any excuse to justify my stand mixer's existence.
I admit, before the episode aired, I was rooting for Glo McNeil, partly because she's 82 and partly because her recipe has lemon in the title. I'm always on the look out for a good lemon recipe since it's one of the few desserts my father likes. And frankly, if I have to make another Lemon Meringue Pie for a family occasion, I just might throw it at someone.
The problem? I'm no fan of pudding. I find it slimy with a disconcerting skin-like seal. But  I was willing to throw myself on this one for my father's sake. The results were a delightful surprise. Luscious Lemon Pudding has all the elements of the pie my father loves — lemony, sweet and creamy — but without the fuss of pastry. It's ubelievably light and, as if I was being rewarded for my sacrifice, the "pudding" is actually a velvety sauce that swims below the mousse-like topping. Can you see the two layers?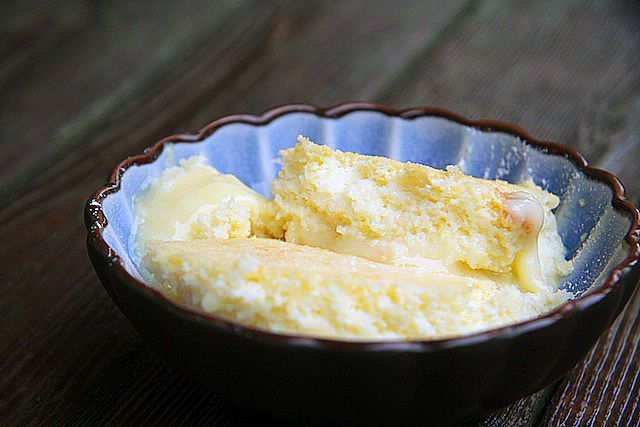 Even though this dish calls for separating eggs, whipping whites and baking the dish in a hot water bath, it's very easy to make. If you don't have a stand mixer, you can use a hand mixer and get equally good results. It bakes for just under an hour, so it's not a dish for the spontaneous, but it's ideal for weekend baking. You'll be able to clean up and do the crossword in the time it takes to cook and set.
I've sampled it (and re-sampled it, and re-re-sampled it) warm from the oven and cold the next day. Both are delicious. It's a perfectly balanced dessert and while satisfying to your mouth, not heavy or filling. The only problem with it is the title. While it's definitely luscious and full of lemon, it's really not a pudding. And that's a good thing in my books.
Want to try the recipe yourself? The Food Network has posted in here. And don't worry about having to make a "Batch Up" version. All the recipes have been modified to make them appropriate for use in the home kitchen.
Review of Recipe to Riches
I signed on as an official Recipes to Riches blogger* because Dana McCauley, one of the judges, is my friend. I knew she'd be her usual insightful, professional self. I wasn't sure what to expect from the contestants or the editing. To be honest, the trailer made me wonder if this show was going to be more flash-for-the-cash and less about food.
[yframe url='http://www.youtube.com/watch?v=0O3WsOrbPCo']
Don't worry. No foodies were hurt in the making of this trailer. And the show has substance.
Of course they play up the drama, but Recipe to Riches is one of the more intelligent and original reality food shows I've seen. Think Dragon's Den meets Top Chef. Sure, you'll get the standard reality show trappings — artificial time lines, a dramatic score, lingering shots of participants looking nervous —  but the emphasis is on the challenges of bringing a new product to the grocery shelves, not meltdowns and egos.
You get a hint of what it takes to translate a home recipe into a product line. Contestants battle with equipment that looks more at home on a construction site than in the kitchen, essential ingredients get stage fright when face with the "Batch Up" and industrial appliances pose real dangers. In this first episode, one contestant narrowly avoids getting his face scalded and another sees her superior marketing idea — pie in a jar — eliminated because her complex recipe didn't translate to the big scale.
The show devotes equal air time to marketing. As a freelance writer, I know that promotion is as important as the product you're selling. And that it's hard work. I'm not sure I'd have gone with barbershop quartet or the break dancing beaver, but based on the judge's responses, the camera failed to capture the festive atmosphere these draws produced. I'd have liked to have seen some less cliché marketing ideas, but to be fair they had only 24 hours to brand their product and create an event. These strategies take months, not hours, so yes, I'm being fussy.
As for Recipes to Riches, I have three predictions based on the first episode.
1. Glo McNeil, who won the Sweet Pies & Pudding challenge, will do well in this contest. I could live without the "Grandma" in her branding (and based on her reaction, she could too) but this dessert hits on many levels — it's not tied to any particular season, as Dana says it's "the little black dress of the dessert world", and it appeals to all ages and demographics. Plus, it doesn't hurt that Glo is Lunenburg, Nova Scotia's answer to Betty White. Five bucks says Glo lands on the talk show circuit. Glo, if you do, say hi to Ellen for me.
2. Runner-Up Brad Gash is not finished. He might be eliminated from the show, but he's got something. He's handsome, articulate and very comfortable in front of the camera. He's confident without being arrogant, which is something that's hard to fake. He's also got a clear sense of the product. He kept the Quebecois name "chomeur" in the recipes's title, reasoning it could be "the poutine of desserts". If someone gives him a a show on Quebec cuisine, I'd watch. (Brad, if you're reading this, you don't need culinary school. You already have what it takes.)
3. Recipe to Riches itself will do well because it offers something other reality show don't — a real life connect to the viewer. This weekend, you can go out to Loblaws/Zehrs and taste Grandma Glo's Luscious Lemon Pudding for yourself. You can vote with your taste buds. And in the end, you'll help select a product that could end up in your pantry shelves. What's more real than that?
Will I be watching Recipe to Riches next week? Yes. And not because Dana is my friend. I liked it and am curious to see what product will eventually appear in my local grocery store. Did you watch? If so, what did you think? Any predictions of your own?
* Full disclosure: Recipe to Riches is giving their official bloggers $100 Loblaws gift cards to offset the time and money spent making the winning recipe and writing a blog post. Because I do not accept payment for my reviews I am donating the gift card to the local food bank. The opinons express here are my own. And they are real. They have not been purchased.