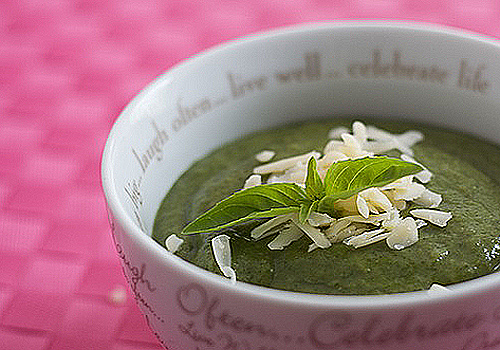 08 Oct

Jade Soup
I'm feeling rather ornery. It's Canadian Thanksgiving this weekend but the weather is downright balmy and I can't face the thought of autumn, let alone winter. I don't care that the leaves are turning glorious colours or the nights are perfect sleeping-weather-cool. I don't want to make the obligatory pumpkin pie — even if it's damned good. I don't want to slurp delicious squash soup or gobble succulent stuffed turkey.
And if you're just a tad like me, you don't want to either. At least not this weekend. Not this early.
So, in an act of defiance that could get me kick off the Internet or shunned by food bloggers across the country, I'm refusing to acknowledge the holiday that's breathing its pumpkin-spice breath down my neck. I'm snubbing my nose at the pilgrims and turning my back on the Indian corn.
Instead I present you with a bright green, basil-filled soup that practically screams summer. Chock full of green vegetables and herbs, it's the epitome of garden cuisine. Make it if you dare. Just hide the calendar and serve with a fresh-from-the-oven Basil & Cheddar Scone. Or two.
I won't tell on you. Promise.

Jade Soup
Author:
Charmian Christie
Prep / inactive time:
Cook / active time:
Total time:
This soup got its name from its beautiful green colour. In addition to the punch of colour, it also has a punch of flavour. In the winter, cut back the portion and eat it hot as a starter; during the summer, chill it and serve for a light dinner on a hot night.
Ingredients
1 medium leek, cut in half lengthwise and sliced into ¼-inch | 5mm circles, white part only
2 Tbsp | 30 mL olive oil
4-6 cloves garlic (1 tbsp | 15 mL) crushed
4 cups | 1 L vegetable stock
1 medium red potato, peeled and cubed
1½ tsp | 7 mL salt
½ tsp | 2 mL black pepper
1 medium zucchini, cut in half lengthwise and sliced into ½-inch | 1 cm half-circles
2 cups | 500 mL firmly packed spinach leaves (1/4 lb | 125 g)
1 cup | 250 mL firmly packed arugula
¼ cup | 50 mL fresh parsley
¼ cup | 50 mL fresh chives
¼ cup | 50 mL firmly packed fresh basil
Instructions
Over medium-low heat, sauté the leek in the olive oil or 4 to 5 minutes, until wilted.
Add the garlic and sauté another minute, stirring constantly.
Add the stock, potato, salt and pepper, cover and bring to a boil over high heat. Turn the heat down and simmer on low for 10 minutes.
Add the zucchini and simmer fo another 10 minutes.
Add the spinach, arugula and herbs and simmer for another 2 to 3 minutes.
Purée the soup.
Review in Brief
Who will this appeal to: Soup lovers who want some fresh ideas as well as some classic recipes to fall back on.
Must-make recipes:
Coconut Sweet Potato Soup: With coconut milk, ginger, sweet potato and lime, this soup has four of my favourite flavours all cooked up on one pot.
Eight-Mushroom Soup: This had me at mushroom. But four fresh and four dried? Good thing my husband doesn't like mushrooms because I don't think I'd want to share.
Pear Soup with Feta, Pecans & Balsamic Reduction: If I have to explain, you won't understand.
Biggest delight: The fruit and sweet soups. Sure, I expected a recipe for blueberry soup but Orange Gazpacho, Chocolate, and Strawberry Sambuca? It fires the imagination and inspires me to revisit the plums on my counter.