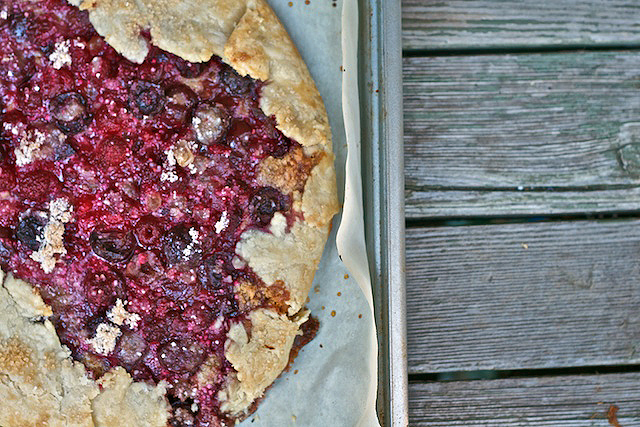 11 Sep

Black Cherry and Raspberry Galette with Walnut Frangipane and Ginger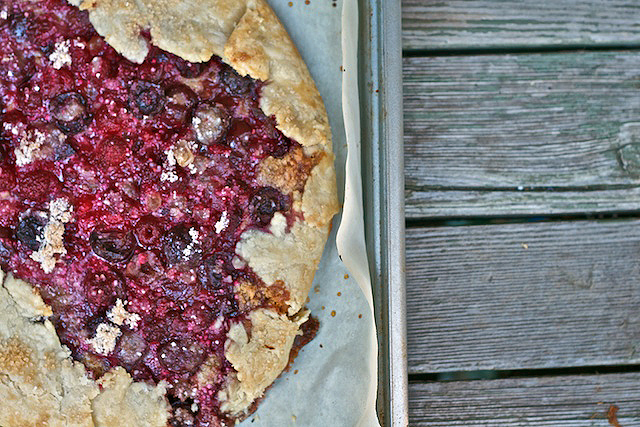 Do you really need me to write out the instructions with a recipe title like that? Clearly I didn't name the dish with Twitter in mind. Instead, I created this for my parents' anniversary.
When asked what he wanted for dessert, Dad requested a "red galette." After a bit of probing, I learned this was code for "use raspberries." When I asked what he wanted to go with the raspberries his response was blunt. "No peaches!" Turns out Dad likes his peaches in their natural state, not cooked. So much for the peach galette I made him when I thought he didn't like pavlova. Perhaps I should start issuing surveys before planning a menu for family events.
So, with walnuts in the pantry and a batch of this season's black cherries in the freezer, I riffed on the ruby red rhubarb and raspberry galette my father liked so much. I even made an oil-based pastry so my newly dairy-free sister could enjoy dessert. It was a bit brittle and needed the support of a pie plate, but I got bonus points for the attempt.
Despite springing a few leaks, the results were deemed Breakfast Worthy, which in our house, is the ultimate compliment.
Got a favourite galette recipe? What combination of fruit do you use?

Black Cherry and Raspberry Galette with Walnut Frangipane and Ginger
Author:
Charmian Christie
Prep / inactive time:
Cook / active time:
Total time:
Got berries, will make galette. Toss in some walnuts and candied ginger and this rustic open pie will have people asking for seconds. Serve with ice cream or whipped cream if you like.
Ingredients
Pastry
1 recipe of your favourite pie crust dough
1 tbsp milk
raw sugar
Frangipane Paste
½ cup walnuts
½ cup sugar
2 tbsp crystallized ginger
1 egg
1 tsp vanilla
1 tbsp orange zest, finely grated
Fruit Filling
2 cups black cherries (fresh or frozen but unthawed) cut in half
1 cup raspberries (fresh or frozen but unthawed)
¼ cup flour
¾ cup sugar
2 tbsp minute tapioca
2 tbsp crystallized ginger, minced
1 tbsp vanilla
Instructions
Preheat oven to 400°F.
On a lightly floured board, roll the pastry dough out to form a large 10- to 12-inch circle.
Line a large, rimmed baking sheet with parchment. Transfer rolled dough to the parchment lined sheet.
Walnut Frangipane:
In a food processor, grind the walnuts, ½ cup sugar, egg, crystallized ginger and 1 tsp vanilla to form a paste. Add the orange zest and pulse to blend.
Spread the walnut paste on the pastry, leaving a 1½ to 2 inch border.
Fruit Filling:
In a large bowl, toss the black cherries and raspberries together. Add the flour, sugar, tapioca and crystallized ginger. Toss to coat the fruit well. Add the vanilla and toss again.
Assembly:
Spoon fruit filling evenly over the frangipane paste. Fold the pastry edge over to form a rim. Brush the top of the pastry rim with milk and sprinkle with raw sugar. Bake for 35 to 40 minutes or until the crust is golden and the filling is bubbling at the edges.
Allow to cool before eating. Can be eaten plain, or with vanilla ice cream, whipped cream or creme fraiche.
[/print_this]