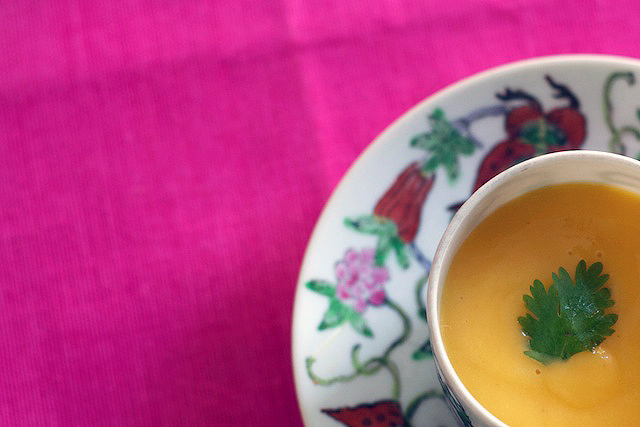 07 Sep

Peach Mango Soup Shooters

I don't think of soup when it comes to pairing wine. And I don't think of peaches when it comes to soup. And I don't think of tart when it comes to sweet, sweet peaches. So a cayenne-kissed, very tangy-yet-sweet peach-mango soup designed to go with Gewurztraminer is exactly the kind of shake-me-up dish I needed to save me from the stupor of Peach Rut.
Yes, Peach Rut. It's not often talked about in public, but it is a professionally recognized condition that frequently afflicts food bloggers. Victims find their immunity severely depleted from the stress of creating increasingly complex variations on salsa, ice cream, jam, pie, galettes and upside down cakes. Once grilling and salad options have been exhausted, so is the blogger.
New strains of the virus emerge each season, frequently taking the form of Tomato Fatigue, Apple LetDown or the dreaded Dear-God-Not-Another-Zucchini Panic Attack. So far the only cure for these food-induced ailments has been unnecessarily elaborate culinary concoctions or desperate yet misguided flavour combinations.
One of the little known cures for this gastronomic ailment is soup. Served as a shooter it gets the creative juices flowing again. Need proof? After just one sip of Jill Silverman Hough's Peach and Mango Soup, I abandoned the obvious shot glass and enjoyed mine from an antique china demi-tasse cup. I could just feel the strength return at a cellular level. Thanks Dr. Hough. I needed that.

Cold Peach and Mango Soup Shooters
Author:
Charmian Christie
Prep / inactive time:
Total time:
Serves:
Makes 12 shooters (1/4 cup each)
This soup is just charmingly fun. It's pretty, it's tasy and it's easy to make. A gulp or two, served in a little glass, makes for a quick, refreshing treat. Serve the shooters at a standing-and-eating sort of party or as an amuse-bouche between courses. You can also serve the soup as a first course, which would be a great way to kick off a summery dinner party. If that's your plan, double the recipe for one-cup servings.
Ingredients
2 limes
1 ripe freestone (the flesh doesn't cling to the pit) yellow peach, pitted and cut into chunks
1 ripe mango, peeled, pitted and cut into chunks
¾ cup buttermilk
½ cup orange juice
½ teaspoon coarse kosher salt, or more to taste
pinch cayenne pepper
12 fresh cilantro leaves
Instructions
Zest the limes. Set the zest aside. Juice the limes to yield 3 tablespoons of juice. In a blender or food processor, combine the lime juice, peach, mango, buttermilk, orange juice, salt and cayenne, and process until very smooth, scraping down the jar or bowl as necessary (you may have to do this in batches). Transfer the soup to a container and chill for at least 2 hours. (You can prepare the soup up to 3 days in advance, storing it covered in the refrigerator).
Taste, ideally with your wine, and add more lime juice and/or salt if you like. Serve the soup chilled, each serving garnished with a cilantro leaf and some of the lime zest.
Review in Brief
Will appeal to: Anyone who enjoys a glass of wine with their snacks and appetizers. It's also a solid, unintimidating grounding or those who want to learn more about wine pairing but are afraid of the vocabulary. (If you are interested in pairing wine with mains, check out Hough's 100 Perfect Pairings: Main Dishes)
Must try recipes:
White Cheddar with Wine-Soaked Cherries and Herbs
Grilled Vegetable Ratatouille
Spice Balsamic Mushroom Melange
Biggest Surprise: Other than the fact that this former red wine loyalist now enjoys a wide range of white wines? The unexpected yet simple techniques. From cold fruit soups to a grilled (not simmered) ratatouille, Hough provides quick yet unpredictable dishes. She even turns store-bought rotisserie chicken into a company-worthy treat. While you get plenty of  traditional red-wine-with-red-meat pairings, there are a few surprises. Black bean nachos with Zinfandel, anyone?