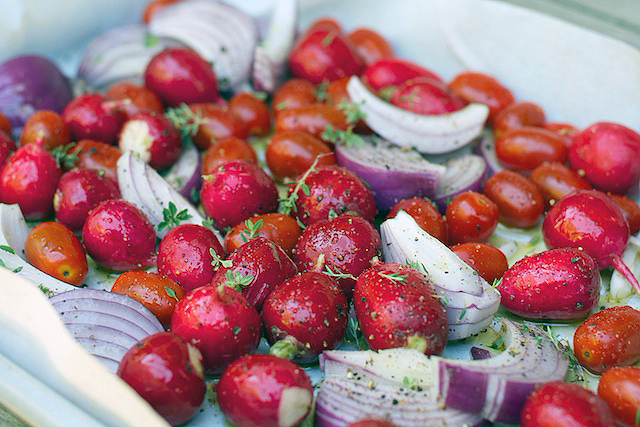 05 Sep

Recipe: Roasted Radishes

Posted at 08:30h

in

Book review

,

Dairy-free

,

Egg-free

,

Gluten-free

,

Healthy Choice

,

Recipes

,

Savory

,

Side Dish

,

Summer

,

Vegan

,

Vegetables

,

Vegetarian

15 Comments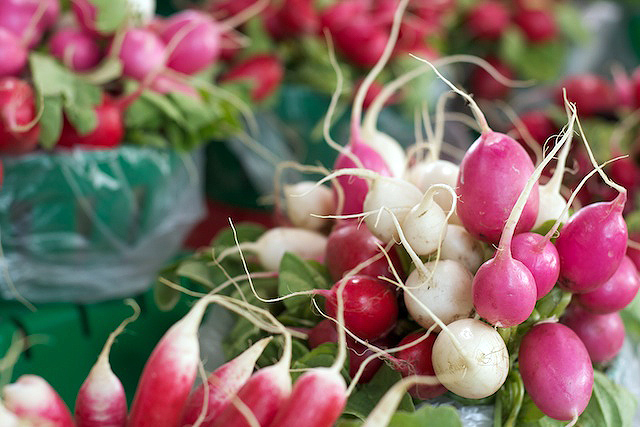 To observe my mother eating radishes is to understand that over-used phrase "living in the moment."
They are not munched like baby carrots or popped into her mouth like grapes. They are consumed with quiet, focused deliberation. To begin, she sets a small bowl of radishes on the table beside her. They are scrubbed and trimmed, with just enough stem to form a handle. She then carefully pours a modest pool of salt on her plate before plucking a radish from the pile. Once she has selected a radish, she nibbles a tiny piece from the tip and dips the freshly exposed end into the salt. She then proceeds to eat the radish, crunching away with a look of peaceful concentration on her face. She doesn't talk. She doesn't touch the other meal items in front of her. She devotes herself fully to the radish.
She repeats these steps until her allotment of radishes is gone. The rest of her meal them resumes.
Me? I just watch. I love the colour, the shape and the crunch of radishes. But despite many determined attempts to embrace this root vegetable, I just don't like the taste.
So when I saw the plate of roasted radishes on the cover of  Trish Magwood's In My Mother's Kitchen, I had to get a copy. I knew instinctively that this would be the recipe where mother and daughter came together in radish love. The dish in question is called Roasted Reds — radishes, red onion and grape tomatoes, all roasted in olive oil and fresh herbs.
The book arrived. I found the  recipe. I made it. I served it. I waited for the verdict.
My father liked the grape tomatoes, Andrew went for seconds on the red onions. To my relief, I found that once roasted, radishes are delightful. As for Mom? She will continue to eat her radishes raw. Dipped in salt. Consumed in silence with only the crunch of the radish to accompany her thoughts.
At least we agree on pavlova.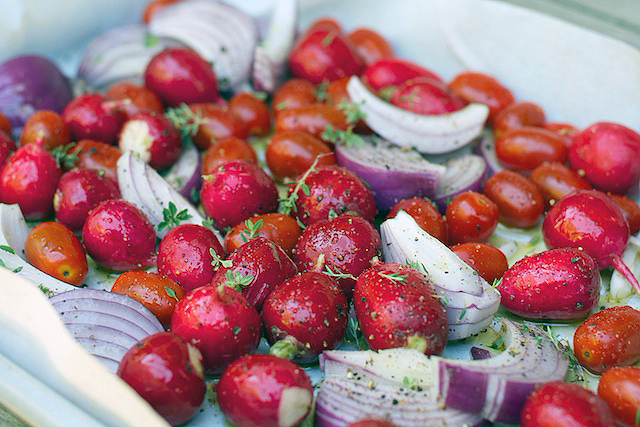 Roasted Reds
Serves 4 to 6
Published with permission from In My Mother's Kitchen: Three Generations of Simple, Delicious Family Food by Trish Magwood. Published by HarperCollins, 2011.
Ingredients
1 pint (50 mL) grape tomatoes
1 red onion, cut into eights
1 lb (500g) assorted small radishes (about 2 bunches), trimmed, leaving 1/2 inch (1cm) stem intact
2 tbsp (30 mL) good quality olive oil
4 sprigs fresh thyme
salt and pepper to taste.
Preheat oven to 400°F (200°C). Line a baking sheet with parchment paper.
Spread the tomatoes, red onion and radishes on the baking sheet. Drizzle with oil. Add thyme, gently stir and season with salt and pepper.
Roast, without stirring, for 25 minutes or until the radishes are soft but still colourful. Serve immediately.
Kitchen Notes from Trish Magwood: This is also delicious using radishes only.
Review in Brief
 Will appeal to: Home cooks looking for simple meals that even fussy eaters can enjoy, will love Magwood's unpretentious comfort food. Few, if any, exotic ingredients go into these classic down-home dishes.
Must try recipes:
Cheddar Chive Buttermilk Scones
Thai Chicken on a Stick with Peanut Sauce
No-Ice-Cream-Maker Lemon Ice Cream
Biggest surprise: "Forbidden" Desserts. This short but very sweet chapter relies on "more than their fair share of packaged convenience ingredients" such as  Jello, cake mix and store bought ice cream. Magwood, whose last book won a James Beard Award, recognizes you must "set aside any prejudices" to enjoy them. She assures you these are worth it. And they are.