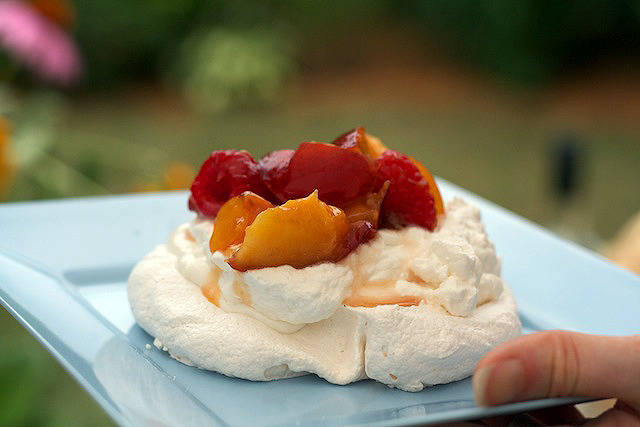 02 Sep

Recipe: Pavlova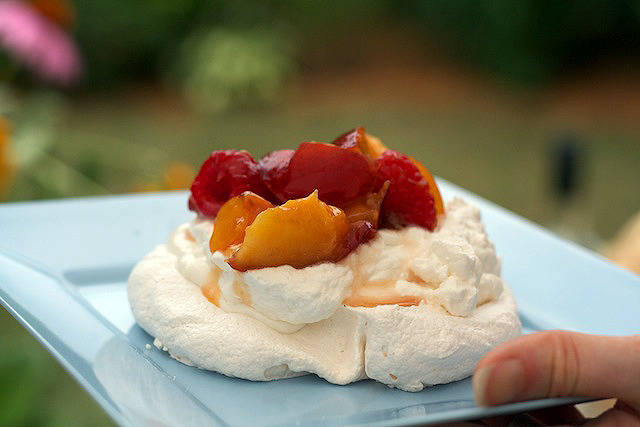 If you asked me to describe my father's taste in desserts, I'd tell you he's a lemon man. When he turned 65, Mom and I baked 13 lemon meringue pies for his party. He squeezes fresh lemon juice into his tea and sometimes even orders lemon pie as an appetizer when we dine out. He likes things tart, not sweet, choosing citrus over chocolate any day. Based on his dining history, pavlova is not something he would like.
I was so sure of this that when my mother asked for pavlova for her birthday dessert, I made a peach galette as well — just for Dad. Turns out Dad loves pavlova. Almost as much as he loves lemon.
You learn something new every day.
So, for the closet pavlova fans out there — and even for those who like to flaunt their love of this powder-puff dessert – here's the recipe. It has a little lemon in it to cut the sweet.
Hey, maybe that's why Dad likes it…

Pavlova
Author:
Charmian Christie
Prep / inactive time:
Cook / active time:
Total time:
For those who struggle with meringue, be sure you get absolutely NO egg yolk, shell or fat in the bowl. If you're using a stand mixer that lives out on your counter, wash and thoroughly dry the bowl and whipping attachment before embarking on this dessert. Believe me, if so much as one speck of bacon grease has wafted across the room and taken roost in your mixing bowl, your egg whites won't whip. Oh yes, and don't even think about doing this on a humid day. Other than that? It's an easy, crowd-pleasing dessert.
Ingredients
4 egg whites, room temperature
½ teaspoon cream of tartar
1 cup superfine sugar*
½ teaspoon pure vanilla
rind of 1 lemon, finely grated
1 cup cream (35%), chilled then whipped
fresh fruit of your choice
Instructions
Directions
Preheat oven to 250°F. Line two baking sheets with parchment.
In a large bowl, beat egg whites until frothy. Add the cream of tartar and continue whipping until soft peaks form. While continuing to whip constantly, add the sugar
one tablespoon at a time . Resist the urge to rush this process. It takes 2 to 3 minutes but is crucial. When the egg whites are stiff and glossy whip in the vanilla and lemon rind.
Spoon the meringue mixture onto the parchment, forming 6 to 8 individual pavlovas about 4-inches across. Bake for 90 minutes or until crisp on the outside but still slightly soft inside. Do not brown. When they are done, leave the meringues in the oven to cool for an hour or two with the door slightly ajar.
Serve the cooled pavlovas with a generous dollop of whipped cream (do not sweeten this since the meringues are sweet enough) topped with fresh fruit of your choice.
Notes
If you don't have superfine sugar, just put the required amount of granulated sugar in a blender and grind it to a powder. It'll work just fine in this recipe.