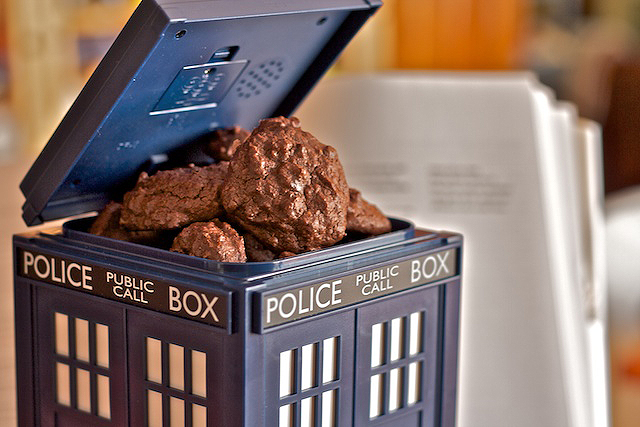 24 May

Recipe: Triple-Chocolate Brownie Cookies

This is Mairlyn Smith. Like me, she has a  frequently misspelled first name and a passion for chocolate that borders on illegal. She even has an impossibly small kitchen (like mine was until last year). I had the pleasure of interviewing her earlier this month and the longer we talked the more I realized we had in lot common. By the end of our conversation, the only difference between us — other than hairstyle and a few inches of height — is that I don't go into grocery stores with a big blade and hack at the root vegetables. Other than that? We're practically twins.

She also wrote a health-conscious cookbook that fits my tagline, putting flavour before looks. Unlike many health-focused cookbooks, where fibre content and finger-wagging trump taste and joy, Mairlyn's Healthy Starts Here!: 140 Recipes that Will Make You Feel Great is rooted in pleasure and practicality. She believes, and backs up with studies, that treats are essential to your emotional health. She believes if  something is "good for you" it should also taste good. She believes cooking shouldn't be so complicated you end up huddled in the corner nursing a bad case of carpal tunnel syndrome and an anxiety disorder.

Most of all, she believes anyone can cook. To ensure this, all her recipes were all tested on "real" people, not professional recipe testers. Real people who will mess up. Real people who don't know what chiffonade means and don't care. Real people who aren't afraid to tell her what's wrong with her recipes. As a result, all the dishes in this book are what Mairlyn describes as "doable" and I declare damned good.

While you might have to make a trip to the health food store — for cocoa nibs for example —  most of the ingredients called for are available at the super market. Knowing you'll be working on a time limit and have free access to sharp implements, Mairlyn inserts humour into the instructions, without sacrificing clarity. What more could you want? Pretty pictures? She's got them, too. All shot at her home. All shot in natural light. All shot without excessive styling. Nothing fru-fru there either.

Best of all? Mairlyn likes my kitchen reno. So I know she's got good taste.

For all these reasons, I awarded Mairlyn's Triple-Chocolate Brownie Cookies with the ultimate honour. They were the first cookies to grace my TARDIS cookie jar. And believe me, it takes one heck of a cookie to beat out my Double Trouble Chewy Ginger Cookies.

Mairlyn's right. Healthy Starts Here…with dessert.

Enjoy.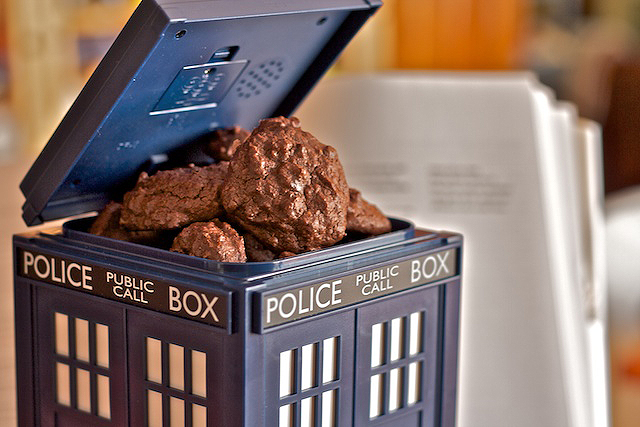 Triple-Chocolate Brownie Cookies
These chocolatey treats are like a cookie and two-bite brownie combined. Cocoa powder, cocoa nibs, and chocolate chips deliver full-on flavour that's not too sweet.
Ingredients
¾ cup (185 mL) packed dark brown sugar
6 tbsp (90 mL) canola oil
2 tbsp (30 mL) honey
1 omega-3 egg
2 tsp (10 mL) pure vanilla extract
½ cup (125 mL) natural cocoa powder
¾ cup (185 mL) whole wheat flour
¼ cup (60 mL) cocoa nibs
¼ cup (60 mL) chocolate chips with at least 60% cocoa mass or chocolate chunks with at least 70% cocoa mass
2 tbsp (30 mL) wheat germ
¼ tsp (1 mL) baking soda
Instructions
Position a rack in the middle of the oven. Preheat the oven to 375°F (190°C). Line a large baking sheet with parchment paper.
Beat together the brown sugar, oil, honey, egg, and vanilla in a medium bowl using electric beaters until the batter is creamy, about 3 minutes.
Beat in the cocoa powder gently. Warning: turn those beaters to full throttle and you'll be a cocoa-covered mess in seconds. Start beating on low speed, then increase the speed once the cocoa has been incorporated. Beat for 1 minute.
Stir together the flour, cocoa nibs, chocolate chips, wheat germ, and baking soda in a medium bowl. Add the flour mixture to the cocoa mixture, and blend until well mixed, about 1 minute. The batter will be really sticky.
Drop the batter by rounded teaspoonfuls (10 mL), or use a mini-scoop onto the prepared baking sheet, spacing the cookies about 1 inch (2.5 cm) apart. Bake until the outside of the cookies is crunchy looking and they have puffed up, 8 to 10 minutes. Don't overbake these morsels. There aren't a lot of things that taste worse than burnt chocolate; okay, I can name three, but that's for another day. My oven bakes these perfectly in exactly 9 minutes.
Let the cookies cool slightly on the baking sheet before removing them and letting them cool completely on a wire rack. (Store the cookies in an airtight container for up to 1 week, or freeze for up to 2 months.)