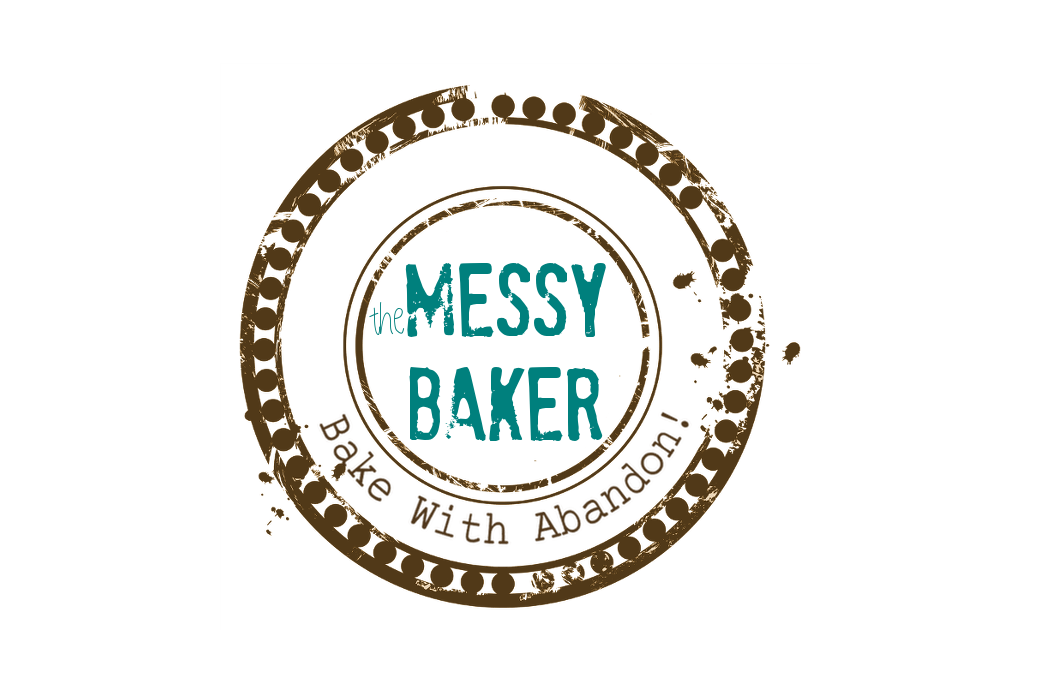 02 May

Recipe: Fried Avocado with Lime-Cilantro Dipping Sauce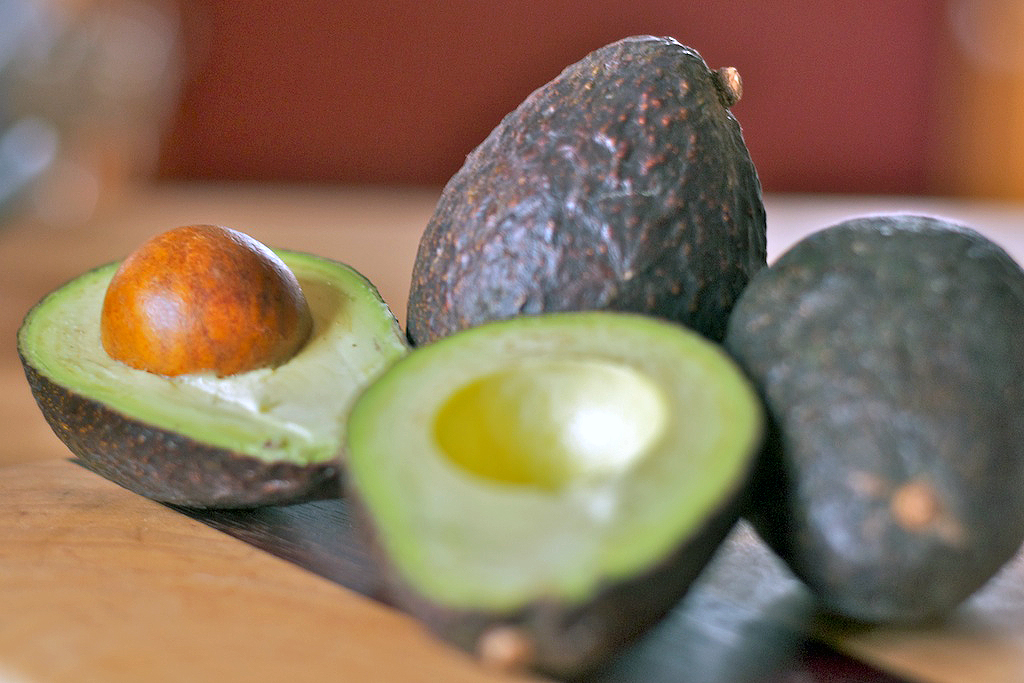 Wanting to redeem myself from the monumental failure of my salted caramel candy apples — which devolved into sliced apples and a dip — I accepted the task of creating an avocado recipe for MissAvaCado's Cinco de Mayo Blogger Challenge. The results have me wondering if I'm cut out for challenges.
While the goal was to create an amazing guacamole recipe, as an easily distracted Gemini, I got sidetracked by the idea of avocado ice cream. As you can tell from the post title, that didn't happen. First of all, I hadn't frozen the ice cream maker's drum, which requires a good 24 hours' notice. Then, while I debated holding off for another day while the drum chilled, the avocados got impatient. And once you tick off an avocado, you get more than just a big pit with attitude.
So, with four clock-watching avocados staring me down, I panicked. The only Mexican dish I could think of was deep fried ice cream which meant I needed ice cream (obviously), batter and a deep frier. Not only did this take me further from the original challenge, I lacked the deep frier. And ice cream. So I streamlined my brilliant but off-base Deep-Fried Avocado Ice Cream concept  and ended up with simple Fried Avocado Slices With Dip. Which is kind of like guacamole, only in reverse since you dip with avocado slices, not into mashed avocados.
Again with the slices and dip? Clearly I'm in a rut.
To make my topsy-turvy, not-quite-guacamole, I started with a classic tempura batter, but the avocado's natural oils made the coating doughy. Sticking to the Japanese theme, I turned to panko crumbs. They worked beautifully and required only a half inch of oil.
The results are crunchy on the outside and creamy on the inside —  the sort of thing you really shouldn't eat too often but will find yourself craving out of the blue despite knowing better. I think it's the lime-cilantro dipping sauce. Or the avocado. Or the panko crumbs. Or the combination. Or maybe I'm just destined to make sliced food with a dip and leave it at that.
While I can't vouch for the health benefits of this dish, I can say with confidence fried avocado slices are better for you than deep-fried ice cream. By how much? Don't ask. Some things are best left unasked.
Besides, "Can I have some?" put all other questions aside and enjoy a little indulgence.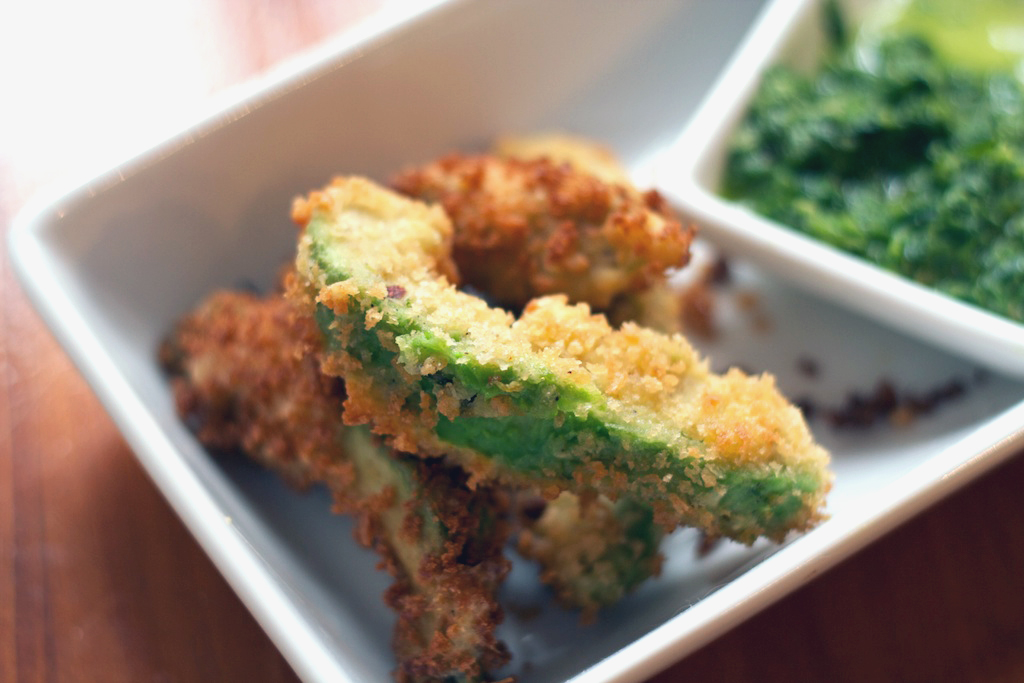 Fried Avocado with Lime-Cilantro Dipping Sauce
Summary: A twist on guacamole, this has all the classic flavours of Mexico but not in the order you'd expect.
Ingredients
Cilantro Dipping Sauce
1/4 cup canola oil
Juice of 1 lime
1 cup cilantro, roughly chopped
1 clove garlic
1/2 jalepeno pepper (optional)
1 tsp honey
salt to taste
fresh ground black pepper
Avocado Slices
canola oil for frying
1/4 cup all-purpose flour
1/4 tsp fine sea salt
zest from 1 lime, finely grated
1/2 tsp chipotle powder (or chili powder)
1 cup Panko crumbs
1 egg, beaten with 1/2 tsp water
2 avocados, firm but just ripe, sliced into 1/2-inch thick wedges
Instructions
Cilantro Dipping Sauce
Combine the canola olive oil, lime juice, cilantro, garlic, jalepeno, honey salt and fresh ground black pepper in a blender.
Blend until smooth, scraping down the sides as necessary. Adjust seasoning to taste before serving with the fried avocado slices.
Fried Avocado Slices
In a heavy bottomed sauce pan or wok, over medium heat, heat a half inch of oil. The oil is ready for frying when a few panko crumbs dropped in immediately sizzle.
While the oil is heating, prepare the coating and avocado slices.
Mix the flour, salt, lime zest, and chipotle together. Place in a shallow dish.
Place the Panko crumbs beside it in a shallow dish.
Beat the eggs with the water in a shallow dish. Arrange in order flour / egg / panko with the panko closes to the frying pan.
Split the avocado in half, remove the pit and then slice the avocado in wedges. Carefully peel off the rind.
Dredge the avocado slice in the flour, dip in the egg and then roll in the panko crumbs. When you have a few done, place them in the oil and fry until they are golden, flipping to cook evenly. This will take less than minute. Remove from the oil and place on paper towels to drain for a few seconds.
Serve while still hot with the dipping sauce.
Cooking time (duration): 15
Diet type: Vegetarian
Number of servings (yield): 8
Meal type: hors d'oerves
My rating: 5 stars:  ★★★★★ 1 review(s)