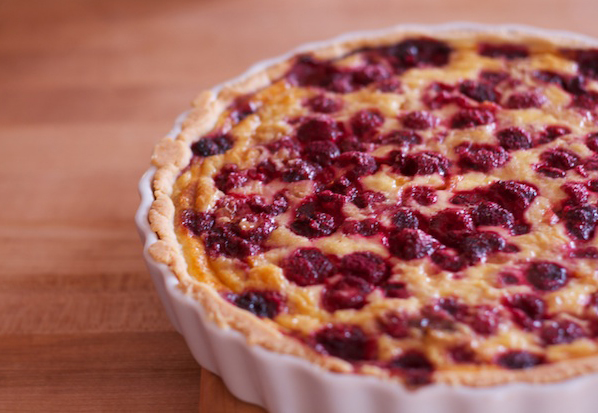 28 Apr

Raspberry Peach Pie with Frangipane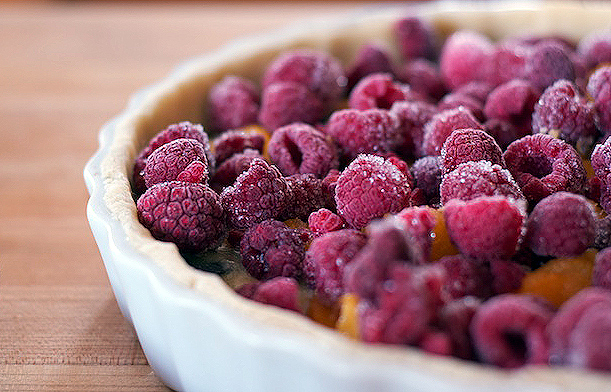 While the daffodils have finally poked their heads through the earth, my freezer remains packed with containers of frozen fruit squirrelled away from last year's harvest. They're so precious to me, I save them for special occasions. Very special occasions. As along as the sooty, deathless snowdrifts maintain a Narnia-like hold on the Earth, nothing seems special enough. (Unless you are celebrating your 85th birthday. And then, I will bake you a raspberry pie upon request.)
Of course, the weather eventually breaks and my fear of endless winter melts into a different form of  panic. How can use my frozen treasure before a) it goes bad or b) I need the freezer space for this year's bounty?
So, with company coming — very special company, I may add– I put a dent in the inventory and got creative. The ginger-peach carrots were okay, but no worth writing about. I won't waste your time with the recipe. And I apologize to the peaches. They deserved better.
The dessert? I redeemed myself with Raspberry Peach Pie. I got inspired. To pair with the peaches, I dug into my stash of frozen raspberries. And since it was Easter weekend, I pulled out the chocolate. What goes with chocolate, peaches and raspberries? Almonds!
And cream.
So, it was the Plum Frangipane Tart all over again. Only without the plums.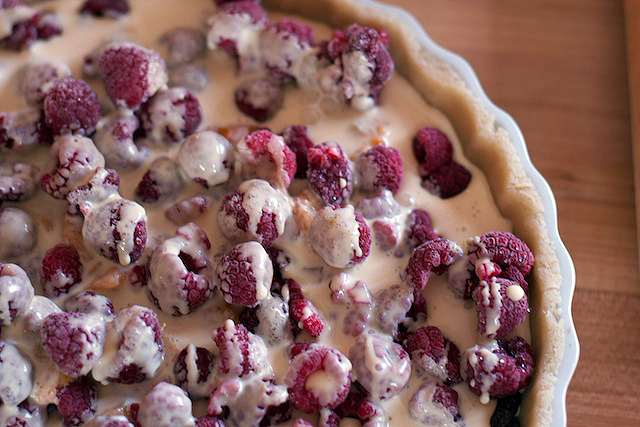 And it was good.
I don't observe Lent, but if I did, I would break the fast with this raspberry peach pie, with the chocolate hiding at the bottom like a well-hidden Easter egg and a layer of frangipane joining in the fun.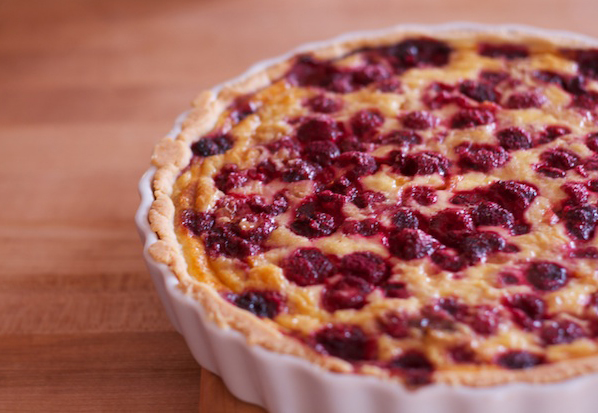 Got any ideas for the remaining peaches and raspberries? I'm open to suggestions.

Raspberry Peach Pie with Frangipane
Author:
Charmian Chrisite
Prep / inactive time:
Cook / active time:
Total time:
This raspbery peach pie can be made with other seasonal fruit. Swap blueberries for the raspberries and plums, nectarines or apricots for the peaches.
Ingredients
pastry dough, enough to line a 10-inch tart pan
6 ounces dark chocolate, shaved
1 cup peaches, diced, fresh or frozen
1½ cups whole raspberries, fresh or frozen
½ cup ground almonds
½ cup granulated sugar
2 eggs (divided)
2 tsp vanilla (divided)
¾ cup whipping cream
Instructions
Preheat oven to 400°F.
Roll pastry dough to ¼ inch thick and press into a 10-inch tart pan. Refrigerate until needed.
Shave the chocolate. Set aside.
Make frangipane: In a blender or the small bowl of a food processor, blend the almonds, sugar, 1 egg and 1 teaspoon vanilla until they form a paste.
Make the custard: In a small bowl, whisk together the whipping cream, remaining egg and 1 teaspoon vanilla.
To assemble the pie, sprinkle chocolate over the bottom of the pie crust. Drizzle frangipane over the chocolate layer. Place the fruit on top, distributing evenly. Pour custard over the dish.
Place the tart pan in the centre of the preheated oven and bake 10 minutes. Reduce the heat to 350°F and bake for 45 minutes or until the pie is golden and set.
Allow to cool thoroughly before serving. Top with vanilla ice cream or whipped cream, if desired.