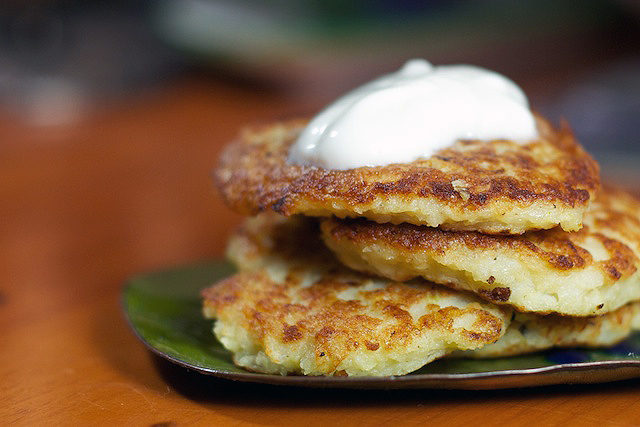 19 Apr

Recipe: Potato Latkes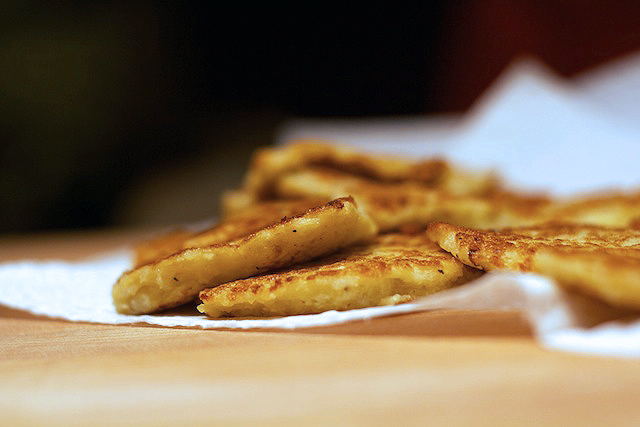 I was going to make you guess what's in the photo above, but the post's headline gives it away. Darn you, Google, and your search engine demands. If you hover your cursor over the image, you will know, these golden fritters are potato latkes. I made a big batch after the recent potato-fueled food fight. I'd like to tell you this was culinary revenge, a well-thought out, two-pronged political move to advocate potato farmers while sticking it to the makers of Fake Food in a Canister. But to be honest, it was simply a quick way to satisfy my stomach. Thinking about potatoes all day left me  hungry — for  potatoes.
So, with little more than four medium spuds and an onion on hand, I cooked the only thing I could think of that used these ingredients. Latkes — and lots of them — was the result.
Wanting to streamline the process, I started my search for quick-cook latkes with Norene Gilletz. She knows her way around a food processor, and since I recently bought one and am still a little scared of it, I figured her updated Food Processor Bible would be a good place to start. I got no further than her recipe for Easy Potato Latkes.
She gives a couple of variations, but I went for the "Lacy Latkes" which take an extra step but are worth it. Unlike classic latkes which are made with grated potatoes, these are grated then lightly pureed to produce a tender, quick-cook pancake. And when you're hungry and faced with the smell of cooking latkes, every minute counts.
If you're as impatient as I am, you're wishing I'd just get on with things. Okay. Without fruther ado, here's the recipe. You've earned it.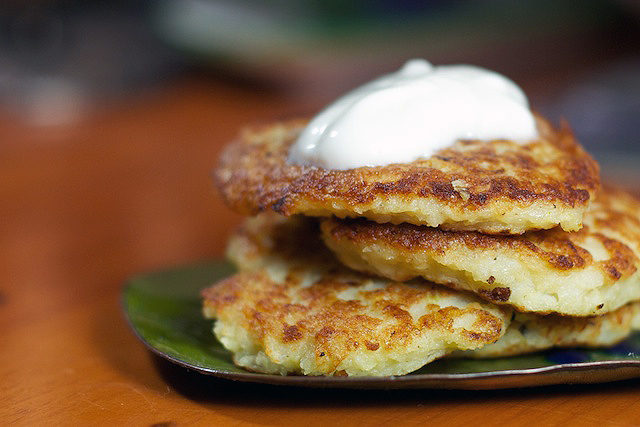 Easy Potato Latkes
Author:
Charmian Chrisite
Prep / inactive time:
Cook / active time:
Total time:
I use Idaho (russet) potatoes, but some cooks prefer Yukon Golds or red-skinned potatoes. Serve latkes with applesauce or sour cream. For Passover, use matzo meal instead of flour.
Ingredients
4 medium potatoes, peeled or scrubbed
1 medium onion
2 eggs (or 1 egg plus 2 egg whites)
⅓ cup flour or matzo meal
1 tsp baking powder
¾ tsp salt
freshly ground black pepper to taste
¼ cup oil (approximately)
Instructions
In a food processor fitted with grating blade, grate potatoes, using light pressure. Transfer potatoes to a colander, rinse them under cold water then drain thoroughly.
Insert steel blade. Process onion until minced. Add grated potatoes, eggs, flour, baking powder, salt and pepper.
Process with 2 or 3 very quick on/off pulses, just until combined. Do not overprocess.
Heat 2 tsp oil in large nonstick skillet over medium-high heat. Drop potato mixture into hot oil by large spoonfuls to form pancakes. Brown well on both sides. (Don't overcrowd the pan.) Drain on paper towels.
Add additional oil to pan as needed. Stir batter before cooking each new batch.
Latkes can be placed on a baking sheet and kept warm in a 250°F oven.
Quick Notes
Freezing and reheating latkes: To save space when freezing or reheating latkes, stand them upright in a loaf pan. Reheat, uncovered, in preheated 400°F oven for about 10 minutes.