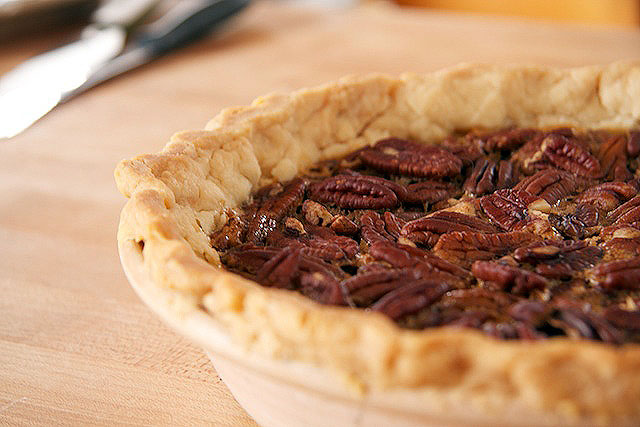 04 Apr

Forty Creek Whisky Pecan Pie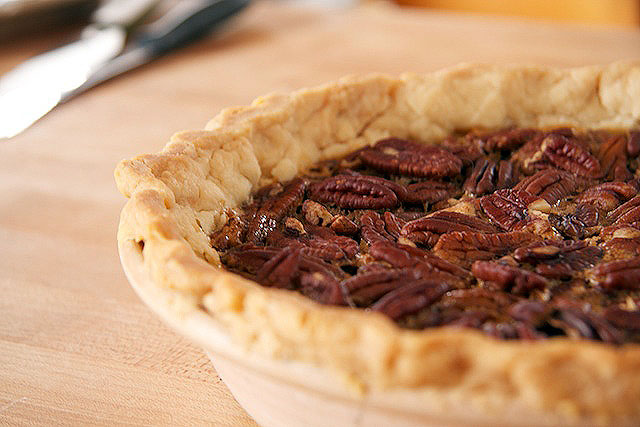 In our home, birthdays are about dessert. It doesn't matter if the ingredients send me to six specialty shops, or if the results require a small team of architecture students to assemble. If you can dream it, I will make it. Providing you're a family member.
Two-recipes-in-one, Frozen Lemon Pavlova? Of course, Mom. Hazelnut Mocha Tort with fancy chocolate topping? My pleasure, Allison. Non-Jammy Raspberry Pie? Anything for you, my only Father-in-Law.
So this year, when Andrew asked for Pecan Pie I couldn't say no. In fact, that was just too simple. I had to up the ante and countered with the offer of Chocolate Bourbon Pecan Pie. While Andrew's a whisky man, his favourite non-scotch is a local blend called Forty Creek — glass bottles, only, please. And yes, he can actually taste the difference.
He's such a Forty Creek fan that last summer we went to Kittling Ridge, attended a tasting, and waited in line for an autographed copy of their special Confederation Oak Reserve — which Andrew pre-ordered months in advance to obtain bottle #1911 (the year Wilfrid Laurier University was founded, but that's another story.)
This is John Hall, the whisky maker, signing the bottle. See "To Andy".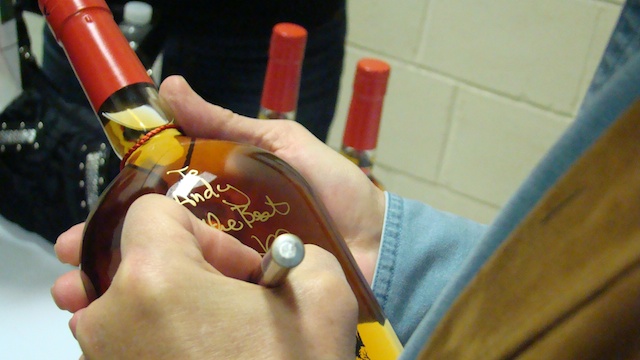 And this is my husband with John Hall and one of the coveted bottles. You know a man loves his whisky when he poses with a bottle and its maker.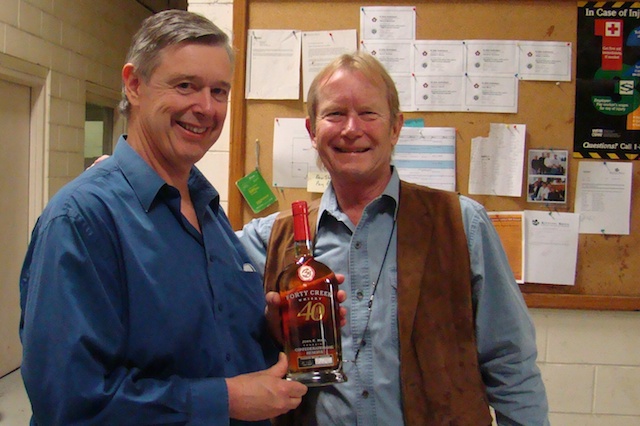 With this in the back of my mind, we negotiated a suitable celebratory dessert. Andrew took the chocolate off the table and I suggested swapping Forty Creek for the bourbon. DEAL.
The results? What my non-whisky-drinking sister described as, "The best pecan pie I have ever eaten." Why? It's not as cloyingly sweet as most versions and you can really taste the pecans. I know pecan pie is supposed to taste like its namesake but few, in my opinion, actually do. As an added bonus, you can also taste the alcohol, so it wasn't a waste of good whisky. Sometimes I think the baker secretly swigs the shot and lies about it. But in this case there's little doubt the pie was kissed with booze.
Andrew's vote? "A triumph." But then again, he's biased. My sister, on the other hand, isn't. She thought the Hazelnut Mocha Torte had too much coffee in it, so you can trust her to speak the truth — even if it hurts.
So, are you a pecan pie fan? Or would you rather swig the whisky?

Recipe: Forty Creek Pecan Pie
Author:
Charmian Christie
Prep / inactive time:
Cook / active time:
Total time:
This twist on classic bourbon-laced pecan pie is made with Forty Creek Canadian whisky -- my husband's favourite. Not cloyingly sweet, you can actually taste the pecans. And the booze!
Ingredients
pastry - your favourite recipe, enough for one deep 9-inch pie
2 to 2¼ cups pecan halves
3 eggs
¾ cup brown sugar, lightly packed
¾ cup corn syrup
¼ cup butter, melted
1 teaspoon vanilla
3 tablespoon Forty Creek whisky (or bourbon)
Instructions
Preheat oven to 375°F. Line a deep 9-inch pie plate with your favourite pastry dough.
Roughly chop ¾ cup pecan halves. Place them on a baking sheet and bake for 8 minutes to lightly toast. Remove from baking sheet and set aside to cool.
Combine eggs, brown sugar, corn syrup, melted butter, vanilla and whisky. Stir in the toasted pecans.
Pour filling into unbaked pie crust.
Sprinkle remaining pecan halves over top of pie.
Bake in the bottom third of the oven for 40 to 45 minutes. The pie is done when the filling is firm to the touch and the edges are golden.
Variations
Use bourbon or other whisky. Anyone using fine single malt scotch will be slapped.