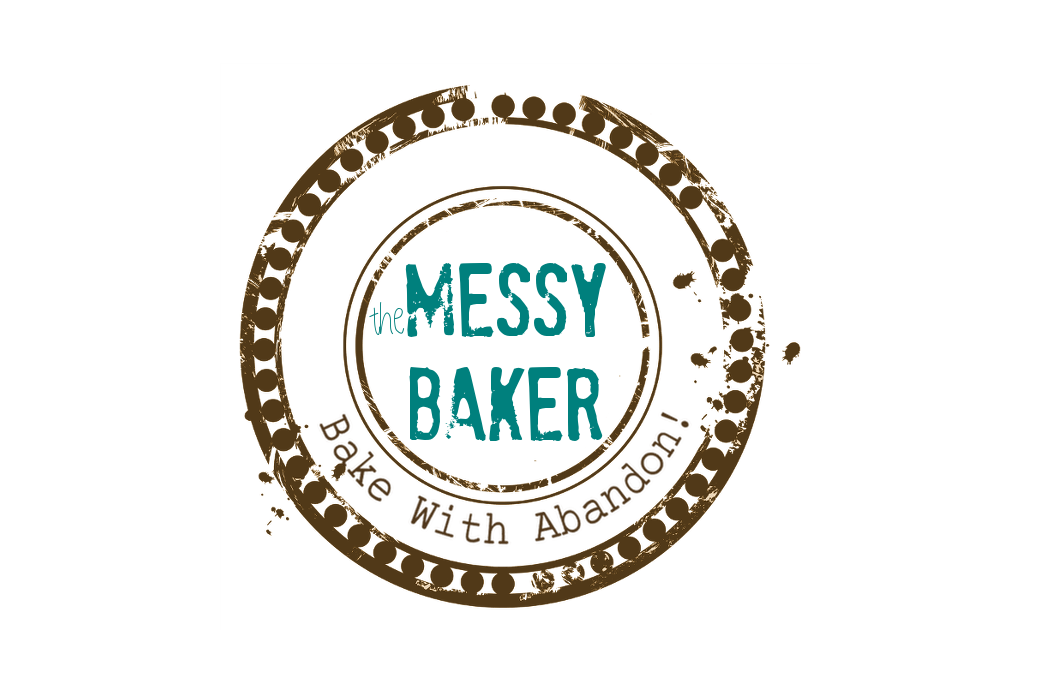 01 Apr

Fennel Salad with Golden Beets and Apples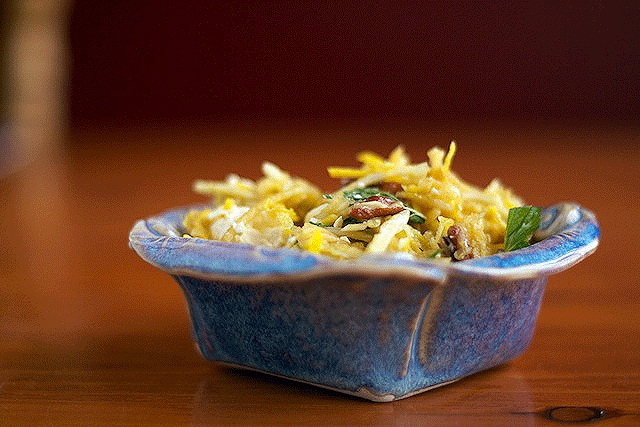 [box type="info" style="rounded" border="full"]
Update: Sorry. The contest is closed. However, the fennel salad recipe remains open to anyone willing to give it a try.
[/box]
As one of the world's most gullible people, I hate April Fool's Day.  Apparently watching me scramble for the binoculars is a hoot. And my reaction when I discover the rare bird at my feeder is actually stuffed? Priceless. But it's not only family who gets a rise out of me. Last year a respectable Ontario food centre had me believing locally-grown hot-house pineapples were this close to hitting the stores. While the fake bird was private, I outed my pineapple ignorance publicly on Twitter. So, this year, to be safe, I decided not to open my email, read the news or pop over to any of the social networking sites before noon. But April Fools found me anyway.
I had written this blog post a month ago. Having arranged a special April Fool's giveaway, I was on top of things and just sitting pretty until March ended. But when I went to my computer, the file was gone. I have never inadvertently lost a post in all my years of blogging. I've had the server crash mid-composition, but never has a saved file gone AWOL. Until today.
I should have known. Posting on April 1st was tempting fate. Even planning to post on April 1st was all that was required to set things in motion. When I tried to buy the fennel for this salad, which I was making for Book Club, I went to three stores before I learned that for some reason every grocer in the entire city had decided to start calling it "Anise".  Fennel and anise are two separate things.
The curse expanded. As my friend drove me and the fennel salad to Book Club her car broke down. Then after waiting more than an hour for CAA we learn they had somehow deleted her call request.
While the Trickster seems to have been following this fennel salad around, I assure it's worth trying. The fennel and mint are refreshing without being stringent. I swapped feta for the blue cheese. Do you think that was the issue?
Anyway, to make April Fool's Day more palatable. I'm giving away not one but two copies of Glutton For Pleasure by Bob Blumer (aka the Surreal Gourmet). Nothing in this book is as it seems. The carrot cake is meatloaf, the French fries are sponge cake and even the wontons are stuffed with a slice of banana and a Rolo.
So, before we get to the fennel salad, here are the rules. For shipping purposes, winners have to live in Canada or the US. Given the fickle nature of this day, I'm abandoning the Random Number generator and relying on bias. Sway me. Make me laugh, make me cry. Just tell me an April Fools story or share your best fake food. Heck, make something up if you have to.
To enter, leave a comment either here, on my Facebook  Page or via Twitter. I'll be making my decision on Monday.
In the meantime, enjoy some salad. If you can't find fennel in the store, look for anise. They might be jerking you around.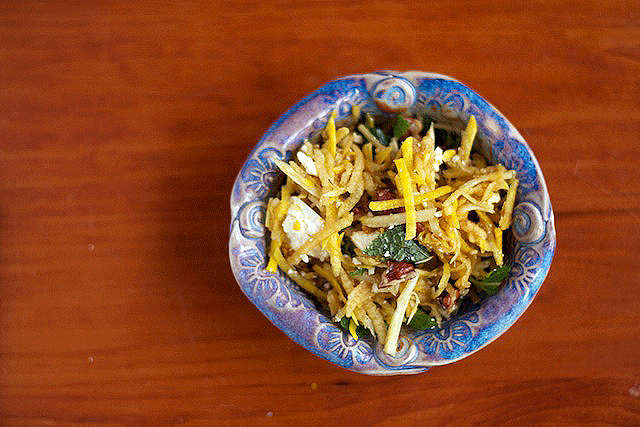 Fennel, Golden Beet and Apple Salad
Prep / inactive time:
Cook / active time:
Total time:
If you can grate a block of cheese, you can make this salad. Apples, golden beets and fennel meet maple syrup, pecans, orange juice and blue cheese. A bit of mint rounds things off.
Ingredients
¼ cup (60 mL) maple syrup
½ cup (125 mL) pecan halves
3 tablespoons (45 mL) olive oil
1 tablespoon (15 mL) balsamic vinegar
1 tablespoon (15 mL) freshly squeezed orange juice
1 large raw beet (ideally golden*), peeled and coarsely grated
1 Fuji apple (or any other hard apple), peeled, cored, and coarsely grated
1 fennel bulb, trimmed and coarsely grated
⅓ cup (80 mL) coarsely chopped fresh mint (stems discarded)
4 ounces (125 g) Stilton (or another blue cheese), crumbled
Salt and freshly ground black pepper
Instructions
Preheat oven to 350°F (180°C).
Pour maple syrup into a small bowl. Toss nuts in syrup, remove with a slotted spoon, and bake on aluminum foil or a cookie sheet for 10 minutes. The syrup will bubble, and once you take the nuts out of the oven and let them cool, the syrup will solidify. Reserve.
In a large bowl, combine oil, vinegar, and orange juice. Whisk together, then add beet, apple, fennel, mint, Stilton, and nuts. Toss. Season to taste with salt and pepper. Serve immediately.