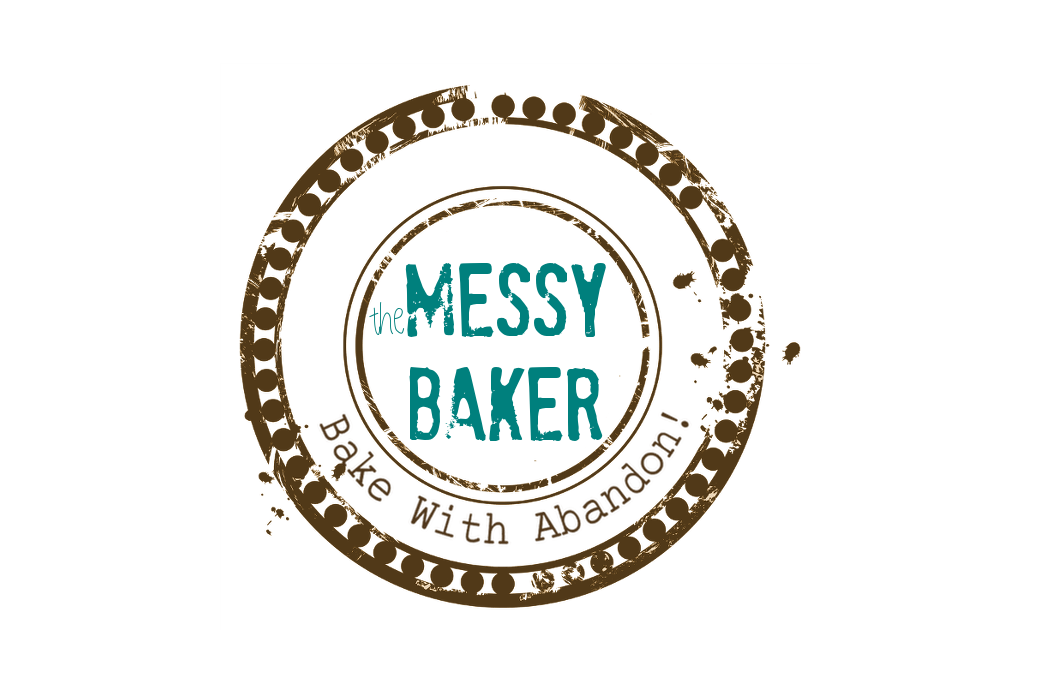 24 Feb

Recipe: Surreal Chocolate Wontons
This is Bob Blumer, aka the Surreal Gourmet. I had the pleasure of meeting him and tasting his fun food at The Drake in Toronto recently. If he looks a bit blurry it's because he moves too quickly for my camera.
He thinks quickly too. As he sat and chatted with the group, Blumer created cocktail ideas on the spot based on a recipe one of the guests pulled at random from his newest book, Glutton for Pleasure.
Despite his tendency towards avocado-shaped guitars, sponge cake fries and meat cupcakes, Blumer is surpringly down to earth. He hates wasting ingredients and is a strong supporter of Second Harvest. He believes anyone can cook, and because of what he readily admits is "a short attention span", designs dishes to be on the table in the time it takes to listen to an album. He's also modest. With five cookbooks and a Foodnetwork show, Blumer claims his only advantage over Anthony Bourdain, (is it just me or could Blumer be cast as a younger Bourdain?) is that his surreal adventures are so crazy he needs only 1/10 the talent.
To showcase his unique approach to food, Blumer made three dishes. The first was Chicken Popsicles, which are incredibly addictive but somewhat recalcitrant. One bite in and mine hurled itself to the floor. I decided not to apply the 5-second rule given I was in public. At home? I'd have dived to the ground and finished it off before standing up again.
Served on a stick with either a pineapple or watermelon wedge for a base, these meatsicles make boring chicken fun again — even if I did have to play hide-and-seed with my serving.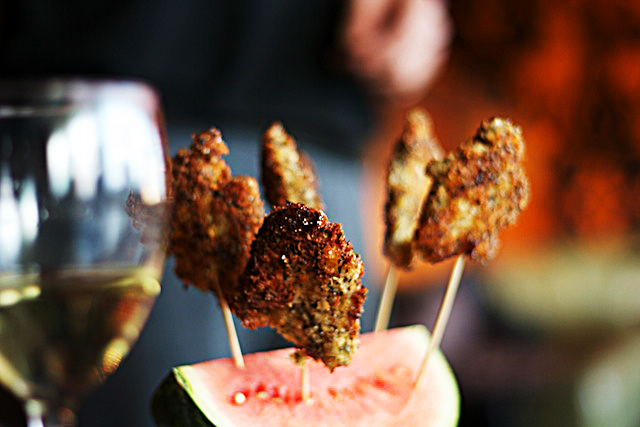 Next was this ultra-simple but amazingly tasty Cocktail Dates. Three ingredients shouldn't taste this good.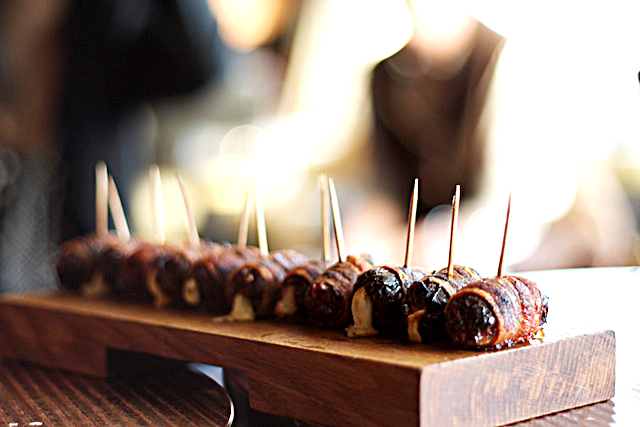 Like the food, the photos in Glutton for Pleasure are simple, impressive and unique. Blumer gives full credit for the visuals to Suzi Q. Varin and her fearless approach to photography. Blumer cooked the food in his kitchen, put it on his dining room table and let Suzi fly without the safety net of pretty plates, elaborate styling or studio lights. Working without a tripod and in the natural light that bathes California (Blumer currently lives in the shadow of the Hollywood sign) Suzi walked around and around the dining room table, snapping photos to capture the lively, irreverent feel of the food. The results are attention getting, as you can see from the shot below. This is her take on Blumer's Chicken Popsicles. Empahasis on "pop."
While the photos capture the energy of Blumer's topsy-turvy recipes, the dishes aren't just a gimicky way of presenting ingredients. Blumer's real aim is to "transform people into culinary heroes in their own kitchen." To accomplish this, his recipes call for ingredients you can find in a grocery store and take little time to make. Blumer says only two are "complex," and is quick to point out that although these two exceptions have many steps, each step in itself is easy. (For those who like a challenge, Lamb Cupcakes and the Coconut Shrimp Lollypops are the recipes Blumer is referring to.)
The third and final dish of the afternoon was a banana-based dessert, deceptively called Chocolate Wontons. Having dropped half my chicken popsicle, I didn't dare refuse — despite knowing it was stuffed with a fruit I heartily dislike. Turns out a good dob of peanut butter and a Rolo are all that's needed to change my mind. I ate not one but two. And not just because Bob was watching. These were good.
For real.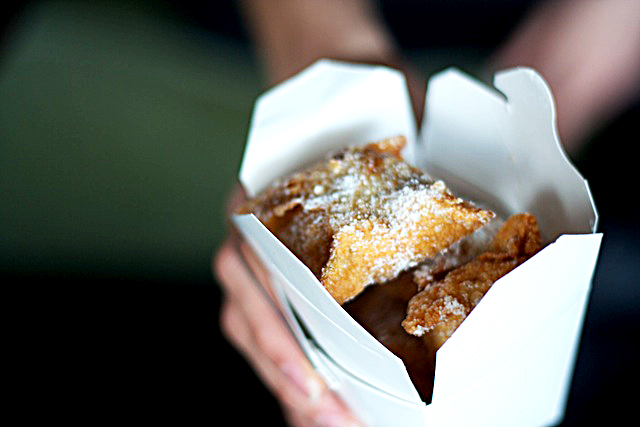 Got a crazy recipe in your repertoire? Don your culinary hero cape and share it in the comments section. Relevant links encouraged. Bonus points for creativity.
Recipe: Surreal Chocolate Wontons
Prep / inactive time:
Cook / active time:
Total time:
Serves:
8 dessert wontons
Think about how much you love crispy, crunchy Chinese or Vietnamese spring rolls. Now imagine how good they would taste if you replaced the bamboo shoots, water chestnuts, green onions, and so on with melted milk chocolate, gooey caramel, crunchy peanut butter, and slices of ripe banana. It's a decadent combination that won't leave you hungry in an hour.
Ingredients
Eight 3½-inch (9 cm) square wonton wrappers
¼ cup (60 mL) peanut butter (smooth or crunchy—your choice!)
1 banana, peeled and sliced in ¼-inch-thick (6 mm) slices
8 Rolo or Caramilk bar segments
Peanut oil (for deep frying)
Confectioner's/icing sugar, for dusting (optional)
Instructions
Place a small bowl of warm water beside wonton wrappers. Put a single wonton wrapper on a clean, dry surface in front of you. Schmear 1 teaspoon (5 mL) of peanut butter onto the center. Press down a banana slice on top of peanut butter and top with chocolate. Dip your finger in water and trace a circle on the wonton wrapper around the stack of ingredients (water is the glue of wonton wrappers). Pinch and seal wrapper around the ingredients. Be sure that seams are tightly sealed to keep frying oil from seeping in.
Before frying, see Fear of Frying (page 246).
Pour oil into a small, tall pot until it is 3 inches (8 cm) deep. Heat oil until it reaches 350°F (177°C). When oil is ready, fry 4 wontons at a time for approximately 1 minute, or until wonton wrappers are golden brown. Remove and place on a paper towel to absorb excess oil.
Dust with sugar (if desired). Let cool for 1 minute before serving.
Notes
Wonton wrappers are available in Asian groceries and in the refrigerated or frozen section of most grocery stores.
If you don't have an oil thermometer, drop a piece of wonton wrapper into the oil around the time you think the oil is ready. It's at the right temperature if the wrapper gets crispy in 5 to 8 seconds.
Wontons can be wrapped earlier in the day. Cover with a damp dishtowel and refrigerate. Do not let the wontons touch. To minimize stickage, dust the surface of the storage plate and the wontons themselves with cornstarch.
Excerpt printed with permission from
Glutton for Pleasure: Signature Recipes, Epic Stories and Surreal Etiquette
by Bob Blumer (Whitecap, 2010).
Photo of chicken popsicles with the pineapple taken by Suzi Q Varin. Printed with permission from Glutton for Pleasure by Bob Blumer.