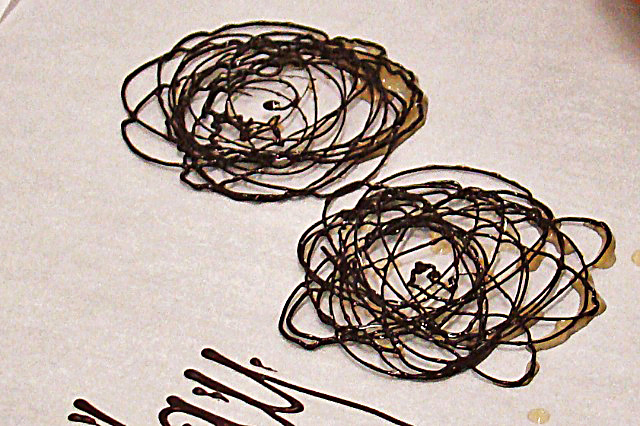 27 Jan

How to make decorative chocolate drizzle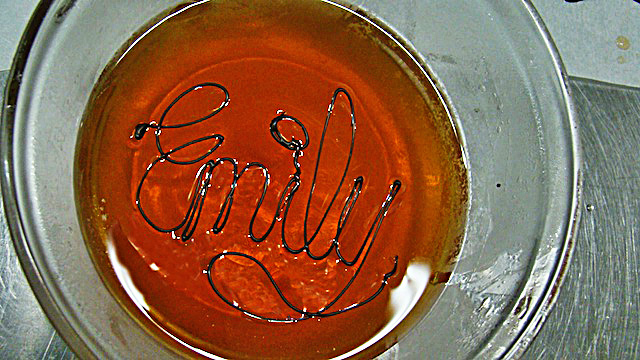 During the chocolate demonstration, Derrick made this decorative chocolate drizzle for Emily. As in Emily Richards. I'm not jealous. Really. After all, my name's too long. And too hard to spell. So demonstrating chocolate script with "Emily" makes sense.
I guess.
After Derrick showed off demonstrated, he handed the piping bag over to the students. In the shot below, Elizabeth Baird freestyles a chocolate masterpiece Jackson Pollack would envy.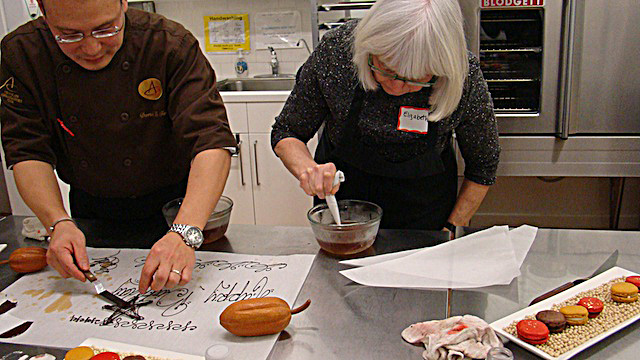 I'm not sure which one is hers, but you get the idea….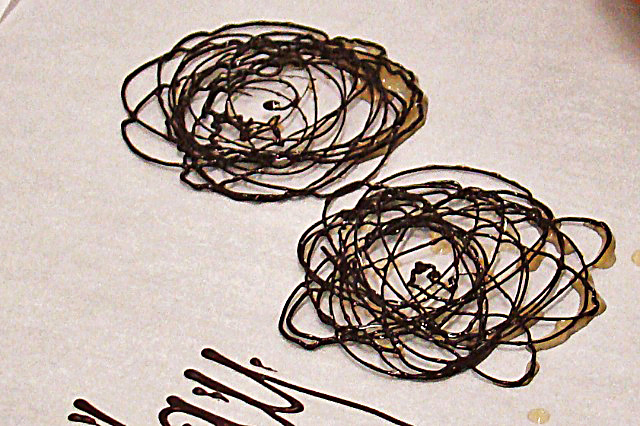 We made stars, ovals, even groovy shapes that looked like something formed by Spirograph. As long as you didn't try to spell my name, you just couldn't make a mistake. No matter how the chocolate fell, the results were impressive. Plus it was just plain fun to play with food and not get scolded. I can see giving dinner party guests a go at decorating their own desserts.

Feel up to making your own edible decorations? Here's the super-simple technique Master Chocolatier, Derrick Tu Tan Pho showed us.
Decorative Chocolate Drizzles
Pour Grand Marnier (or any other liqueur you like) into a freezer-proof bowl and place in your freezer. Although alcohol doesn't freeze you need it to be really well chilled, so you might want to freeze the dish overnight.
Melt chocolate. (See post on how to temper chocolate in a microwave).
Put melted chocolate into a plastic piping bag. A milk or Ziplock bag with a corner snipped works nicely, too.
Squeezing the piping bag gently, drizzle the melted chocolate onto the chilled booze creating any form you choose — patterns, words, squiggles. The chocolate will solidify as it hits the alcohol and float on the surface.
Using a spatula, gently lift your creation out of the bowl and place on parchment.
Lick fingers and make another shape.
Yup it's that easy. Honest.

Got any quick chocolate decorating tips you care to share? Feel free to post a link if you have photos.