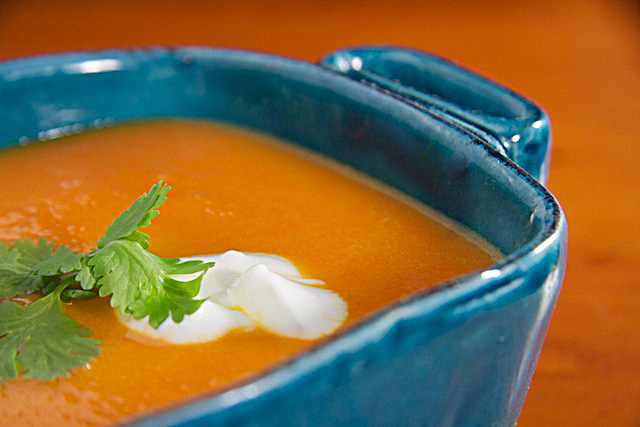 15 Nov

Ginger Orange Carrot Soup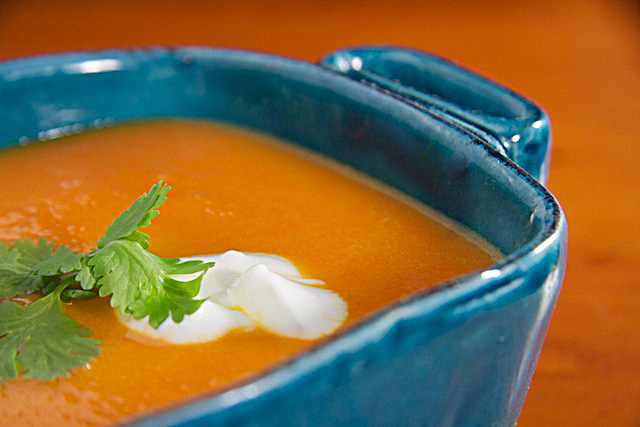 I'm not psychic but something tells me that before the winter is over, my copy of Jeanelle Mitchell's For the Love of Soup is going to be dog-eared, grease-splattered and a fought over. Sorry extended family, but you'll have to get your own copy. I can't imagine being without mine for long.
I first heard about this book more than a year ago from my beef-searing buddy, Heather Travis. One minute we were dissing salt-laden condensed soup, the next she was raving about a little recipe book I'd never heard of and begging me to find a copy. As luck would have it, Whitecap recently reissued the nearly decade-old title last month — with a makeover to match its younger sister, For the Love of Salad.
Like its older sibling, For the Love of Soup isn't a photo-rich, high-maintenance bombshell you drool over but abandon after a few dishes. Instead, this quietly pretty book is the kind you bring home to the family. The recipes are approachable, use easy-to-find ingredients and deliver results that will lead to requests for seconds (or thirds, if there is any left.)
My only trouble with the book was deciding which recipe to try first. As usual, Life handed me the answer. With a bag of carrots moldering in the fridge, a stash of ginger lounging in the freezer and a new food processor with a juicer attachment just begging to be tried, Carrot Orange Ginger Soup was a natural place to start — despite my neutral stance on carrot soup.
This recipe changed my mind. I am now a huge carrot soup fan. As long as it has lots of ginger and orange in it.
Yesterday, we had six around the dinner table and  I scraped the pot clean. Even with a roast chicken and baked Yukon Gold potatoes on the menu, I could easily have skipped the Sunday dinner and filled up on soup — with a thick slice of crusty bread and a slab of  sharp cheese. And maybe a salad… All I know for sure is the next time I make this I'm doubling the batch and not sharing a drop.
And yes, there will definitely be a next time. That is, between pots of Mexican Tortilla Soup, African Peanut Chicken Soup, Wild Mushroom & Leek Soup with White Wine…
Got a favourite soup? Share a link, a recipe or a memory.

Ginger Orange Carrot Soup
Author:
Charmian Christie
Prep / inactive time:
Cook / active time:
Total time:
Light and refreshing, this bright orange soup is bursting with beta-carotene and flavour. It can be served hot or cold, making it an ideal dish year round.
Ingredients
1 tbsp unsalted butter
1 tbsp olive oil or safflower oil
1 large sweet onion, chopped
4 cups peeled and chopped carrots
2 tsp grated ginger
2 cups low-sodium chicken or vegetable stock
2 cups water
1 cup orange juice
sea salt and freshly ground pepper
½ cup low-fat yogurt or sour cream, or more to taste (optional)
2 tbsp chopped fresh chives, or flat-leaf parsley (I used cilantro and it was wonderful)
Instructions
In a large saucepan, melt butter with oil over medium heat. Add onion and carrots and saute for 4 minutes. Stir in ginger and cook for 2 minutes longer.
Add stock, water and orange juice and bring to a boil. Reduce heat, cover and simmer for 20 minutes or until carrots are tender. Remove from heat and let cool slightly.
Puree soup in the saucepan using an immersion blender, or transfer soup in batches to a blender or food processor and blend until smooth, then return soup to the saucepan. Season with salt and pepper to taste and simmer until heated. Serve garnished with a dollop of yogurt or sour cream (if using) , and sprinkle with chives or parsley (or cilantro!)
Notes
Tip:
Using a sweet onion gives this soup a wonderful flavour, but if you don't have one, the soup will still be delicious if you substitute a regular cooking onion.
Excerpt printed with permission. From
For the Love of Soup
by Jeanelle Mitchell. Published by Whitecap Books © 2010.