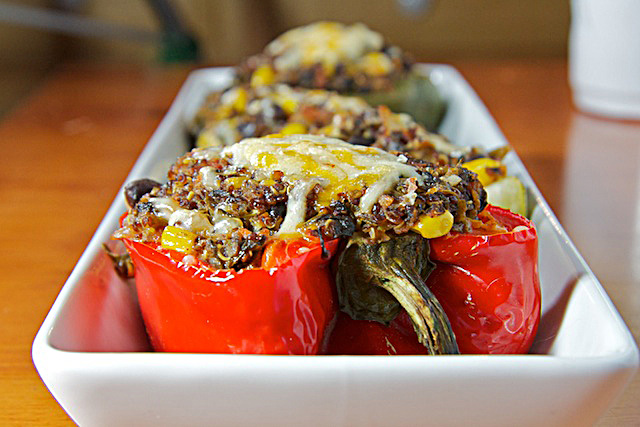 05 Oct

Recipe: Spicy Quinoa-Stuffed Peppers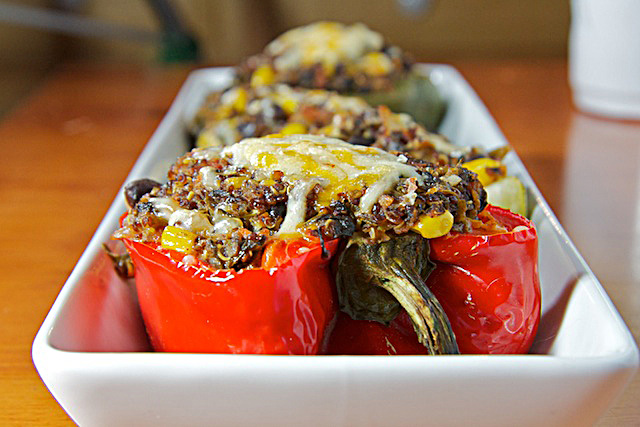 I admit it. I'm lazy and messy. Thee mere thought of  forcing gobs of unruly stuffing into tall, wobbly-bottomed peppers is an open invitation to Murphy. But, I got smart, knocked the suckers on their side and stuffed them full without so much as an "oops." Anyone who's grappled with a towering stuffed pepper will thank me for this culinary cheat. There's no embarrassing spillage in the kitchen. And at the table? Hungry eaters can dig in without drafting a plan of attack that involves advanced physics and an extra limb. Nope. Just grab your knife and fork and dig in.
As a bonus, the shallow version cooks faster. Everybody wins. Except Murphy.
With fall in full swing and a bounty of big, sweet, inexpensive peppers at hand, I'm sharing my stuffed pepper tips with Kyle Christie (no relation). Tune in to Kitchener's CTV News at Noon if you can. There'll be not-so-deadly nightshades, oh-so sharp implements and the ever-present danger of spillage. And that's before I even reach the studio.
To demonstrate the versatility of stuffed peppers, I made a Southwestern filling. With quinoa, black beans and cheese, they're practically a meal in themselves. Having had my share of carb-heavy vegetarian holiday meals, I know I would be thankful for a protein-rich, meatless alternative — even if it isn't exactly traditional.
Don't like peppers? Zucchini makes a fine alternative. Just be sure to scoop out the seeds. This gets rid of the tough bits and creates a hollow to hold the filling. Okay, zucchini's not quite as pretty, but it tastes just as good.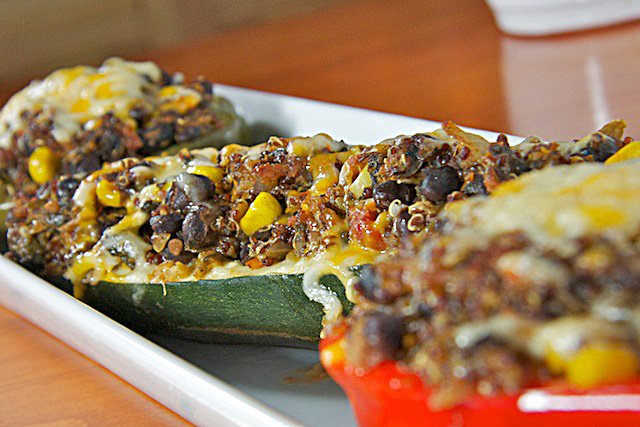 Spicy Quinoa-Stuffed Peppers
Author:
Charmian Christie
Recipe type:
Legumes and Lentils
Prep / inactive time:
Cook / active time:
Total time:
Serves:
4 as a main, 8 as a sidedish
With quinoa, black beans and cheese, these stuffed peppers are practically a meal in themselves. Serve as a main or a filling side dish.
Ingredients
2 tablespoons canola oil
1 large onion, finely chopped
1 large stalk celery, finely chopped
2 tablespoons chili powder (or 1 tablespoon chili powder and 1½ teaspoons chipotle powder))
1 tablespoon ground cumin
1 teaspoon dried oregano
1 tablespoon garlic, minced
1 10-ounce box cooked spinach, thawed and squeezed to remove moisture
1 28-ounce can diced tomatoes, drained
1 19-ounce can black beans, rinsed and drained (about 2 cups cooked)
¾ cups uncooked quinoa
1 cup frozen corn
½ cup grated carrots
1½ cup water
1½ cup grated cheese, divided (spicy jalapeno Jack or TexMex mix is good)
generous pinch fresh ground black pepper
salt to taste
4 large sweet peppers (any colour)
Instructions
Preheat the oven to 375°F.
Heat the oil in a large saucepan, over medium-high heat. Add the onion and celery and cook until soft, about 5 minutes.
Add the chili powder, chipotle powder (if using), cumin, oregano and garlic, and cook for one minute, stirring well to blend the spices. Add the spinach and tomatoes, and cook for 5 minutes to remove a bit of the excess moisture. Stir in the black beans, quinoa, corn, carrots and water. Cover and bring to a boil. When the liquid reaches a boil, reduce the heat and simmer, covered, until the quinoa is cooked, about 20 minutes.
While the quinoa cooks, cut the peppers in half lengthwise. Remove the ribs and seeds.
Once the filling cooked, stir in 1 cup grated cheese. Salt and pepper to taste. Fill each pepper half with the hot quinoa mixture. Place stuffed peppers in a baking dish or roasting pan. Cover with foil and bake for 25 to 35 minutes (see note on timing), or until the peppers are beginning to get tender. You want them cooked but not falling apart.
Sprinkle each stuffed pepper with 1 tablespoon of the grated cheese. Bake uncovered for another 5 minutes or until the cheese melts and begins to bubble. Remove from oven and let cool 5 minutes before serving.
Notes
One reader reports he needed to cook the peppers for an hour. Cooking times vary depending on the size of the pepper, how closely packed the pan is and how tender or crisp you like your peppers.