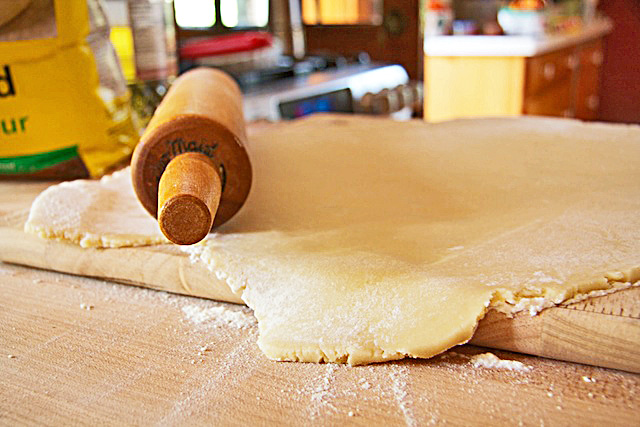 03 Sep

Recipe: Pate Sucree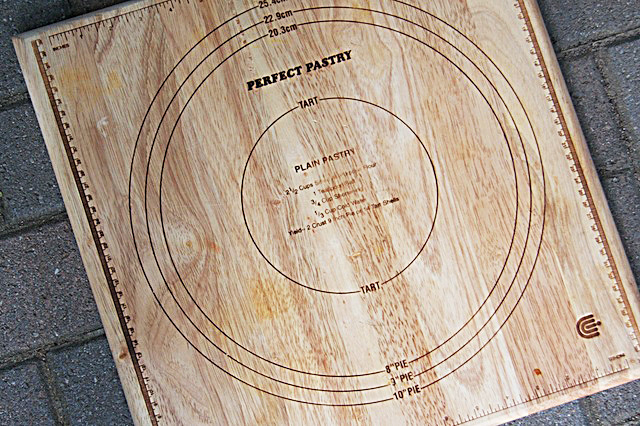 This is — or rather was — Aunt Hilda's pastry board. It's now mine and I'm hoping her tenacity and good baking karma will transfer to me through this well-loved board. Not only was Aunt Hilda a fabulous cook, she never stopped learning. After years of study, she obtained her BA — at the age of 72. When I inherited her board this week, I knew it was a sign to resume my pastry lessons. If she could earn a university degree in her 70s, I can move beyond no-fail pastry in my 40s. Or so my theory goes.
With a dozen pears glowering at me accusingly as they slipped from bright green to golden yellow, I decided to start my pastry schooling with pâte sucrée, a sweet dough usually reserved for fruit tarts. Some bakers say you shouldn't bother to roll pâte sucrée as it's too fussy. Michel Roux says otherwise. I've had his book, Pastry: Savory & Sweet, on my review list for over a year. One mention of  Type 45 and Type 55 French flour, a glance at the hand molded pie dough borders and the mere thought of decorative scoring sent me into pastry panic. I didn't have a marble counter top. I didn't have tiny scallop-edged tart shells. Most importantly of all, I didn't have the confidence. I quietly closed the cover and slipped the book onto the shelf .
Now, as the proud owner of Hilda's Board, I'm not about to let a bit of flour and butter beat me. Together we are going to make fancy French pastry. Here I go…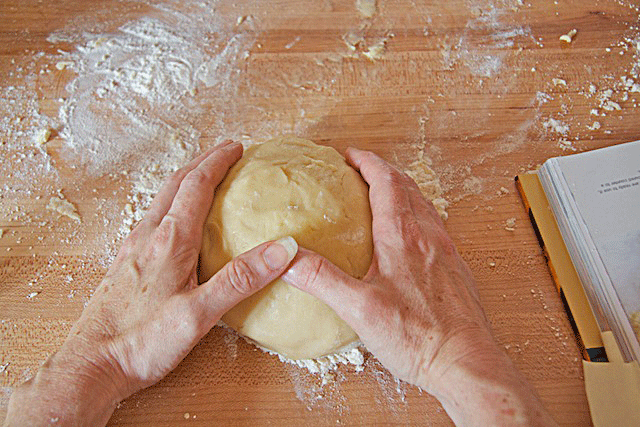 I got it done, but it wasn't pretty. Flour and butter covered every inch of the counter and I managed to smear dough well beyond my wrists. But the pastry came together surprisingly easily. Despite my aversion to touching standard pie dough, I found I liked working this pasty with my fingers.  Shortening and lard? No way. Butter?  Let me at it.
What did I learn? This pastry isn't hard to make but you can't rush things. Patience is a key ingredient not listed in the recipe. I had to slightly soften the butter, let the eggs come to room temperature, and once the dough was made? I had to twiddle my flour-dusted thumbs for a good hour while the pastry "rested" in the fridge. Was it worth it? Two hours later, I rolled the supposedly fussy dough on Aunt Hilda's board. Smooth as butter.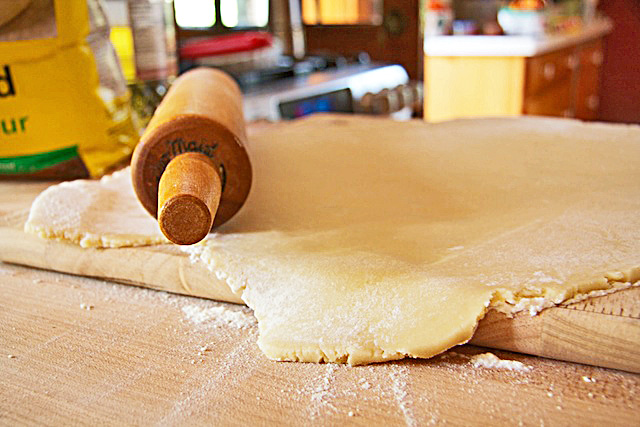 Because I stopped to take photos in a hot kitchen, the dough refused to transfer into the pan in one piece. Colder dough would have held together better. Since normal people don't stop to photograph their pastry process, this shouldn't be an issue for you.
After a bit of maneuvering, I got the dough into the tart pan in two pieces and sealed the seam with my fingers. The mended crust then went back in the fridge to chill while I sliced pears for the Chocolate Pear Tart.
The results? Pretty snazzy for a first timer.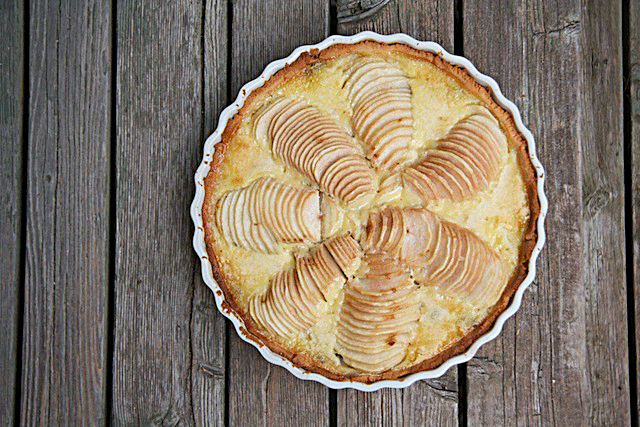 Once cooked, the pastry was more like shortbread than a standard pie crust, but who can argue with that? I'm calling this a success.
One dough down, eight more Roux recipes to go. Now that Aunt Hilda's got my back I've got roasted peaches on choux pastry crowns to make, as well as croissants and eclairs. And palmiers. Will I attempt the homemade phyllo, a recipe even Chef Roux admits is challenging? Come on. Hilda got a BA not a PhD.
I'll post the chocolate and pear tart recipe next week. In the meantime, make the pate sucree. It'll keep.

Pâte Sucrée
Author:
Charmian Christie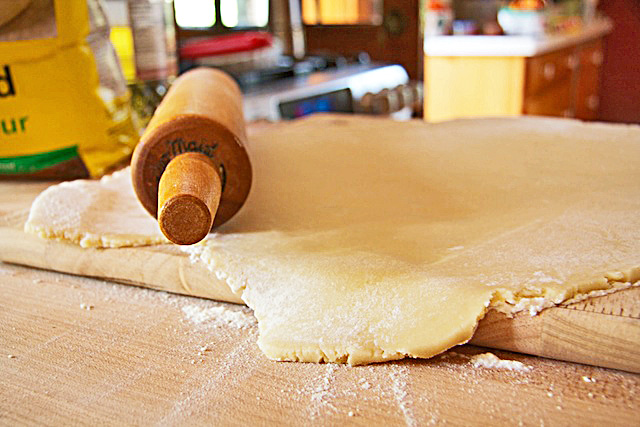 This sweet pie dough is mostly used for fruit tarts. It is easier to work with than pate sablee and, once cooked, the pastry shells are less fragile. The dough can be kept well wrapped in the refrigerator for several days, or frozen for up to 3 months. My note: the book's step by step photos are exceptionally helpful since you can see the texture of the pastry at each stage.
Ingredients
1¾ cups (250 g) all-purpose flour
scant ½ cup (100g) butter, cubed and slightly softened
1 cup (100g) confectioners' sugar, sifted
pinch of salt
2 medium eggs, at room temperature
Instructions
Put the flour in a mound on a counter (ideally marble) and make a well. Put in the butter, confectioners' sugar, and salt and mix together with your finger tips.
Gradually draw in the flour into the center and mix with your finger tips until the dough becomes slightly grainy.
Again, make a well and add the eggs. Work them into the flour mixture, using your fingertips, until the dough begins to hold together.
When the dough is well amalgamated, knead it a few times with the palm of your hand until smooth. Roll the dough into a ball, wrap in plastic wrap, and rest in the refrigerator for 1 to 2 hours before using.
When the dough is rested and you are ready to use it, unwrap and roll out on a lightly floured counter to a 1/16 - ⅛ (2 - 3 mm) thickness.