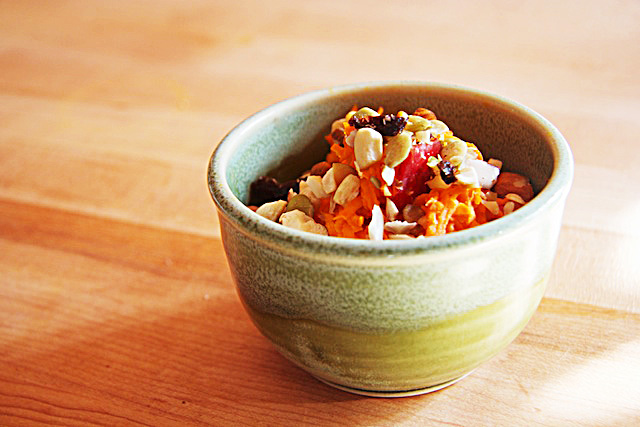 09 Aug

Raw Sweet Potato Salad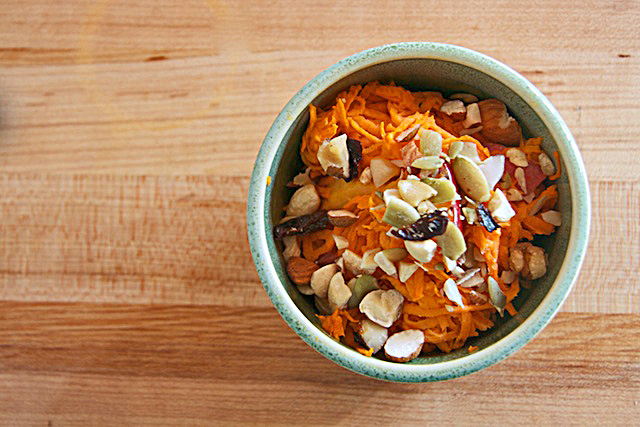 Sweet potatoes are confusing. People call them yams, but they're not. Even though you're far more likely to encounter a sweet potato than a yam here in North America, I think we embrace the term "yam" because it's more fun to say. Weighing in at four syllables, "sweet potato" is a mouthful. Yam? One. Plus it rhymes with other food words like "jam", "ham", "lamb" and "Spam." As for its counterpart? Short of "eat tomato" I've got nothing.
Let's face it. The word is cumbersome. Unless you're ordering sweet potato fries. Then it's sheer poetry.
This unwieldy vegetable can also be confused with carrots. Truth. Raw and shredded, sweet potatoes look and taste a lot like carrots. In fact, this recipe fooled me the first time I had it.
When it comes to orange side dishes the only thing I know for sure is that everyone in our family likes this recipe.
Hallelujah and pass the (sweet) potatoes.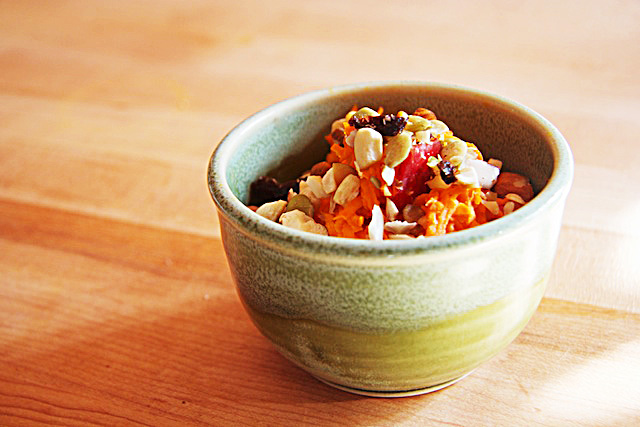 Raw Sweet Potato Salad
Author:
Charmian Christie
Prep / inactive time:
Total time:
Raw sweet potato salad is a twist on the classic carrot salad. If you don't have sweet potatoes, you can always substitute raw carrots or golden beets.
Ingredients
3 medium raw sweet potatoes, peeled and shredded (raw carrots or raw golden beets can be used instead)
2 medium apples, peeled, cored and diced
½ cup toasted pecans or trail mix
¼ cup sour cream
¼ cup mayonnaise
1 teaspoon lemon zest
1 tablespoon fresh lemon juice
2 tablespoons honey
½ teaspoon fine sea salt
⅛ teaspoon fresh black pepper
Instructions
In a medium bowl, combine the shredded sweet potatoes, apples and nuts or trail mix. Toss to combine.
In a small bowl, whisk together the sour cream, mayonnaise, lemon zest, lemon juice, honey, salt and pepper.
Pour the dressing over the sweet potato mixture and toss well to coat evenly. Chill in the refrigerator before serving.
Notes
Sweet potatoes contain small amounts of oxalic acid. People with a history of oxalate urinary tract stones may choose to avoid them. If this is the case, substitute raw carrots or raw golden beets. The flavour is similar, although the texture of these two vegetables is slightly more crunchy.

For those who are confused about the difference between sweet potatoes and yams: We usually get sweet potatoes here in Canada. Sweet potatoes, a member of the morning glory family, can be grown locally. They tend to be orange and very sweet. Yams are usually imported, starchier and come from a branch of the lily family that's hard to spell and has no common name for me to fall back on.