27 Jul

Easy Roasted Lemon Potatoes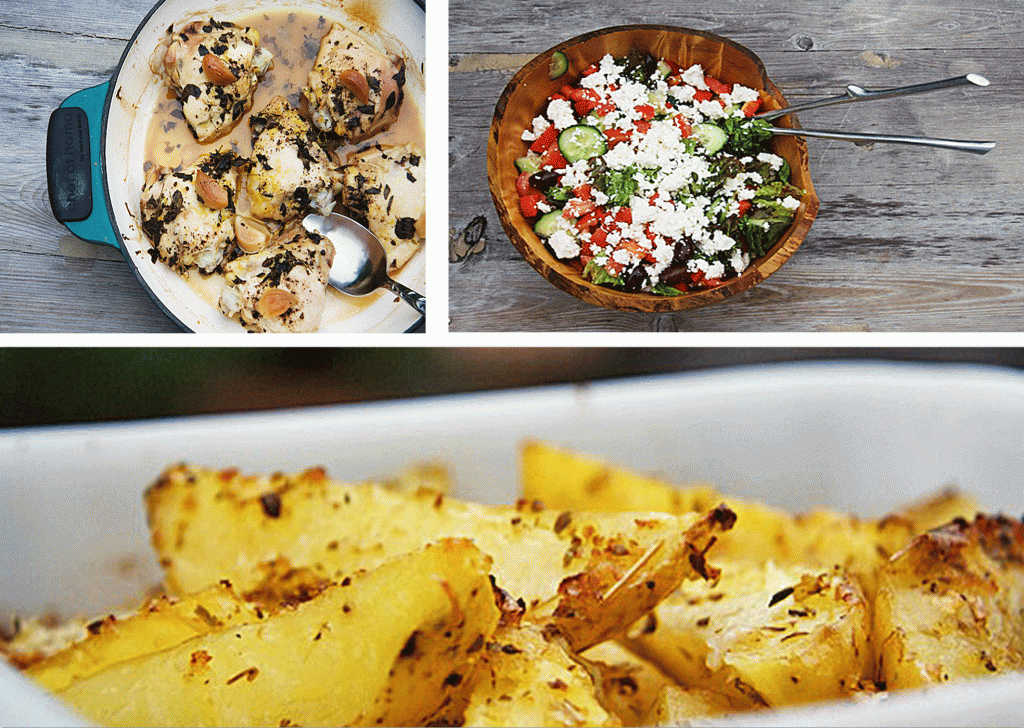 I have decided to strike the following phrase from my vocabulary: How hard can it be?
It gets me into trouble.
For example: Hey, honey, I need a new stove. Why don't we just knock down a wall and add an eat-in kitchen while we're at it. How hard can it be?
Or upon learning of my sister's engagement: Hey, Sis, want me to make your wedding cake? Cake, icing, flowers. How hard can it be?
Do you see a pattern? While I admit those projects are a bit on the ambitious side, a rustic Greek dinner shouldn't fall into this category. Unless you decide to make phyllo pastry from scratch, it should be as easy as a Mediterranean breeze. Right?
Realizing I tend to be overambitious, I scaled things back when I invited the family to a Greek meal. Instead of cubing chicken breasts and threading skewers, I braised whole thighs in a souvlaki marinade. While they cooked slowly, I churned the very easy albeit un-Greek lemon pie ice cream and chopped vegetables for a classic Greek salad. Even the homemade dressing took only 2 minutes.
And the potatoes? Easiest of all. I farmed them out to my mom. With only the memory of Greek dinners past as a guide, Mom created this recipe for roasted lemon potatoes out of thin air. And potatoes. And garlic. And lemons…
Her potatoes, her dish, her invention. Kudos Mom. This one's a keeper, just like you.
Easy Roasted Lemon Potatoes
Author:
Charmian Christie
Prep / inactive time:
Cook / active time:
Total time:
These lemony potato wedges are an ideal accompaniment to chicken or a Greek meal. Serve as is or with a side of tzatziki.
Ingredients
4 medium potatoes, washed and cut into wedges (skin left on)
¼ cup olive oil
2 tablespoons melted butter
1 lemon, zest and juice
3 cloves garlic, crushed
1 teaspoon dried oregano
salt
fresh ground black pepper
Instructions
Preheat oven to 350°F. While the oven is heating, boil the potato wedges in lightly salted water for 15 minutes. Drain.*
In a small bowl, mix together the oil, butter, lemon zest, lemon juice, garlic, and oregano. Pour the oil mixture over the potato wedges and toss to coat evenly.
Spread the potatoes in a single layer on a rimmed baking sheet. Season with salt and pepper. Bake, stirring once or twice, for 30 minutes or until the potatoes are tender.
Increase oven temperature to 425°F and roast another 15 minutes or until crisp. Serve as is or with a side of tzatziki.
Notes
* Think boiling potatoes is too much work? Just toss the uncooked potato wedges in the oil mixture and bake for an extra 15 to 20 minutes before increasing the heat. The texture won't be quite the same, but the flavour will be just as good.