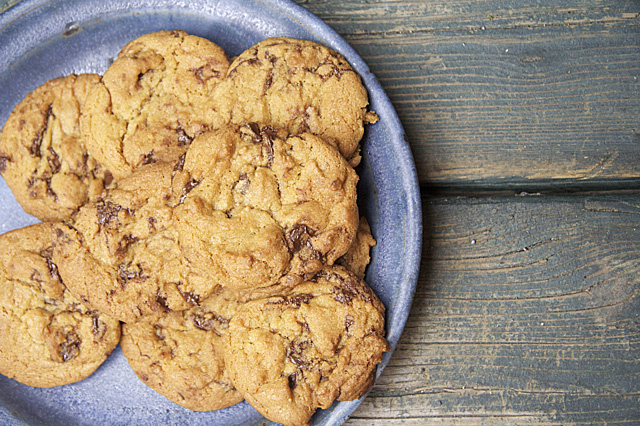 08 Jul

Browned-Butter Chocolate Chip Cookies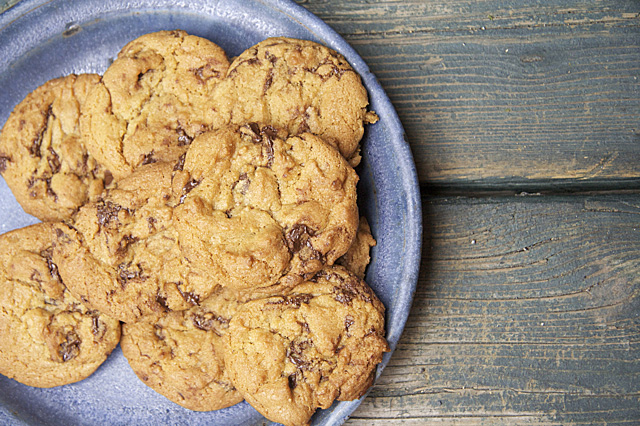 A while ago I solicited recipes for the ultimate chocolate chip cookie. A lot of suggestions rolled in. Conflicting opinions on walnuts, oatmeal and chefs flew through cyberspace. Some people loved Alton Brown's recipe. Others called it "cakey" and touted the ever-popular David Lebovitz. Thomas Keller's name cropped up frequently, while a small but vocal group swore on their grandmother's baking pans that Cook's Illustrated's browned butter version was the best. Make that The Very Best. Ever.
So I did some research into the various options. Some recipes called for chopped chocolate. But with chips readily available that just seemed like extra work. Other recipes used bread flour, which I don't stock. So I nixed them. Many demanded an extra yolk. Needless to say, I was a little put off by this requirement since I hate wasting food and never know what to do with an extra white. Two or three? Make meringues. But one?
However, I adore browned butter and hunted down the Cook's Illustrated recipe. Even though it called for that pesky extra yolk, it used ordinary flour and included my beloved walnuts. So I was willing to sacrifice some albumin for the cause. Then I read the instructions. "Let mixture stand for 3 minutes, then whisk for 30 seconds. Repeat process of resting and whisking 2 more times until mixture is thick, smooth and shiny." Was this some kind of joke? They're cookies. Mix, drop, bake, eat.
Browning the butter was as much extra work as I was willing to do, so I made up my own version. No extra yolk. No carefully timed beating. Because of the hot butter they require some refrigeration, but I figure I can workout during this time. You know, I'll firm up while the dough firms up. Mutual support and all that rot.
The verdict? Browned-Butter Chocolate Chip Cookies have a lovely caramel undertone and an unusual crunchiness that is hard to describe. Are they the best ever? No. But they're pretty darned good and a nice change of pace.
Am I the only one put off by recipes that call for  extra yolks? How do you feel about recipes that use more than one kind of flour or an unusual ingredient you'll never use again? What are you willing or not willing to do when it comes to cookies?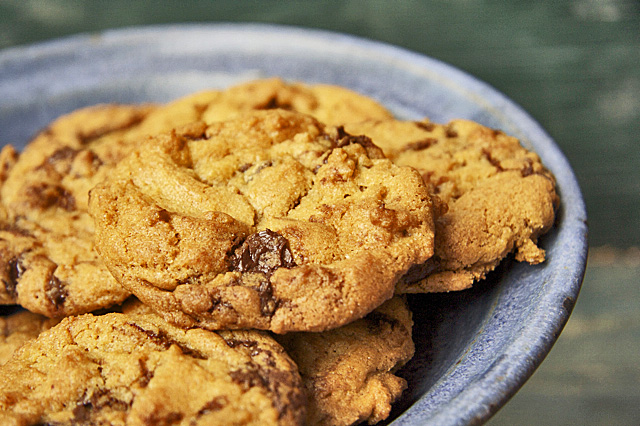 Browned-Butter Chocolate Chip Cookies
Author:
Charmian Christie
Prep / inactive time:
Cook / active time:
Total time:
Browned butter adds depth to the classic chocolate chip cookie.
Ingredients
¾ cups butter
¾ cups packed brown sugar
½ cup granulated sugar
2 large eggs, room temperature
1 tablespoon vanilla
2 cups all-purpose flour
½ teaspoon baking soda
½ teaspoon fine sea salt
1 cup semi-sweet chocolate chips
1 cup chopped walnuts (optional, add extra chocolate chips if you prefer)
Instructions
In a small saucepan, melt the butter over medium-high heat. Once the butter has melted, gently swirl the pot and continue to cook until the butter has browned. (The butter is finished when it has turned dark amber and smells nutty.)
Put the brown and granulated sugars into a medium-sized bowl. Pour the hot browned butter over the sugars, and stir until completely dissolved. Beat in the eggs and the vanilla.
Sift together the flour, baking soda and salt. Add to butter mixture and stir to combine. Stir in the chocolate chips and chopped nuts, if using. Refrigerate for at least an hour or even overnight.
A good half hour before you are ready to bake, preheat the oven to 350°F. Line two baking sheets with parchment. While the oven heats, let the dough come to room temperature.
Drop a heaping tablespoon of dough onto the baking sheet, leaving two inches between cookies to allow for spread. (Note: If the dough doesn't spread while cooking, flatten the cookies a bit before baking. How cold the dough is can affect how much the dough spreads.)
Bake for 10-12 minutes, or until the cookies are done around the edges but the middle is still soft. Leave the cookies on the pan for 2 minutes or until you are able to transfer the cookie off the sheet without it falling apart. Transfer the cookies to a wire rack to cool.
Notes
Using a 1-tablespoon cookie scoop works really well with this recipe. Cookies will be a consistent size and bake evenly.