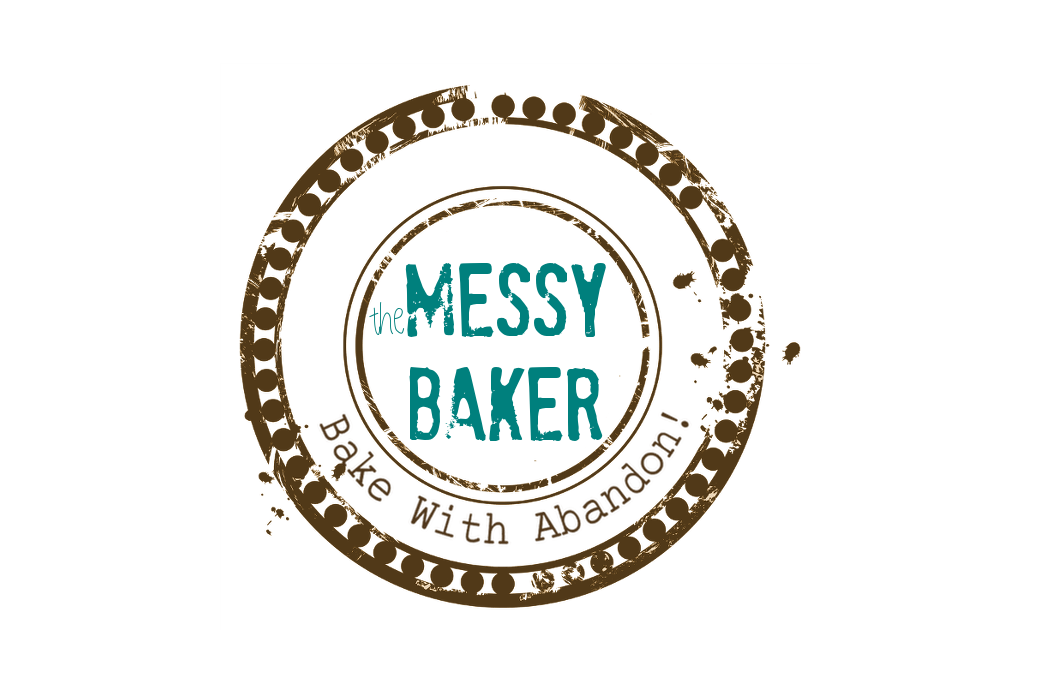 07 Jul

Candied Flowers — Part 2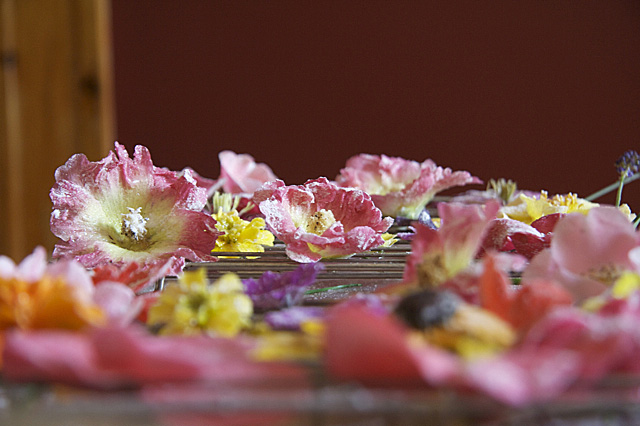 Ten days left to my sister's garden wedding and I'm beginning to panic. My mom and I are making the wedding cake, and planned on decorating it with blooms from our gardens. But none of the flowers are paying any attention to their carefully co-ordinated schedules. In an ill-advised burst of speed, the rambling rose has galloped through its bloom phase like a Kentucky Derby contender. At this rate there will be no perky Dorothy Perkins hovering overhead as my sister and her groom greet guests. Sure, the long-lived lavender is fine, but the ephemeral lilies? Not so much. And while the hollyhocks look just dandy right now, will they  be able to stand guard along the wedding path come the Big Day? I guess we'll find out.
So yesterday, I decided to preserve as much prettiness as I could — regardless of whether or not the flowers are fit for consumption. Having recently written an article on how to candy flowers, I was up to the challenge. But as I ventured beyond the edible flower limitation, I learned that some flowers candy better than others.
Be warned. Candy Failure will ensure should you try to preserve the following. They are either too flimsy (first 4 flowers listed), too deeply fluted, or have petals that are too thick (lilies). Try sugaring these and you'll end up tossing out what were once perfectly lovely flowers — as well as half a morning of your time. I will not show you pictures of these candy calamities. The internet hosts enough ugliness as it is. However, trust me when I say, avoid candying:
campanula
coriposis
evening primrose
spiderwort
day lily
tiger lily
On the upside, many flowers did survive the egg white and sugar bath.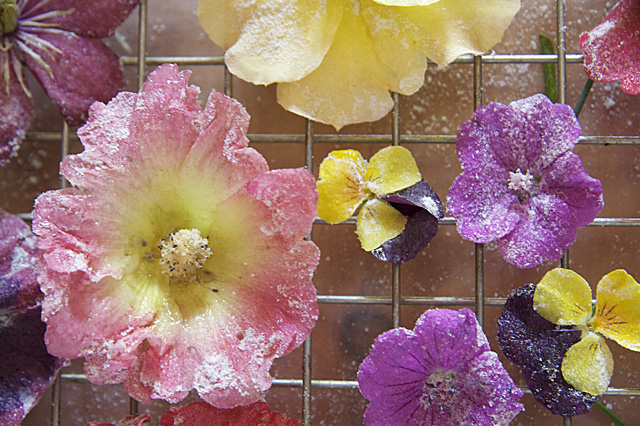 Keeping this CYA caveat in mind, don't eat the daisies (or clematis). Play it safe and just enjoy the eye candy with:
single or semi-double rose
single clematis
old fashioned hollyhock
single marigold
lavender (in bud, not in bloom)
native geranium
single begonia
Even though the hot humid weather slowed down the drying process considerably, I was  pleasantly impressed with the results.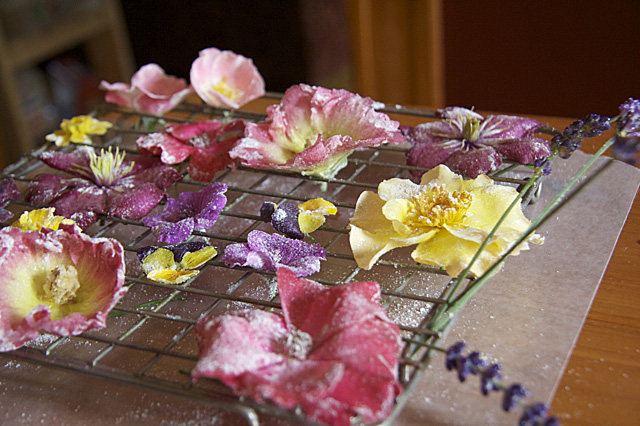 Until this morning.
When a certain ginger tabby walked by with a sprig of lavender adhered to his hind end. This stalk won't be making it onto the wedding cake.
Other than, "Lock the cats out of the kitchen," got any cake decorating advice?