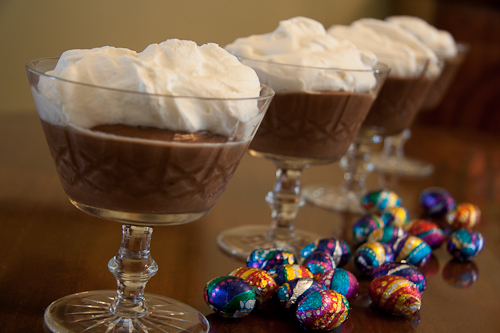 05 Apr

French Bittersweet Chocolate Mousse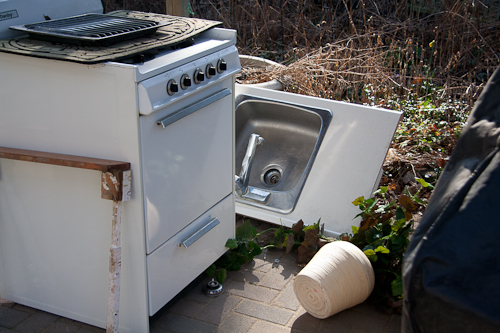 It's official. We are the neighbourhood hillbillies.
The stove, doormat, counter top, sink and fake plant have been in the back patio for two weeks — or a fortnight as the British would say. Doesn't "Our unwanted kitchen items have been sitting about for a fortnight," sound more civilized than "we dumped our junk the backyard for a couple of weeks"?
Maybe the plaster dust is affecting my brain, but the word "fortnight" conjures images of summer vacations with days spent wandering the beach and nights spent at swishy cocktail parties — not used appliances and bits of furniture.
To counteract the junk-laden karma of our reno, I made a very decadent dessert for Easter. Regan Daley's  In the Sweet Kitchen arrived just in time for the long weekend and I took it as a sign. Since I often browse cookbooks back to front, one of the first recipes I came upon (page 548) was for chocolate mousse. Real chocolate mousse. With hand-whisked egg whites,  top-end chocolate and a vanilla bean.
Does this decadent dessert settle the score?

To be on the safe side, I made a straight chocolate version with Creme de Cacao, and an orange variation. Both were incredibly smooth, light and rich. I'm now itching to try hazelnut and raspberry. That should keep things in check for another fortnight — or two.
Did you indulge over the Easter weekend? If so, what form did your decadence take?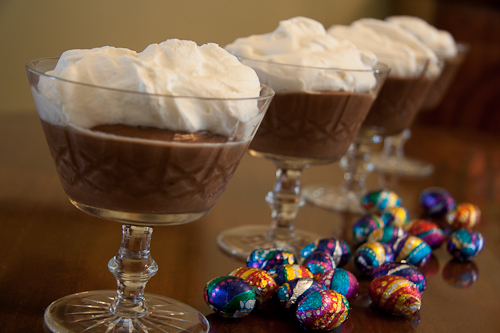 French Bittersweet Chocolate Mousse
This classic chocolate mousse is light yet rich. Although this recipe provides a chocolate-orange variation, the possibilities go beyond that. Think raspberry, ginger, cherry or any other chocolate-friendly fruit.
Ingredients
8 ounces best-quality bittersweet chocolate, chopped
2 tablespoons instant espresso powder dissolved in ¼ cup warm water
8 large egg yolks
seeds of ½ vanilla bean, hull reserved for another use (like
¼ cup coffee- or chocolate-flavoured liqueur, such as Kahula,or Creme de Cacao or substitute Cognac, Armagnac or another spirit
6 large egg whites, at room temperature
Lightly sweetened whipped cream, to serve
Chocolate-covered espresso beans, for garnish, optional
Instructions
Place about 1 or 2 inches of water in a large pot and bring to a gentle simmer. Combine the chocolate and espresso in a stainless steel or glass bowl and set the bowl over the mouth to the pot. Reduce the heat so the water under the bowl is just barely simmering, and melt, stirring occasionally, until the mixture is about ¾ smooth. Remove the bowl from the heat and let the residual heat in the mixture finish the melting. Set the mixture aside to cool.
In a medium-sized bowl, whisk yolks together to break them up, then blend in the cooled chocolate mixture. Stir in the vanilla seeds and liqueur.
In a clean bowl with a clean, grease-free balloon whisk, beat the egg whites until stiff, but not dry and flaky. Fold the whites into the chocolate mixture in three stages, working quickly but using as few strokes as possible. Spoon the mixture into individual dessert glasses or bowls and refrigerate for 1 hour. Cover the dishes with plastic wrap and return them to the refrigerator for at least 3 hours, or overnight. Serve the mousse cool, garnished with a dollop of lightly sweetened whipped cream and a few chocolate-covered espresso beans, if desired.
Chocolate-Orange:
Add 2 teaspoons very finely grated orange zest to the egg yolks before adding the chocolate mixture. Use an orange-flavoured liqueur, such as Curacao or Grand Marnier in place of the coffee or chocolate liqueur. Garnish the mousse with lightly sweetened whipped cream and finely chopped candied orange peel.