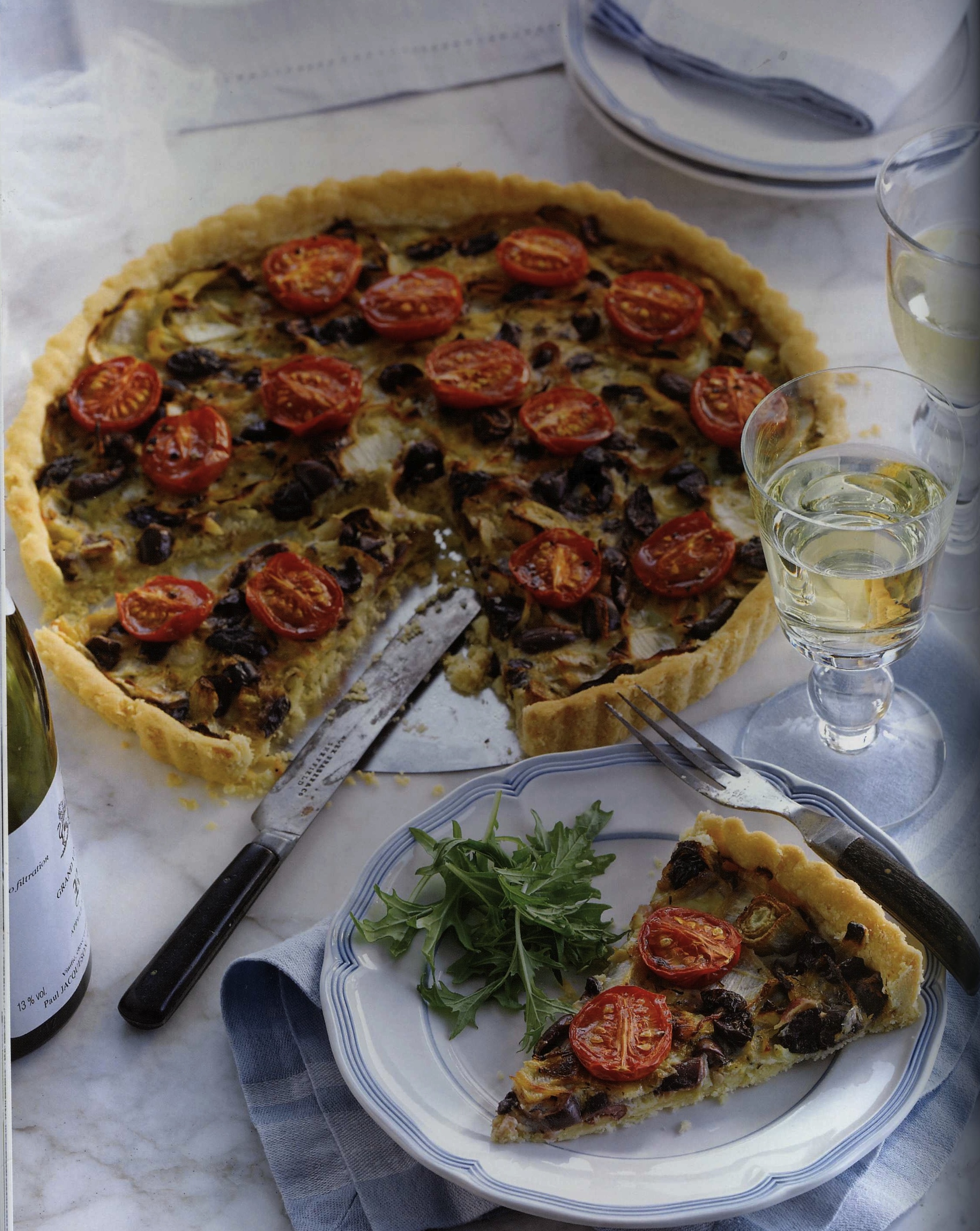 08 Dec

Aix-en-Provence Black Olive Tart

The area of a circle is ∏r².

This bit of high school math comes in handy when a recipe calls for a 12-inch tart pan and you go to three stores in search of one and all you come home with is a 118-pound, 5-litre cast iron Dutch oven you bought on impulse.

Why math? Had I hit a few buttons on the calculator in the first place, I would not have spent an afternoon and an obscene amount of money on something I didn't need (at least at the moment). Had I bothered with basic geometry, I'd have known that the  9X13 Pyrex pan, which has been sitting quietly in a drawer all along,  was a perfectly suitable albeit less visually pleasing substitute. See:
12-inch tart pan: 3.14 x 6 x 6 = 113.02
9 x 13-inch pan: 9 x 13 = 117
What's 3.98 inches when it comes to pie?
The real question is: Why did I spend half a day running about town looking for a pan I'd use once a year to make a summertime tart on the coldest day of the winter thus far? Sentiment.
I just got a copy of Linda Haynes and Devin Connell's Two Dishes: Mother and Daughter, Two Cooks, Two Lifestyles, Two Takes (McClelland & Stewart ©2009), and rushed over to my mom's with it. My mother taught me how to cook and this is the first cookbook I've encountered that addresses the mother-daughter bond in a way that resonates with me. In an effective use of the writer's mantra, "Show. Don't tell." this book forgoes essays and anecdotes, and illustrates the love, respect and influence between these two women through side-by-side recipes.
This isn't a book where daughter learned from mother and does modern, copy-cat takes. This is a book where two adult women share a passion for cooking and good food, despite different culinary styles.
In a book loaded with gorgeous food shots, my mom and I both lingered over the picture of Haynes and Connell strolling arm-in-arm through the woods. Yes, I know this was a staged shot, but the chemistry between the two women can't be faked. Two Dishes captures an emotional element missing in many other cookbooks.
So, when I asked my mom what recipe she'd like me to try, without hesitation she selected Aix-en-Provence Black Olive Tart. For my parents' 50th anniversary, the family went to Europe. We stayed in  Aix-en-Provence only a couple of nights and mom wanted more time there. She was drawn to this dish because it took her back. I was happy to agree because the recipe promises even a "pastry klutz" can get spectacular results. Win-win or what?
My not-so-round tart turned out just fine. Even without a removable bottom.
So, am I a sap or would a mother-daughter-meet-as-culinary-peers cookbook pull you in?

Aix-en-Provence Black Olive Tart
Author:
Linda Haynes and Devin Connell
Cook / active time:
Total time:
Ingredients
Olive-Oil Pastry
2 cups plus 3 Tbsp unbleached all-purpose flour
pinch of kosher salt
¾ cup unsalted butter, cold, cut in ¼-inch cubes
1 large egg yolk. beaten
3 to 4 Tbsp extra-virgin olive oil
Filling
2 large eggs
3 Tbs creme fraiche or 35% whipping cream
¼ cup extra-virgin olive oil
2 small cooking onions, cut in half and thinly sliced
1 lb Belgian endive, cut in ½-inch slices (Note: I used arugula due to poor looking endive)
3 cloves garlic, finely chopped (about 2½ tsp)
½ tsp finely chopped fresh thyme
¾ cup pitted Kalamata olives, cut in half if large
¼ tsp kosher slat
Heaping ⅛ tsp freshly ground black pepper
6 to 8 oven-roasted tomatoes, cut in half
Instructions
For the pastry, put the flour, salt, butter, egg yolk and 3 Tbsp oil in the bowl of a food processor. Pulse until it comes together. Add the extra tablespoon of oil if necessary. (If you are mixing by hand, put the flour, salt and butter in a bowl and toss together. Add the egg and 3 Tbsp oil and mix together with your hands. Add the extra tablespoon of oil if needed to bring the dough together. The dough should be crumbly.)
Form the dough into a flattened disc, wrap in plastic and refrigerate for 30 minutes.
Roll the dough between 2 pieces of parchment paper or plastic wrap into a rough 15-inch circle. This may prove difficult as the dough is very crumbly, but don't worry. Just pat the dough evenly into the bottom and sides of a 12-inch fluted tart pan with a removable bottom. Chill for at least 30 minutes. (The dough can be made and patted into the pan up to a day ahead.)
Preheat the oven to 400F.
To prepare the filling, whisk the eggs and creme fraiche in a bowl.
Add the oil and onions to a large cold skillet and heat over medium-high heat. Saute until the onions are soft but not coloured, about 10 to 12 minutes.
Add the endive, garlic and thyme. Cook until the endive is slightly wilted and the pan is almost dry, about 3 to 4 minutes. Remove from the heat and stir in the olives, eggs mixture, salt and pepper. Immediately pour into the tart shell, making sure the olives are evenly distributed. (For a nice finish, brush the exposed crust with a little extra olive oil.)
Bake for 50 minutes or until the filling is just set in the centre. Remove from the oven and let cool for 15 minutes. Top with oven-roasted tomatoes.