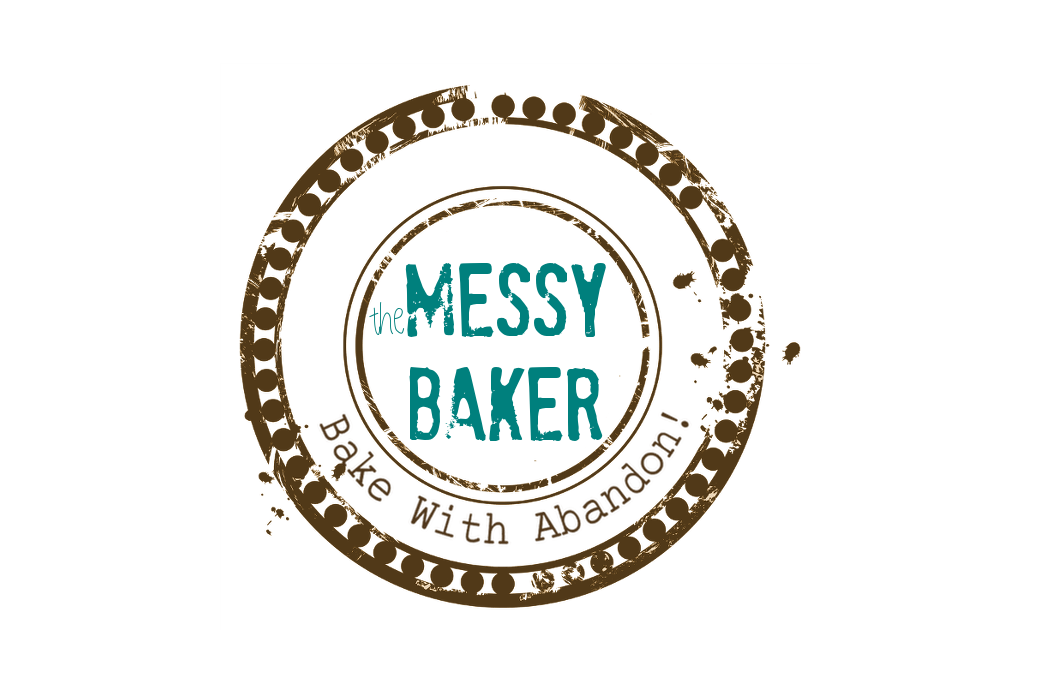 01 Dec

Marcy Goldman's Kids' Chanukah Cookies

All together now…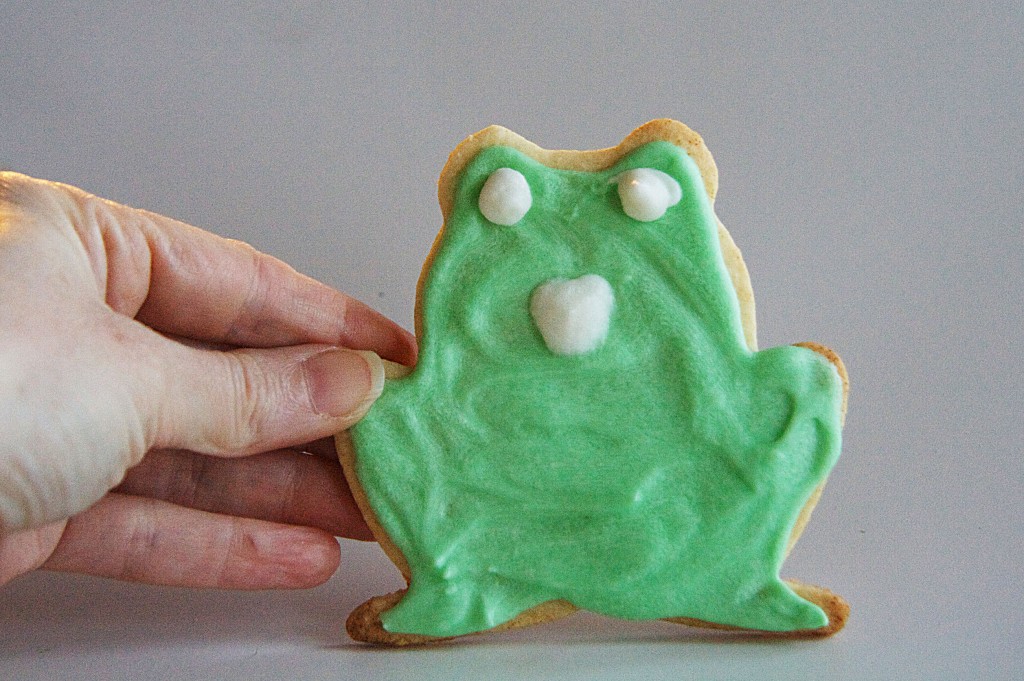 Jeremiah was a bullfrog.
Was a good friend of mine.
I never understood a single word he said,
But I helped him a-drink his wine.
And he always had some mighty fine wine.
Singin'…
Joy to the world.
All the boys and girls now.
Joy to the fishes in the deep blue sea.
Joy to you and me…
Sorry, I just couldn't resist. But how else could I tie together a chanuka recipe, a frog cookie cutter and my passion for Christmas? Three Dog Night's Joy to the World, of course.
This is another one of Ann Clark's delightful cookie cutters. The icing is my latest attempt at decorating (E for effort, F for fail), slathered on Marcy Goldman's Kids' Chanuka Cookies recipe. I find most sugar cookies a bit dull, but Goldman's generous use of vanilla and additional flavourings give a gentle lift to an otherwise bland cookie. Plus they roll like a dream. None of them fell apart en route to the cookie sheet.
I had the fortune to speak with Goldman recently. Despite being a professional pastry chef and the founder of BetterBaking.com, Goldman's approach to her craft is down-to-earth and practical. "Baking is just a series of simple steps done right," she says.
She also has a few tricks up her chef's jacket. I've been baking cookies since I was old enough to dump chocolate chips in the batter and have yet to find a sheet that cooks evenly in my quirky oven. Andrew gave me a silicon mat for Christmas last year, which helped, but Goldman's solution is easier —  stack two inexpensive pans together and line the top one with parchment. You can buy two sturdy pans for a total of $10 while a single fancy insulated version can run you $25. The twin-sheet approach equalizes hot spots and provides consistent results. I tried it and it worked like a charm — even in my old clunker of a stove.
And those silicon mats? Goldman says, "It looks like baking on a bath mat!" Aesthetics aside, Goldman admits they work, but can get expensive. At $10 they look like a reasonably affordable solution, but since you need one per baking sheet, they can double your cost. It's parchment and two pans for me from now on.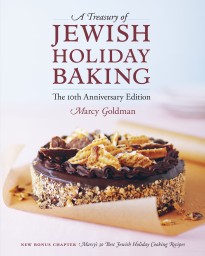 Back to the frog. This recipe comes from Marcy Goldman's  A Treasury of Jewish Holiday Baking, 10th Anniversary Edition. Nominated for a Julia Child Cookbook Award, this book offers baking advice, equipment recommendations and mouth-watering recipes — all organized according to Jewish holidays. A newly added chapter, A Baker Becomes a Cook, offers 30 traditional savory recipes. Regardless of your religious orientation, this book will leave you craving Friday Night's Rich and Addictive Cocoa Fudge Brownies, Strawberry Mango Hamantaschen, Marcy Famous Molded Potato Kugel or New Way Chanukah Potato Latkes.
At this time of year many holidays over-lap in a wonderful swell of festivities. What do you celebrate? And with which dishes?
Kids' Chanukah Cookies
Excerpted with permission from A Treasury of Jewish Holiday Baking, 10th Anniversary Edition, by Marcy Goldman. Published by Whitecap Books, 2009.
Makes 3 to4 dozen cookies
Ingredients
3/4 cup ( 1 1/2 sticks) unsalted butter, softened
1/4 cup vegetable shortening
1 1/2 cups sugar
2 eggs
1 tablespoon vanilla extract
2 drops each lemon, orange and almond extract
4 cups all-purpose flour
1/2 teaspoon salt
1 tablespoon baking powder
1/4 cup half and half, milk or water
1 -2 egg whites, lightly beaten
sugar or coloured sprinkles
Instructions
In a large mixing bowl, cream the butter and shortening with the sugar.
Blend in the eggs, vanilla, and extracts. Fold in the flour, salt and baking powder and mix, adding the half and half gradually, to make firm but rollable dough.
Chill the dough for 10 minutes.
Preheat the oven to 350° F. Line 2 large cookie sheets with parchment paper.
Roll the dough out about 1/4 inch thick and cut into rounds, or if you have them use Chanukah cookie cutters to make holiday shapes.
Brush the cookies with the beaten eggs white and sprinkle with sugar (regular or coarse, plain or coloured) or coloured sprinkles. Leave the cookies plain if you will be icing them after baking.
Bake on the prepared sheets until golden brown, 15 to 18 minutes.