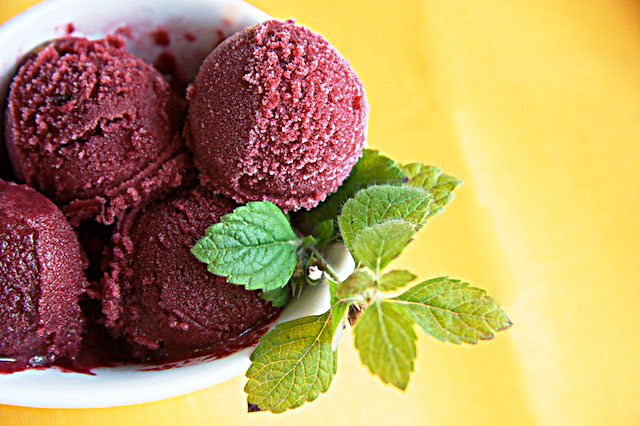 03 Nov

Concord Grape Sorbet

Posted at 12:08h

in

Autumn

,

Dairy-free

,

Desserts

,

Egg-free

,

Gluten-free

,

Healthy Choice

,

Ice Cream & Frozen Treats

,

Original

,

Recipes

,

Sweet

,

Vegetarian

0 Comments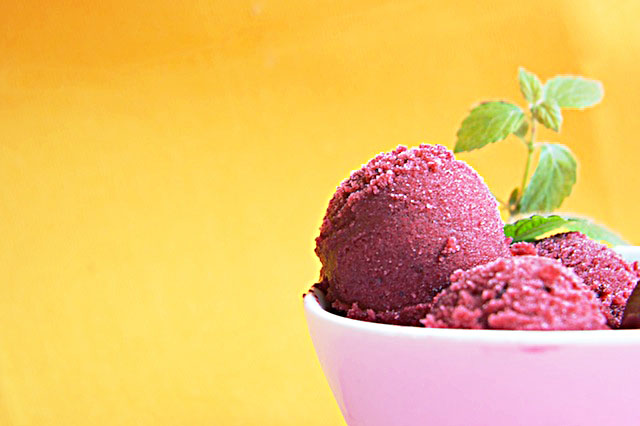 The comments are rolling in in response to the cookbook give away. Your fabulous ideas make me want to rent a delightful, impractically located venue and throw a great big bash. (If you missed the post, Rose Murray's wonderful A Taste of Canada is up for grabs. To enter the draw, all you have to do is leave a comment telling me how I should celebrate the new blog.)
Riding the wave of your enthusiasm, I'm thumbing my nose at the cold weather and posting a very special frozen dish — Concord Grape Sorbet. Ever since I read how chef Johnny Iuzzini used his T-shirt and a broom handle to make Concord grape sorbet, I've been dying to try this dessert. But two weeks ago I was told the grapes were done until next fall. Then, by some small, unexplained miracle I dare not question, Peach Lady had four baskets of these purple beauties at her stall on Saturday. I bought two.
One sits in the freezer, waiting for a special occasion. How will I use this precious stash? I might use it to make a Concord Grape Pie, or more Concord Grape and Nectarine Butter. I might just eat them as frozen little balls of delight.
The other I transformed into this sorbet. Despite the Iuzzini anecdote, The Flavor Bible provided no recipe and suggested the best flavour combination for Concord grapes involved honey. So I sweetened the sorbet with a hint of honey and used Drambuie, a honey and scotch flavoured liqueur, to keep the sorbet soft.
The results? Intense and spectacular.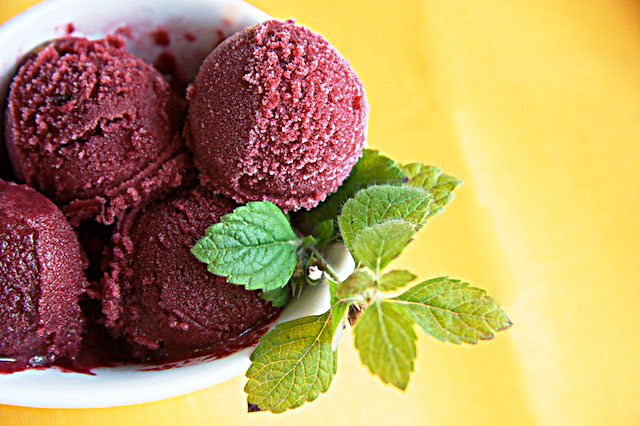 Even the cat liked it.
While I was setting up the shot, a little orange face entered the frame and started licking one of the scoops. Not sure "Cat-Approved" is going to sell this dish, but if you like the full-on flavour of Concord grapes, this sorbet remains true to the fruit. It's not a sweet dessert, but more of a tart, intriguing after-dinner palate cleanser. It would go beautifully with a cheese platter if it didn't melt so quickly.
So, do you like tart sorbets? Or are you a die-hard Orange Sherbet fan?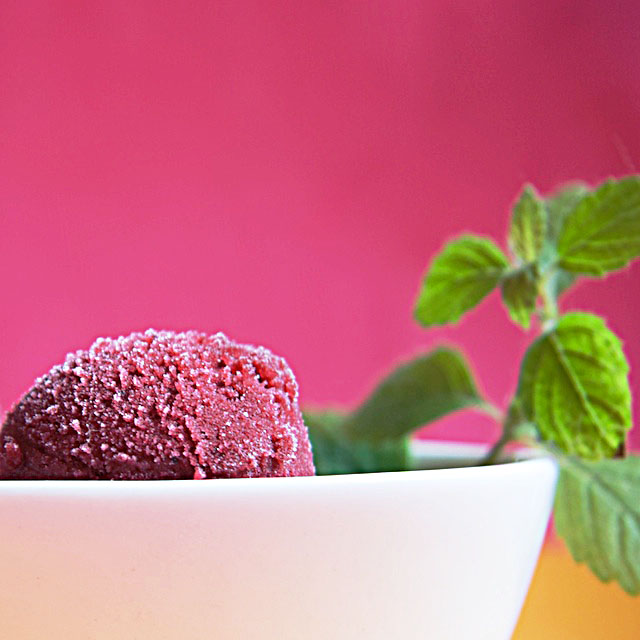 Concord Grape Sorbet
Author:
Charmian Christie
Recipe type:
Ice Cream & Frozen Treats
Serves:
Makes about 4 cups (1 Litre)
With full-on Concord grape flavour, this sorbet remains true to the fruit. It's not a sweet dessert, but more of a tart, after-dinner palate cleanser.
Ingredients
2 pounds Concord grapes
2 tbsp honey
1 tbsp Drambuie
Instructions
Pop the grapes out of their skins and into a medium-sized non-reactive sauce pan.
Place the skins in a food processor or blender and purée until smooth. The finer the skins are chopped, the easier they will be to strain.
Add skins to the pulp and bring to a boil over medium to medium-high heat. Cook until the grapes release their seeds.
Remove the seeds by placing a fine mesh sieve over a non-reactive bowl and pressing the grape mixture through using the back of a large ladle. Discard the seeds. Stir in the honey and Drambuie.
Chill the mixture until cold. About 20 minutes before you're ready to churn, place the sorbet in the freezer to get really cold.
Freeze in ice cream maker according to manufacturer's instructions. The sorbet may need to be returned to the freezer for a while to firm up.