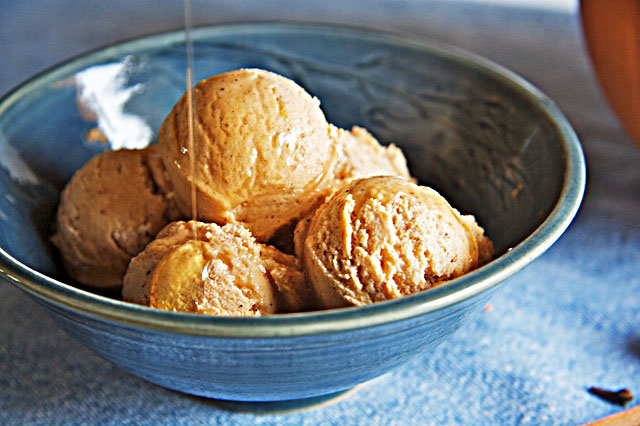 28 Oct

Pumpkin Pie Ice Cream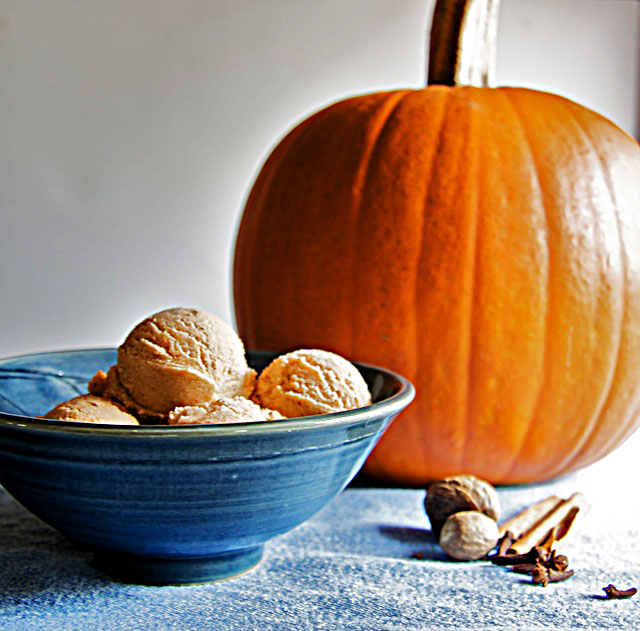 A while ago, Cari from Dinnervibe suggested I make a Halloween-themed ice cream. As you know, it doesn't take much to persuade me to whip out my Cuisinart, so even though the weather is turning cold, I accepted her ice cream challenge. Perhaps I'm in a rut, but instead of creating a black licorice ice cream with raspberry blood swirl and marshmallow sauce cobwebs, I decided on a flavour that could carry itself long into the upcoming holidays — Pumpkin Pie.
Now, if you don't like the dessert that inspired this chilled treat, not even the Great Pumpkin himself is going to persuade you to embrace this dish. After all, it tastes exactly like frozen — somewhat airy — pumpkin pie. And so it should. After all, it's basically my pumpkin pie recipe, only with more dairy and no eggs. For those with a pumpkin aversion, might I suggest some old-fashioned, unspooky Maple Walnut Ice Cream, instead?
Since it's a crustless version on the classic dessert, WITH the whipped cream topping mixed in, all this dish needed was a drizzle of maple syrup. Ah, autumn perfection. All treat. No tricks.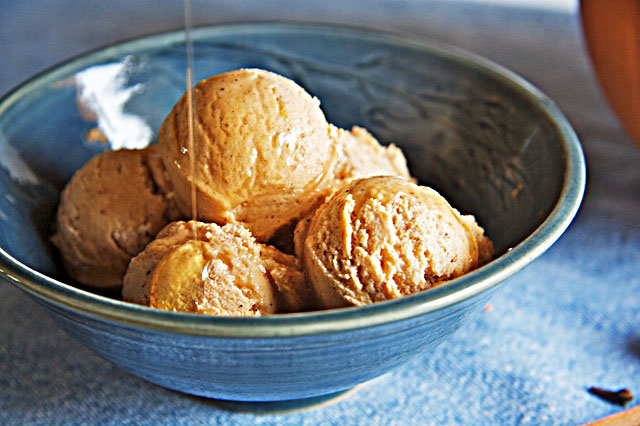 So, does the thought of pie in ice cream form appeal to you? Or would you miss the crust?

Pumpkin Pie Ice Cream
Author:
Charmian Chrisite
Recipe type:
Ice Cream & Frozen Treats
Serves:
Makes about 1 litre
This ice cream captures all the flavour of pumpkin pie, but in scoopable form.
Ingredients
2 cups whipping cream
1 cup whole milk
½ cup sugar
1½ teaspoons ground cinnamon
½ teaspoon freshly grated nutmeg
½ teaspoon ground ginger
½ teaspoon ground cloves
½ teaspoon ground allspice
⅛ teaspoon fine sea salt
½ teaspoon pure vanilla extract
1 cups pumpkin purée (not pumpkin pie filling)
pure maple syrup
Instructions
In a medium sauce pan, gently heat the cream, milk, sugar, spices and salt over medium heat until the sugar has dissolved and bubbles form around the edge of the pan.
Stir the warm cream mixture and vanilla into the pumpkin. If you want an extra-smooth ice cream, you can strain this through a fine sieve before refrigerating.
Chill the mixture in the refrigerator until cold, popping it into the freezer for about 15 minutes just before churning. This isn't necessary but helps with some models of ice cream makers.
Churn the chilled pumpkin mixture in an ice cream maker according to manufacturer's instructions. If necessary, chill to set the mixture before serving.
Serve as is, or drizzled with maple syrup.