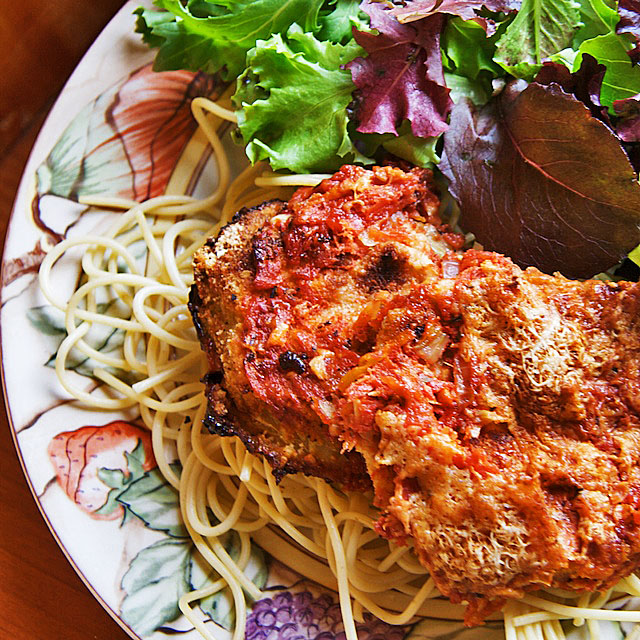 29 Sep

Fried Green Tomato Parmesan
The deed is done. I have picked all the tomatoes, uprooted the plants and put the garden to bed. Green tomatoes outnumber the red, but who's counting.
I'd like to think the tomatoes didn't want to go any more than I wanted to remove them. I had ambitious plans to deal with the garden on Sunday. But it was unseasonably hot and muggy. After picking just one fist-sized bright red beefsteak I decided to give the green tomatoes another day to ripen. But Monday blustered in with a thunder storm and wind. Every time I went to complete the unpleasant task, the skies opened just as I reached the tomato patch. Was this a sign?
Cold, grumpy and sad to see my perpetual tomato supply gone, I finished the job Monday evening as the sky turned dark as my mood.
But things are looking up. In the light of day I now see I have lots of tomatoes to play with — 10-feet of window sills worth, all in various stages of ripeness. Some are ready to eat now, or will be in a few days. Others are green and hard as an apple.
There are green, red and yellow…
Big as an orange. Small as a grape.
Knowing many of the green tomatoes won't ripen, I decided to try a classic Southern recipe. One I'd only heard of but never tried — Fried Green Tomatoes.
So, I made a classic, pan-fried version. Dip. Bread. Fry.
The results were tart and tangy, but to my mind needed something. All that dipping and frying reminded me of the Eggplant and Chicken Puttanesca Stacks I made for the Almost Meatless potluck. So, I decided to wing things and make a Fried Green Tomato Parmesan.
The resulting Parmesan was tangier than the eggplant version and had a firmer texture. Unlike eggplant or ripe tomatoes, green tomatoes don't break down very much during cooking, so they are a bit more like meat. Andrew, who is no friend of eggplant, preferred this variation. "It was more in keeping with what I like," said my non-taster, veggie-phobic husband. In his world, that's a compliment.
Got a bunch of green tomatoes on hand? Fry 'em up. If you like them as is, eat them as a side dish. If they don't appeal, make them into Parmesan. Either way, they use up those extra tomatoes no one seems to know what to do with north of the border.
How do you use your green tomatoes? Are they compost or do you turn them into a seasonal treat?

Fried Green Tomato Parmesan
Author:
Charmian Christie
Recipe type:
Kitchen Garden
Prep / inactive time:
Cook / active time:
Total time:
Got lots of green tomatoes and no ideas? Fried Green Tomato Parmesan is a great way to use up those unripened tomatoes. Tangier than its eggplant counterpart, this main has a a firmer, meatier texture that will appeal to carnivores and vegetarians alike.
Ingredients
4 medium green tomatoes, cored
salt
fresh black ground pepper
⅓ cup milk
⅓ cup all-purpose flour
1 large egg
1 cup dried bread crumbs (or panko crumbs)
olive or canola oil for frying
2 cups tomato sauce (homemade or good quality store brand)
1 cup freshly grated Parmigiano-Reggiano
pasta of your choice (spaghetti or fettuccine are good)
Instructions
Preheat oven to 350°F. Grease a 9-inch by 13-inch glass pan.
Slice tomatoes ½-inch thick. Sprinkle lightly with salt and pepper.
In a large skillet, heat the oil over medium-high heat.
Bread the green tomato slices by dipping them in the coating ingredients in the following order: milk, flour, egg, bread crumbs.
Fry each slice for 4 to 5 minutes per side, then place in a single layer to cover the bottom of the baking pan. Cover the tomato slices evenly with tomato sauce. Sprinkle with Parmesan cheese and bake for 45 to 60 minutes, or until the tomatoes are done to your liking.
Serve hot on freshly cooked pasta.