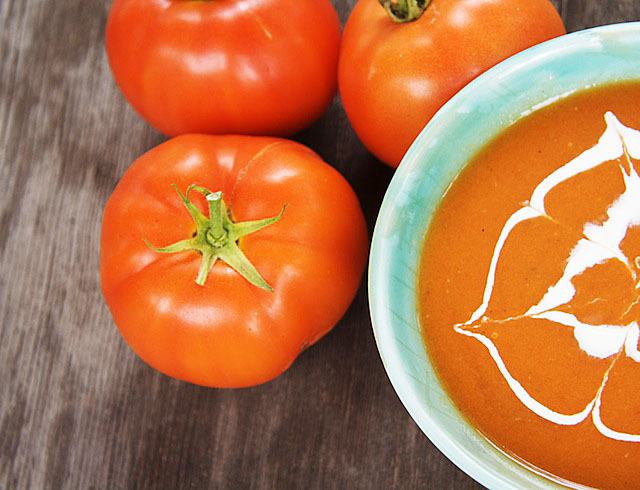 23 Sep

Roasted Tomato Soup with Sage

Posted at 08:51h

in

Autumn

,

Egg-free

,

Gluten-free

,

Healthy Choice

,

Original

,

Recipes

,

Savory

,

Soup

,

Summer

,

Vegetables

,

Vegetarian

27 Comments
This blog has ruined me. Forever.
Just this week I realized what my family has been accusing me of for years is actually true. I am a food snob.
Not the Beluga-Caviar-or-Bust kind of food snob, but a food snob nonetheless. The facts are indisputable. I am a Fresh-or-Forget-It, Real-or-Reject-It kind of food snob.
I've been denying this allegation, preferring instead to call myself merely "discerning" or "discriminating". After all, I don't go weak in the knees for foie gras or pine for white truffle oil. I failed the Cheese or Font test (Thanks to Clare and Phil for sending me the link to this ego-crushing challenge), and couldn't care less about sushi.
But over the past three years, as I explored food for this blog, the culinary bar has crept ever higher. Without me even noticing. And this week I could no longer deny it.
My gastronomic reality check? Tomato and Sage Soup. I made it a lot in university as an antidote to my draughty apartment. And with the autumn nip in the air, I thought hot soup would be the perfect way to use up some of my self-replenishing tomatoes. And a bit of my rambunctious sage.
But when I pulled out the recipe — which I hadn't made since graduation — I was horrified to see it used no tomatoes whatsoever. None. Instead, my "homemade" tomato soup called for 3 cups of stock and a large tin of tomato paste.
How could this be?
Seems I, not the recipe, have changed. Sure, the Old Me made her own granola and yogurt, but she also bought bargain brand margarine and lived on popcorn when cramming for exams. The Old Me would have been slurping that cheap and convenient soup before the New Me was finished slicing the vine-ripe tomatoes. Much as the Old Me loved that soup, The New Me just couldn't bring herself to make, let alone blog about, tarted up tinned goods.
So it's official. I am a food snob.
And this blog is to blame.
With tomato and sage on the brain, I turned to John Bishop for inspiration. His book Fresh: Seasonal Recipes Made with Local Foods (Douglas & McIntyre, 2007) won Gold at last year's Canadian Culinary Book Awards. It contains a recipe for tomato soup complete with sage biscuits. Like my student version, it has sherry, onions and garlic, but the similarities end there.
Below is my variation of Bishop's soup — Roasted Tomato Soup with Sage. Sure, it takes a lot longer to make than the slap-dash tomato-paste version. But while my taste buds have grown, so have my multi-tasking skills. While the tomatoes roasted, I answered emails. And as the soup gently simmered, I folded laundry. In the end? I got some work done and a pot of delicious soup as a reward.
My only complaint? This dish cries out for a hunk of aged cheddar and a thick slab of homemade bread. I had neither on hand. Just like when I was a student.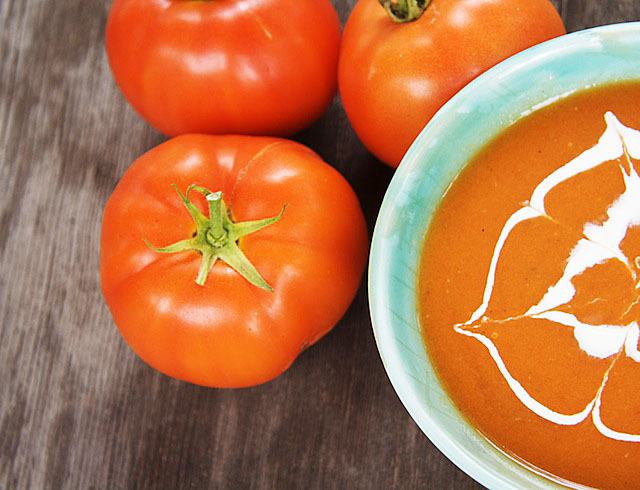 Do you look over old recipes and cringe? How has your palate changed? Or am I the only one whose tastes have morphed?

Roasted Tomato and Sage Soup
Author:
Charmian Christie
Prep / inactive time:
Cook / active time:
Total time:
Want to use up some of the ripe tomatoes from your garden -- or your neighbour's garden? This roasted tomato soup has a fresh twist on an old classic.
Ingredients
2lb ripe tomatoes, halved
1 medium onion, quartered
2 cloves garlic, skin removed
2 tablespoons olive oil
fine sea salt
4 cups chicken broth (or vegetable)
⅓ cup dry sherry
1 tablespoon honey (or more to taste)
fresh cracked pepper
10 fresh sage leaves
creme fraiche or cream
Instructions
Preheat oven to 450°F. Line a roasting pan with the tomatoes, onion and garlic. Drizzle with oil and sprinkle with salt. Roast for 30 to 45 minutes or until cooked.
Put roasted tomatoes, onions and garlic in a saucepan. Add stock, sherry and honey. Bring to a boil. Immediately reduce to a simmer and cook 30 minutes. Add sage leaves and allow to simmer 10 more minutes.
Using an immersion blender, or a standard blender and working in batches, purée the soup until smooth. Strain through a fine sieve to remove seeds and skins. Season with more salt if necessary and freshly ground black pepper.
Garnish with creme fraiche or cream, if desired.