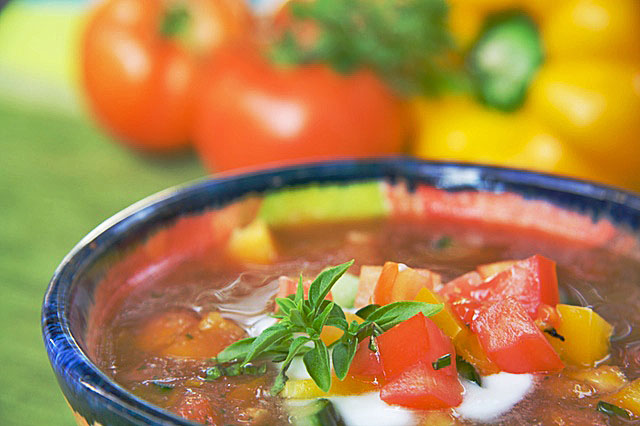 18 Sep

Gazpacho Soup

Posted at 09:21h

in

Dairy-free

,

Egg-free

,

Gluten-free

,

Healthy Choice

,

Original

,

Recipes

,

Savory

,

Soup

,

Summer

,

Vegan

,

Vegetarian

0 Comments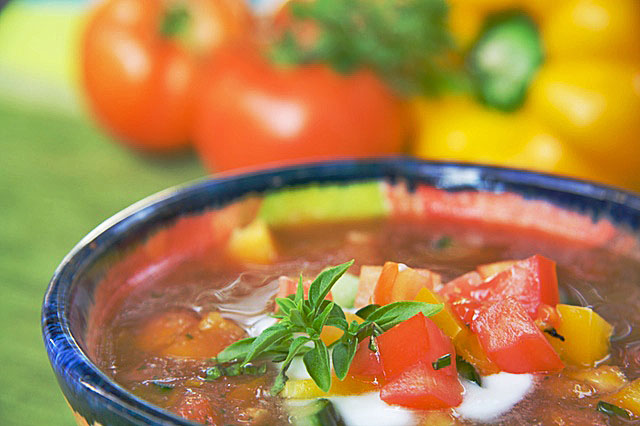 You'll be happy to know all is forgiven. Seems I'm not the only one to have forgotten my sister's birthday. She read my blog post and called to say I had been keeping very good company in my neglect. Turns out one of her best friends and all of her co-workers were scrunched in the Bad Corner with me. The whole gang forgot her birthday. The irony? Robin works for the Alzheimer Society. Nuff said.
Moving onto today's topic. Soup. Colourful, isn't it?
The tomatoes and opal basil are from my garden. I'm so darned pleased it's ridiculous. You'd think I'd given birth or cured cancer. But as I confessed earlier, it was nature, not me, that produced a stellar crop.
After a delicious 150-calorie gazpacho at Pret a Manger during my travels, I decided to make a batch myself. While researching recipes I found an amazing variety of opinions on the appropriate texture for this soup. Some pureed everything until smooth, others simply diced the vegetables and tossed it all in tomato juice. A third camp did a little of each.
So, here's my recipe. Make it as chunky or smooth as you like. Being a middle child, I took the middle road and pureed only half the ingredients.
How do you like your gazpacho?
Gazpacho Soup
Author:
Charmian Christie
Prep / inactive time:
Total time:
Bursting with tomatoes, peppers and herbs, this easy-to-make soup requires no cooking. While authentic gazpacho soup uses dried bread, this gluten-free version foregoes the bread and focuses on the fresh vegetables of summer.
Ingredients
Soup
2 cups fresh tomatoes, peeled and cut into ¼-inch cubes
2 cups English cucumber, cut into ¼-inch cubes
½ red pepper, cut into ¼-inch cubes
½ yellow pepper, cut into ¼-inch cubes
1 jalapeno pepper, chopped very finely
2 cloves garlic, crushed
½ red onion, chopped very finely
1 tablespoon olive oil
2 tablespoon red wine
1 tablespoon fresh lemon juice
1 tablespoon fresh lime juice
1 tablespoon sugar or honey
4 cups low-sodium tomato juice
¼ tbsp fresh herbs, finely chopped (cilantro OR basil OR dill - or any combination)
salt and pepper to taste
Garnish
Instructions
For chunky soup
In a large bowl, combine all the ingredients, stirring to distribute evenly.
For semi- chunky soup
Set aside half the tomatoes, half the cucumber and all of the yellow pepper.
In batches, purée the remaining ingredients in a blender. Pour the purée into a large bowl, then stir the remaining tomatoes, cucumbers and yellow peppers.
For smooth soup
In batches, purée all the ingredients in a blender (you can use a whole red pepper and omit the yellow for more intensely red soup) until smooth.
All versions
Once mixed, season with salt and pepper to taste. Cover and chill at least 2 hours before serving. Top with a dollop of sour cream, if desired.