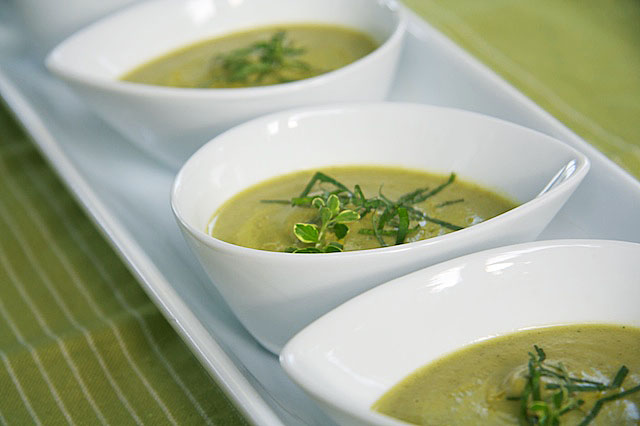 11 Aug

Summer Fest Week 3 – Zucchini Soup
Zucchini is one of those innocuous vegetables that doesn't really stand out. Sure, the small ones can be tender, but the large ones tend to get spongy. Because of the high moisture content and neutral taste —and it's debatable zucchini actually has a taste — it's grated into cakes, mixed into pasta sauces and even used as a substitute for lasagna noodles.
Although I've been happily eating this vegetable for years I have yet to say, "Mmmm, mmmm! Now THAT'S one good zucchini!" I usually buy them as an excuse to enjoy the herbs, spices and cheeses they support so well. And zucchini bisque is one of my favourite excuses.
Now, most recipes, including my own family's recipe, use far too much cream. I used to think my version, which I posted a couple of years ago, was pretty good. Ignore it. This one is better. Not only does it use far less fat, it's more generous with fresh herbs. It comes from Heidi Noble's award-winning cookbook, Menus from an Orchard Table. While Noble's story is intriguing and the photos seductive, mains that call for wild boar and pheasant are beyond my skills. I admit, when I saw the meat dishes in this book I was more than a bit intimidated. But the vegetable recipes are another matter.
So as Summer Fest heads into Week 3, I offer my contribution to "Beans & Greens" with a soft green zucchini soup. Use small zucchini. Their high green-skin-to-pale-inside ratio creates a lovely avocado hue.
Make it now. Make it often. Make more than you think you'll need. The recipe says it serves 6, but three or four is closer to my appetite demands. Heck, I'm tempted to eat the whole batch myself.
Zucchini Soup
Prep / inactive time:
Cook / active time:
Total time:
This easy zucchini soup has a bit of heat and a velvety smooth texture. It's the perfect way to use up the zucchinis that arrive in droves every summer.
Ingredients
2lb zucchini (about 4 medium or 6 small)
2 tablespoons olive oil
3 cloves garlic, peeled and thinly sliced
1 pinch fine sea salt
freshly ground black pepper
¼ teaspoon chili flakes or small peperocino
2 cups light chicken or vegetable stock, hot
¼ cup heavy cream (35%)
½ cup grated Parmigiano Reggiano cheese
8 leaves fresh basil, finely chopped or chiffonade
1 handful flat leaf parsley, finely chopped
1 large lemon, juice and zest
Instructions
Cut the unpeeled zucchini in half. If the zucchini is very large, remove the seeds with a spoon or melon baller. Lay the zucchini on its flat side and cut into ½-inch half-moon slices. Heat the olive oil in a large, heavy saucepan and slowly cook the zucchini for 5 minutes on low. While the zucchini is cooking, heat the stock.
Add the garlic slices and continue to cook the zucchini for 20 minute or until it has "melted" and turned golden brown and become very soft. Add a pinch of salt, some freshly ground pepper and chili flakes.
Pour the hot stock over the softened zucchini and simmer, uncovered for 15 minutes. Transfer the soup in batches to a blender and purée until smooth. Pour the blended soup into a clean pot. Taste and add more salt if necessary. Keep the soup warm until serving.
Right before serving, add the cream, grated Parmigiano Reggiano, and fresh herbs. Finish off with the lemon juice and zest. Serve with crusty bread.