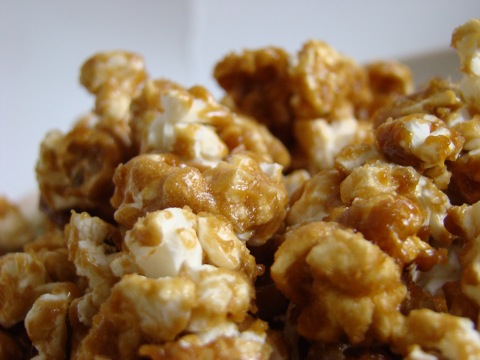 02 Feb

Caramel Corn
Ahhhh. That's better. Nothing like the taste of sweet success to make me forget last week's garbanzo gaffe.
Back in university I used to make caramel corn on a 20-inch electric stovetop with only three functioning burners. My recipe said to cook the sugar until it reached the soft ball stage. Lacking a candy thermometer, I had to drip the hot sugar in a glass of ice water to determine its doneness. I never did get the hang of this test and ended up guessing most of the time. If I poured the coating too early, the popcorn was soggy. If I waited too long, the caramel hardened mid-pour.
Eventually someone gave me this no-fail recipe and for some unexplained reason, shortly thereafter, I stopped making it. Until this weekend…
Not one to be content with a 20-year-old recipe, I checked my tattered copy against the dozens cluttering the Internet to see what variations exist. Very few — unless you count the addition of nuts. While the quantities vary, the ingredients and ratio are almost always the same. Some claim it's their grandmother's (which I'm sure is true), others give no credit. I figure this is one of those dishes where the proportions are so crucial, no one dares fiddle with it.
With no candy thermometer or water test required, the main deterrent in this version is yield. This makes a mountain of caramel corn. See…
Oh, the kid in me swears she's up to the challenge of 24 cups of sugar-coated crunch. But the adult in me knows this industrial-sized batch is a bit much for people (like my inner child) who lack willpower or a ravening horde to lend a helping hand.
Andrew, you do not constitute a ravening horde.
If you're sharing, make this version. It will disappear quickly. If you're alone? Dana McCauley has a clever version scaled down to coat one bag of microwave popcorn. (Reality Check: Dana's serves 2 people with good appetites. Mine remains party-sized.)
Either way, we've got you — and the popcorn — covered.

Big Batch Caramel Corn
Author:
Charmian Christie
Prep / inactive time:
Cook / active time:
Total time:
This recipe can be halved, but why?
Ingredients
1 cup popcorn unpopped (makes enough to fill a Dutch over or about 6 quarts)
1 cup butter
½ cup corn syrup
2 cups brown sugar
1 tsp kosher salt
½ tsp baking soda
1 tsp vanilla
Instructions
Pop popcorn using your preferred method. Place popped corn in a very large bowl. If you don't have a big enough bowl, use two bowls. You will need lots of room to toss the corn when coating it.
Preheat oven to 250F.
In a 2-quart saucepan, over medium heat, gently melt the butter. Stir in the corn syrup, brown sugar and salt. Increase the heat to medium-high and bring the sugar mixture to a boil, stirring constantly. Boil for 5 minutes. (Some recipes say to stir constantly, other say not to stir at all. I've tried both methods and the caramel coating is smoother if you don't stir.)
Remove from the heat, stir in the baking soda and vanilla. The mixture will foam and become frothy. Pour the caramel sauce over the popped corn and toss to coat throughly. Don't worry about clumps as the caramel will remain spreadable while cooking and the coating can be evened out. Spread the popcorn evenly onto 2 large rimmed baking sheets. Bake for 40 to 50 minutes, stirring every 10 minutes or so.
Spoon cooked popcorn onto waxed or parchment paper and allow to cool before breaking apart.
Keep grubby handed scavengers at bay with a wooden spoon while you seal cooled caramel corn in an airtight container -- Or serve immediately.