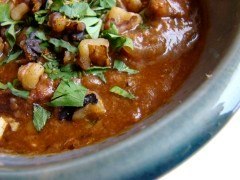 05 Jan

Simple Beef Stew with Orange-Walnut Gremolata
Is everyone on a diet this week? I don't know about you, but despite my normally ferocious sweet tooth, I'm not ready to face another dessert, scone, pastry or white-flour carbohydrate for a few days.
Whether or not you're counting calories, this beef stew will expand your vocabulary more than your waistline. Don't let the title scare you off. Gremolata is a simple topping sprinkled on hot dishes to give them a lift. Normally used on osso buco, it can be used on risotto and stews. While most versions call for garlic, parsley and lemon rind, this veers delightfully from tradition, adding walnuts and orange to the mix.
I'd love to take credit for this one, but it's another winner from Rose Murray's A Taste of Canada. The combination of orange and beef is classic, refreshing and a big hit with family. Even my not-so-adventurous father-in-law liked it.
So, if you're all poultried-out this might be a pleasant change of pace. With no added fat and Murray's clever browning technique, it borders on downright healthy. And look! There's even a bit of green.
Simple Beef Stew with Orange-Walnut Gremolata
Author:
Charmian Christie
Recipe type:
Beef & Red Meat
Prep / inactive time:
Cook / active time:
Total time:
Often when I prepare beef stew, I cook strips of orange peel along with the meat. Here, I've sprinkled grated orange zest in a bit of a gremolata over the finished stew. Browning the beef in a hot oven is easier and faster than doing it in batches on top of the stove. This method dramatically cuts down on the fat as well.
Ingredients
Stew
2½ pounds (1.25 kg) stewing beef
¼ cup (50 mL) all-purpose flour
salt and pepper
2 cups (500 mL) beef stock
¼ cup (50 mL) tomato paste
½ pound (250 g) small mushrooms
½ pound (250 g) baby carrots
3 cloves garlic, halved
3 shallots, thinly sliced
2 tbsp (25 mL) Dijon mustard
½ tsp (2 mL) crushed dried rosemary
½ tsp (2 mL) dried thyme
1 cup (250 mL) dry red wine
Gremolata
½ cup (125 mL) coarsely chopped fresh parsely
2 tbsp (25 mL) coarsely grated orange zest
1 clove garlic, minced
½ cup (125 mL) walnut halves, toasted
Instructions
Stew
If the meat is not cubed, cut into 1½ inch cubes. In a sturdy plastic bag, toss the beef with the flour, ½ tsp (2 mL) salt and ¼ tsp (1 mL) pepper. Spread beef cubes out in a large greased shallow roasting pan. Roast in 500°F (260°C) oven until lightly browned, 10 to 15 minutes, stirring once.
Meanwhile, in a large flameproof casserole dish or Dutch oven, combine the stock, tomato paste, mushrooms, carrots, garlic, shallots, mustard, rosemary and thyme. Bring to a boil. Stir in the browned beef.
Stir the wine into the browning pan. Bring to a boil, scraping down any brown bits from the bottom of the pan. Stir the liquid into the meat mixture. Cover and bake in a 300°F (150°C) oven until the beef is fork-tender, about 3 hours. (The stew can be prepared up to 2 days ahead. Cool uncovered; cover and refrigerate. Bring to room temperature for 30 minutes. Gently reheat on top of the stove or place in a 350°F / 180°C oven until hot throughout, 30 to 40 minutes.) Sprinkle some gremolata over each serving of stew.
Gremolata
In a small bowl, stir together the parsley, orange zest and garlic; stir in the walnuts. (The gremolata, without the walnuts, can be covered and refrigerated for up to 1 day. Add the nuts just before serving.)
Notes
Excerpt published with permission from Rose Murray's
A Taste of Canada
(Whitecap, ©2008).